There's blood and guts galore as John Byrne compares Banshee to Hannibal, while also taking in sci-fi show Warehouse 13 and a documentary about The French Riviera.
Reviewed: Hannibal (Tuesday, Sky Living), Banshee (Tuesday, Sky Atlantic); Warehouse 13 (Thursday, SyFy), The Riviera: A History in Pictures (Saturday, BBC 4)
In recent years there's been a lot of praise for gritty and graphic TV dramas such as Oz, The Sopranos, Sons of Anarchy, Breaking Bad and The Wire. In their wake, shows of similar ilk but varying quality have popped-up and two current series on the Sky platform are from opposite ends of the equation.
Banshee (Tuesday, Sky Atlantic) looked very promising – until it actually began. Produced by Alan Ball (who's had mixed TV fortunes with dull vamp tale True Blood and the much smarter Six Feet Under) and created by two literary novelists (Jonathan Tropper and David Shickler), it's the story of a master thief who, after 15 years in prison, winds up in impersonating a rural town's new (and newly-deceased) sheriff, while seeking-out his ex-girlfriend and former accomplice, who's built a new life for herself.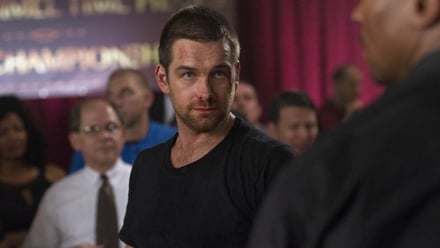 While it has improved in the last couple of episodes, Banshee is like something a frisky teenager would dream up: it's full of graphic, sado-masochistic violence and hilariously gratuitous sex scenes. Y'know: real man stuff.
New Zealand actor Antony Starr plays the unnamed ex-con, and he alternates between Mr Angry and Mr Horny while pretending to be Sheriff Lucas Hood and trying to keep the peace in little ol' Banshee, a place whose townfolk include a young Amish woman who can't get her kit off quickly enough for the new sheriff.
Last week's episode was typical. A former prison acquaintance named Wicks recognises Sheriff Lucas, which triggers a series of flashbacks to when he was in correctional facilities and had to deal with the sexual advances and physical assaults of a sadistic, gay, albino inmate. Ultimately, Lucas manages to defeat him by cutting off his penis and gouging his eyes, before smashing in his skull. You'd really have to wonder about the mental wellbeing of anyone who would regard this as entertainment.
Hannibal (Tuesday, Sky Living), on the other hand, is a lot more subtle, and is frequently disturbing and rarely less than unsettling. Here's a show that's far more edgy than the juvenile Banshee. And it's got the great Bryan Fuller involved, so it's no wonder, really, that it's a far more compelling drama. Fuller's CV is as broad as it's impressive, ranging from Star Trek: Voyager and Deep Space Nine, to Dead Like Me, Wonderfalls and Pushing Daisies.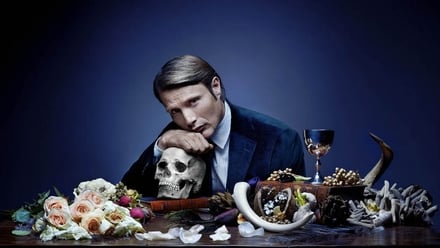 Hannibal features Hugh Dancy as Special Agent Will Graham, an overly-empathic criminal profiler; Mads Mikkelsen as Dr Hannibal Lecter, a brilliant psychiatrist, cannibal and culinarian; former Wonderfalls lead Caroline Dhavernas as Dr Alana Bloom, a psychiatry professor and consultant profiler for the FBI; Hettienne Park as Special Agent Beverly Katz, a crime-scene investigator specialising in fibre analysis; and Laurence Fishburne as Special Agent-in-Charge Jack Crawford, head of Behavioral Sciences at the FBI and Graham's boss.
Like Banshee, Hannibal doesn't shy away from graphic violence, but the difference is that it's not in the least gratuitous. The perpetrators are clearly very ill people, while the underlying theme – Lecter's cannibalism - is played in an understated fashion, mostly though his meal preparation, which is gradually turning me towards vegetarianism.
Being a prequel to a very familiar story, Hannibal is fighting against enormous odds, but it has a unique vision that makes it a compelling, if uncomfortable, drama. In last Tuesday's episode, the focus was on a killer whose victims were placed in a praying position and had flesh cut from their backs to look like wings. Graham figures that the killer is turning his victims into guardian angels to watch over him because he's afraid of dying.
The Lecter subplot sees him take on a new patient, Crawford's wife Bella (Gina Torres), who has terminal cancer but is hiding it from her husband. And when Graham tells Lecter of his sleepwalking, the conniving cannibal tries to create a wedge between Graham and Crawford.
It's a bit Criminal Minds at times, but the brooding music, the show's visual style – plus Mikkelsen's spooky portrayal of the mental game-playing Lecter – combine to make Hannibal quite a haunting experience. There's a permanent sense of impending doom about the show, and in that respect its greatest similarity is to The Killing, where brooding was almost turned into an art form.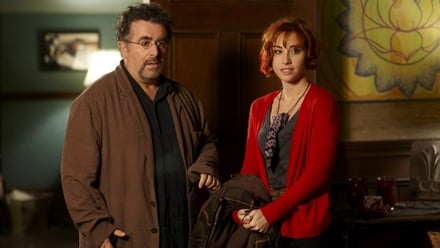 In broad contrast to Hannibal and Banshee, Warehouse 13 (Thursday, Syfy) is a fun, sci-fi procedural about a bunch of secret agents seeking to neutralise and store powerful relics called 'artifacts'. While it's not quite The Mentalist, it's pretty cosy fare, and – by way of explanation - was a bit of a sister show to the recently departed A Town Called Eureka. Oh, right. You didn't watch that either.
Anyway, we're up to season four now, and it was recently announced that the show would end after its fifth season, which should see it ending on a bit of a high. It's got a solid cast is led by the vastly experienced Saul Rubinek, who plays Artie Nielsen, the agent in charge at Warehouse 13.
In last Thursday's episode, Jaime Murray reprised her role as HG Welles (yep, they reinvented the 19th Century sci-fi writer as a female Warehouse agent – that's how daft this show is) when she contacts Pete and Myka to help find an artifact. Back at Warehouse 13, Artie, Abigail, Claudia and Steve try to find out what is causing tremors in the warehouse.
Eddie McClintock and Joanne Kelly are the central, chalk 'n' cheese couple in what was originally tagged as a sc-fi Moonlighting, but those days are long gone, and the writers have expanded the Warehouse 13 story to the point where I don't even think about it anymore, and just enjoy the Indiana Jones-lite adventures. It's harmless, unpretentious fun; an easy-going hour of TV for the more whimsical sci-fi fan.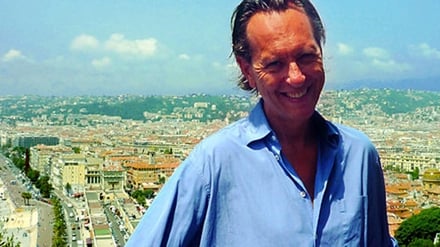 Finally, I got to catch a repeat that I missed when it was first shown a few months ago. The Riviera: A History in Pictures (Saturday, BBC 4) was a joy from start to finish. Hosted by the charming Richard E Grant, it's a fascinating introduction to a stunning part of the planet, made that bit more alluring and beautiful by French Impressionists such as Cezanne, Renoir and Monet who captured its then almost unknown charms more than 100 years ago.
From the testosterone-fuelled brutality of Banshee to the shimmering beauty of St Tropez in less than a week: only on TV.
John Byrne