Actor Nigel Havers, who played savvy villain Lewis Archer on Coronation Street, has said he is open to returning to the soap.
"Never say never," Havers told Daybreak this morning. "It would be tricky. I would be lynched, wouldn't I? I think I'd have to come back having won the lottery and pay everybody back!"
"I'd love to go back, actually. It's just one of those great shows to be part of. I can't tell you how much fun it is."
Havers played deceitful Lewis, who was a love interest for Audrey (Sue Nicholls). When Audrey's daughter Gail McIntyre (Helen Worth) disapproved and had a helping hand in their relationship's demise, Archer set out to exact his revenge.
He developed a relationship with Gail before conning her out of all her savings by promising a new life together in Italy. He cleaned out her bank account and left her a video message disclosing all of his plans after he made his escape earlier this year.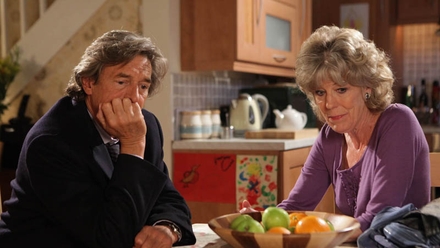 Havers said: "The scriptwriters on that show are fantastic. To win an award is amazing, really. They don't often come along! I'm chuffed.
"I have to say, that I have to thank Sue and Helen for being so brilliant", Havers added, before praising their hard work and acting talents.