So the rain is back today and when it rains here, it pours, with all the umbrella sellers are back lining the streets.
There was a sense of quiet gloom after the bright sunny few lively days. There are a lot of broken hearts over Ryan Gosling's decision not to attend.
I dropped into a very quiet Irish Pavilion on the croisette. It's usually full of life, with lots of producers and journalists drinking coffee (or the occasional Guinness) and it was very bare today, with just one or two around. The girls at the pavilion reliably tell me IFB head James Hickey has returned to Ireland, as have the majority of the Irish crowd of production companies on the Aer Lingus flight from Nice today. Details of their meetings hopefully done & dusted.
One producer who was around last night was the Irish Producer On The Move Conor Barry , here with Love Eternal, who I bumped into on a corner street near the Majestic which is the "go to" place for the film crowd, much more laid back and fun than the glamorous hotels on the strip.
I had to do a press call as part of the promotion of my short film Out There with Randal Plunkett, where we met a photographer on the third floor of the Palais, where the press floor is, and I spotted a demure Kirsten Scott Thomas having a coffee with another lady.
For dinner I went to the Warner Brothers cafe off the Rue Antibes with Russian photographer Philip Morotz and some friends, where we dined across from Julia Garner, an ethereal looking upcoming American actress who was having steak with the director Jim Mickles . They are here at Cannes promoting their horror film We Are What We Are and they invited us along to see their film at Directors' Fortnight tomorrow.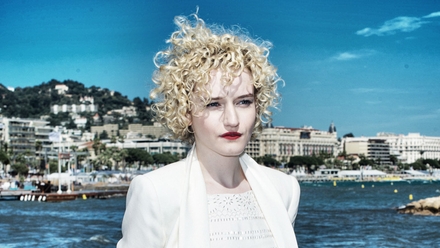 Julia Garner
There was not much action on the beach parties with all the rain, however tomorrow I hope to be up early to see if I can book tickets for the competition screening of La Vie D'Adele & Nebraska. The Irish horror Dark Touch is screening in the market in the morning, starring Ronan Keating's daughter Missy. However the one I really want to see tomorrow is the Directors' fortnight We Are What We Are, and perhaps treat myself to another new umbrella if the rain continues…
Emma Eliza Regan