This week on Emmerdale, a fearful Victoria arrives at Mill and tells Robert and Aaron that Lee has died, with them all aware that Robert could now be charged with murder.
As Robert starts to unravel, Liv suggests that he and Aaron go on the run. With the decision made, Robert and Aaron become emotional at the reality of the situation. 
Aaron reveals to a distraught Chas his plan to leave the village. He and Robert also share some poignant goodbyes before they drive away, ready to start their new adventure.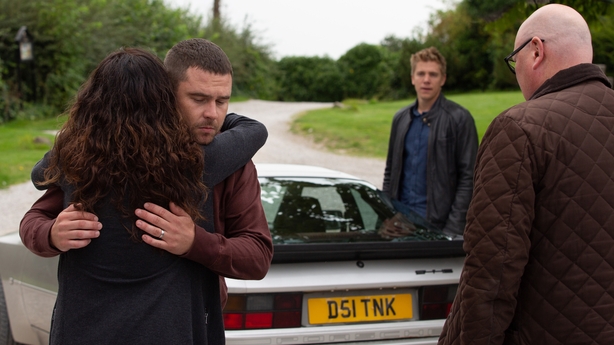 Elsewhere, Faith tries to make a romantic lunch for Cain and Moira, but Nate has other ideas as he whisks Moira away for lunch at a country pub.
Cain despairs at Faith's meddling as she tries to call Moira's mobile. Moira is upset when she sees the missed calls from Faith and wants to get back to Butlers.
The next day, Faith pins an unnerved Pete down and quizzes him about why he's moved into the B&B. Pete keeps schtum but later tells Moira that Faith is on to her and he's not going to cover for her and Nate anymore.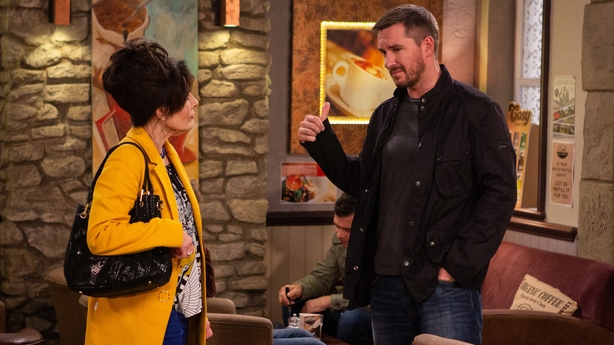 Will Moira be able to convince Faith that she's not having an affair?
Meanwhile, Lydia is unsettled to see Mandy and Vinny chatting in a quiet corner and shares her suspicions with Sam.
And Graham is torn between his affection for Rhona and his lust for Kim when Kim makes a pass at him.