This week on Emmerdale, there is dry rot at the Woolpack and Charity tells a stressed out Paddy that he, Chas and Bear will have to move out while work is done.
It is not good for business shutting the pub, so Charity starts making alternative plans.
Elsewhere, Moira's resistance to Nate's charms is finally weakening. When Nate sees her getting ready for a date with Cain the chemistry crackles and he pulls her in for a kiss…
They're in for a shock when Cain arrives and Nate has to hide. But when Cain leaves, Moira makes it clear that nothing can happen between them again. Soon Moira is refocusing her passions towards her husband, but there is a sense it was Nate who she's thinking about…
The next day, Cain goes off for drinks and Moira is unable to resist. She meets Nate and they soon sink into the hay in the barn.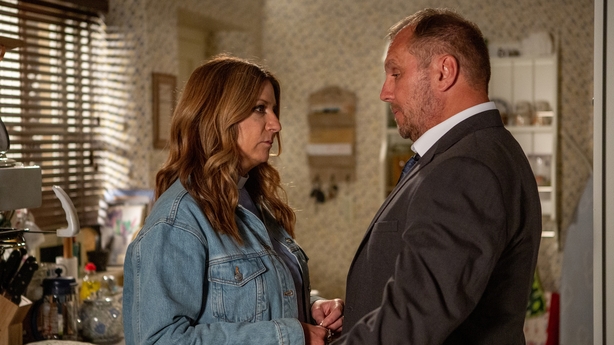 Meanwhile, Harriet is glad when Will arrives back at the village. But Will's happiness at reuniting with his daughter Dawn is short lived when Cain fires him from the garage.
Later, Dawn senses there's something still there between Will and Harriet and she comes up with plans to reunite them.
As Jacob prepares to receive his exam results, David and Leyla pray he has done enough. After getting his disappointing results, David, Leyla and Pollard try to buoy Jacob while he keeps his future plans with Maya to himself.