This week on Emmerdale, Jacob's crush on Maya intensifies, but the fact that she's David's girlfriend and a teacher at his school means his feelings are not reciprocated.
He walks in on David and Maya sharing a kiss and retaliates by telling them he's going out with Liv. He even goes so far as to say they are sleeping together.
Elsewhere, Clive and Frank's art con is underway but they don't realise Leyla is suspicious of them. She bursts in on them, will they come clean about their scam?
It's mayhem in the haulage office as Graham is drunk and not able to run things properly. Robert is roped in to help out when Nicola has to take charge of the office, and a plan begins forming in his mind.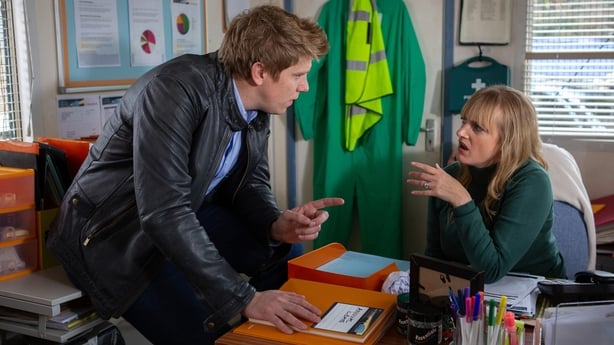 Robert wants to get back the shares in the firm which Joe Tate stole from him and decides he wants to pull one over Graham. Will Nicola agree to help?
Meanwhile, grieving Chas Dingle struggles with her emotions and confides in Lydia. Chas says she is worried her relationship with Paddy won't be able to survive the tragedy of losing their newborn daughter Grace.
Paddy turns to his best friend Marlon to talk about their troubled relationship. Can Marlon give him any sage advice?
Later, Paddy decides that a romantic meal is just the thing to bolster his and Chas's relationship, but Chas is not impressed. They have a huge argument and Chas orders Paddy to leave.