This week on Fair City, Miriam is horrified when she receives a phonecall from Oakley and fears he is free. She remains shaken even after she hears he is under guard. D.I. McCabe later revealed that Oakley has escaped and fled the country.
Carol is torn when Robbie brings her a thoughtful birthday gift. Nora tries to talk Carol round and offers to mind Jack. Aoife is put out at Robbie's determination to get Carol back.
Carol isolates herself from support and threatens Robbie with a legal separation in front of Cathal. Her anger against Robbie increases when she sees him and Aoife share a moment.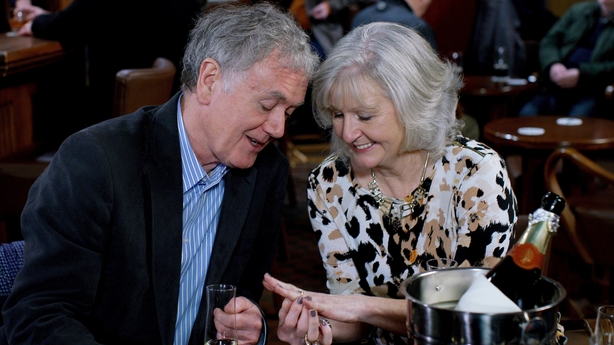 Elsewhere, Renee wants to celebrate her engagement as Farrah is coming home but Carol is not in the mood. Later, Bob reveals he has put an engagement notice in the Irish Society and the celebrate with everyone.

Meanwhile, Farral tells Renee she's worried about the press hounding her. Farrah convinces Renee to ask for Kevin's help in organising her engagement party. Journalist Abbie pushes Farrah for information on Oakley and Farrah is furious when Jane lets slip about her relationship with Ciaran.
Kevin finds himself attracted to Cristiano after they go on a night out. Kevin convinces Cristiano to go out dancing again, will romance bloom between them?
And Emmet's attempt to build bridges with Doug backfires as he blames Emmet for Hannah's death.