American rapper Ja Rule has said he is "heartbroken" that the luxury music festival he was backing in the Bahamas descended into chaos and became a laughing stock on social media.
US festival goers had paid anything from $4,000 to $12,000 for tickets to the Fyre Festival, which had been due to feature appearances by the likes of Blink-182 and Skepta.
However, despite being described as "a cultural moment created from a blend of music, art, and food", the event, which was due to begin on Friday on an island once owned by Pablo Escobar, was postponed amidst reports of awful on-site conditions and shambolic (dis)organisation.
Social media has been captivated by reports of fans being stranded at an unfinished site, while headliners, alert to the bad PR, pulled out at the last minute.
As the Fyrestorm raged, Ja Rule took to Twitter to apologise and vowed to put things right.
April 28, 2017
The festival has promised fans refunds, donations to charities and free VIP passes to next year's event as it attempts to survive the PR disaster.
"Due to circumstances out of our control, the physical infrastructure was not in place on time and we are unable to fulfil on that vision safely and enjoyably for our guests," the Fyre Festival said in a statement.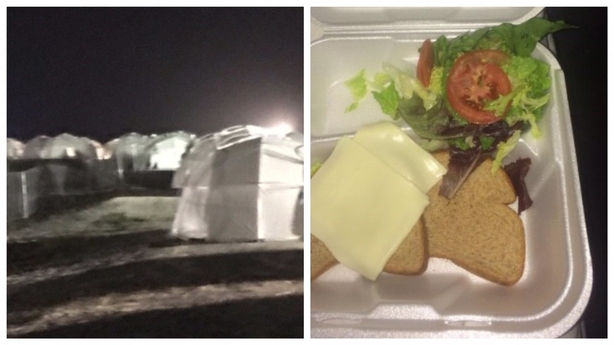 "At this time, we are working tirelessly to get flights scheduled and get everyone off of Great Exuma and home safely as quickly as we can. We ask that guests currently on-island do not make their own arrangements to get to the airport as we are coordinating those plans."
"The festival is being postponed until we can further assess if and when we are able to create the high- quality experience we envisioned," the statement added.
After enduring delayed flights from Miami, those attending the festival had reported that their cabanas were instead "actually disaster relief tents", while there were also updates on the grim food and drink, and mountains of rubbish.
In case you're wondering, those "cabanas" are actually disaster relief tents.#fyrefestival pic.twitter.com/jaZpkIKVT2

— Matt Halfhill (@MattHalfhill) April 28, 2017
@USEmbassyNassau my phone dying Please send help 2 festival grounds Its chaos,tents are on fire, people fighting for food #fyrefestival

— Steven Stubbe (@Steven_Stubbe) April 28, 2017
These were the luxury conditions ("modern, eco-friendly, geodesic domes") fans shelled out thousands of dollars for:
Early report is that many of the tents aren't assembled. Here's their tropical private island owned by Escobar! #FyreFestival pic.twitter.com/TNzBDbNAUJ

— FyreFestivalFraud (@FyreFraud) April 27, 2017
As compensation for any ill will caused by #fyrefestival
Official Staff has announced all attendees will get an extra hour in the ballpit. pic.twitter.com/Us58auYPSB

— Mom (@truongasm) April 28, 2017
These are the secure lockers at Fyre Fest. They forgot to tell us we needed locks. #fyrefestival #fyrefest pic.twitter.com/Tqyjqbg2Gy

— William N. Finley IV (@WNFIV) April 28, 2017
Just check out that cheese sandwich!
That's right folks for just $10k, you too can have the "refugee fleeing war torn region" treatment at #fyrefestival pic.twitter.com/RqYzGq0Yg5

— Garrett Garner?? (@garrettgarner12) April 28, 2017
Just to put everything in context, this is how 'organisers' had marketed the event, which was scheduled to take place over the next two weekends.
We need your consent to load this YouTube contentWe use YouTube to manage extra content that can set cookies on your device and collect data about your activity. Please review their details and accept them to load the content.Manage Preferences
Blink-182 had already cancelled their headline appearance at the Fyre Festival before the festival was postponed.
In a statement the band said that: "We're not confident that we would have what we need to give you the quality of performances we always give fans."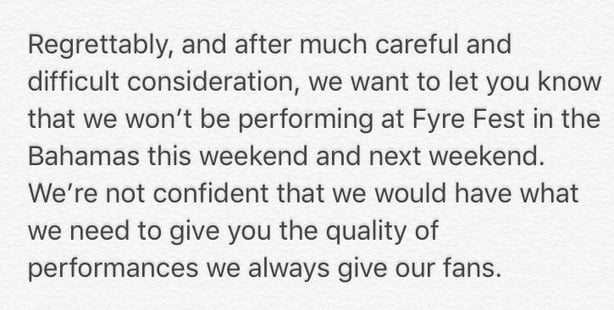 After making good their escape from the festival site, fans were reported to have been left stranded at the local airport for over nine hours.
There were even reports of people passing out due to the heat, amid claims that festival goers had been "locked" inside the airport.
A guy just passed out in the airport because it's so hot since they locked us in. The guards got into it with some guys. #fyrefestival

— William N. Finley IV (@WNFIV) April 28, 2017
Not everyone has expressed sympathy for those who made their way to the festival and there have been plenty of comments about "rich white millennials" getting their comeuppance.
Naturally people on social media have been having a field day:
#FyreFestival is an art installation where mediocre people realize what their lives would be like without rich parents.

— Mike Drucker (@MikeDrucker) April 28, 2017
WON'T SOMEBODY THINK OF THE WHITE PEOPLE!?!!?!?!??111ELEVEN #fyrefestival pic.twitter.com/4HHBoddf6S

— pg often (@pgofton) April 29, 2017
#fyrefestival couldn't have gone any other way. Starting a music festival in *2017* literally named after fire? Only possible outcome: pic.twitter.com/erq2E4TBwY

— Matt Contra Mundum (@thesnarkygent) April 29, 2017
Really fun reading #fyrefestival tweets reverse chronologically w/o knowing what it was. Thought for a minute it was an actual hunger games

— Daniel Howell (@danbhowell) April 29, 2017
EXCLUSIVE pictures from #fyrefestival pic.twitter.com/oqQ35pyzqy

— Channel 4 (@Channel4) April 28, 2017