Little Green Cars break cover to play their biggest headline show yet at the Iveagh Gardens in Dublin this Saturday, July 12. They talk to Alan Corr about on the road blues, "the ice age" of teen-dom, and the night they nearly killed Nicole Richie
It is a very hot day in Dublin and beanpole-tall and frighteningly young Steve Appleby of Little Green Cars is dressed in the long black coat and waistcoat of an undertaker. He has his guitar strapped across his back.
Beside him, band mate Faye O'Rourke is wearing a perhaps unseasonable but certainly fetching green cardigan - sleeve ever ready to be absent-mindedly picked at during dull interviews.
O'Rourke is as elfin as Appleby is gangling. They are the voices of five-piece Little Green Cars, the curiously-named Dublin band who seemed to come from nowhere last year with a starkly beautiful debut album called Absolute Zero.
They play Americana-enriched music of a deeply burnished maturity and epic sadness. Absolute Zero is spiked with American literary references and it smoulders with intensity on songs populated by penitent vagabonds, obsessive lovers, romantic drifters, and even murderers.
O'Rourke sings like a tormented angel; Appleby sings like a crestfallen choirboy. Both are only 22.
"Which kind of freaks me out because now if we get into some kind of accident it will be `man and woman in their early twenties'" says O'Rourke. " . . . I'm like, noooo, I'm still a child!'"
Appleby doesn't even offer a concerned glance at his band-mate. "We don't have the excuse of our hormones to explain why we're depressed any more - there has to be a real life reason now." he says.
He's as dry and laconic as O'Rourke is sharp and bemused. With maybe a bit of a dark side. Humour probably helps when they're on the road - which is a lot. LGC have just returned from their fifth tour of their `heart home' of America and while they're not quite the Amish of Irish pop, tales of on-the-road excess and debauchery are sadly in short supply.
"People often ask us that. There is quite an expectation of bands to be misbehaved but I think we are really not that kind of band," says Appleby. "We're more into surviving on a day to day basis . . . "
So they're all back in their rooms reading William Faulkner novels and listening to Hank Williams by 10.00pm every night? "We're in a van the whole time - we get into a motel at four in the morning to save money," says O'Rourke. "The further away you are from the city the less expensive it is. Once we play a gig, it's into the van and go and try and get some sleep."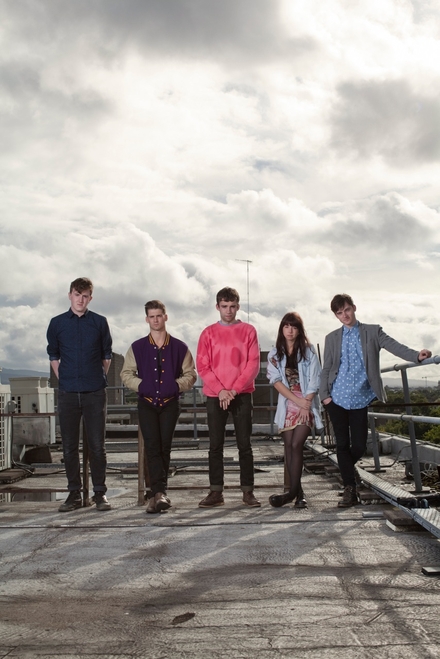 "We don't have the excuse of our hormones to explain why we're depressed any more - there has to be a real life reason now." 
Compensations are few. There was an encounter with Neil Young earlier this year and R.E.M.'s gentleman bassist Mike Mills came to one of their shows too. "Oh, I nearly knocked Nicole Richie down the stairs," offers Appleby helpfully.
"We had just played a show somewhere and I turned a corner to walk down the stairs and she was walking up the stairs carrying a load of drinks. She's tiny and I'm . . . not tiny. I nearly killed her! We could have collided. It was a big moment for me."       
Little Green Cars met in school and bonded over a shared love of Americana. "That's all I listened to although it was never considered to be American music," says Appleby, a young man who refers to the teen years as "the Ice Age".
"I didn't even realise I was listening to folk music until somebody told me it was folk music - I was just drawn to characters, stories, vagabonds . . . it's the most clichéd thing an Irish person could say, that America is this place of broken dreams." 
Faye met Steve early into her own Ice Age. She was 14-years-old and the idea of forming an Americana-inspired, literary five-piece with at least one superb singer was but a dream. "I always admired Stephen because he was always doing something for himself," she says.
"Going into secondary school is difficult because you think you're really good at something and then you meet all these other people who are better. I thought what's the point of doing something if you're not the best? Then I met Stephen and I really admired him for just doing his own thing."
Formed just four years ago, progress for Little Green Cars (some people count sheep when they can't sleep; Steve counts little green cars whizzing around a track) has been very quick.
Absolute Zero, produced by Marcus Dravs, who also produced Arcade Fire, Coldplay, Bjork Mumford & Sons, came out last year and flew straight to Number One in Ireland and was greeted with hosannas for its intuitive grasp of classic song-writing and musicianship.
As for the album title . . . "Absolute Zero is a way of describing people from one to ten," explains Stevie. "it's based on the concept that the uglier you are, the more interesting you are."
"Beautiful people float through life because everyone is in such awe of them and ugly people have to try. It's a very warped theory obviously but when I read the line I was drawn to it."  
Their debut album has a fumbling, naïve quality about. In contrast to Appleby's fallen choirboy quaver, O'Rourke's voice has all the otherworldly dread of Grace Slick one minute and the next, she can capture the emotional desolation of Gillian Welch with dead-eyed accuracy.
Sadly, she does not feature on the album enough. "I only sing on the songs I wrote," she says plainly. "We're working on new songs right now but I don't really see it as just singing your own songs. I like to think I'm involved in more than just the singing aspect of the band. I've got a good few songs on the next album."
They've been embraced by still thawing teens and the Mojo generation and both camps are already savouring the prospect of the second album. It's coming together in their very own Big Pink in Gorey, Wexford and new song titles include The Factory, The Garden of Death, Mum and Dad and Clare de Lune.
"We've got about four or five songs out of it," says Appleby. "The work is much more meticulous, there is no added pressure, no added sense of moving on; it's about moving forward. There is no nitpicking."
Dravs may or not be involved again. "We're on a different path," says Appleby. "It's very hard to say at this point because we're still writing the songs. we'll know when the album's together who'd be the best person for it. Some songs are made for Marcus and others are drifting in a different direction."
"There is definitely a shift whether you want to say we're moving up or down or sideways," says O'Rourke. "There is definitely a direction. I am very, very excited to finish this album. I'm more excited about this album than the last one. When it actually comes out is out of our hands . . . "
I take my leave just as Steve is helpfully explaining the difference between a nerd and a dork. "A nerd has to be clever; a dork just has to be silly." he says. 
So are Little Green Cars a band of nerds? "I think so," says Faye. "But is life not a band of nerds?"
Little Green Cars and guests play The Iveagh Gardens, Dublin on Saturday July 12th. Tickets priced €28.00 from www.ticketmaster.ie and outlets nationwide.