John Byrne meets Paul Weller, the British singer-songwriter and musician who has enjoyed an incredible career that has spanned five decades. And it ain't over yet.
Meeting Paul Weller is like stepping inside music history. Most successful musicians tend to have a couple of years in and around the top, but then the bubble bursts and they either fade into obscurity, retirement or - worst of all - become their own tribute act.
Paul Weller's a different breed. Always has been, and never a has-been, you might say. Making a breakthrough with The Jam in 1977, he's remained a constant creator, always willing to change, always looking for something to keep him both interested and interesting.
Backstage just before he went on stage at the Royal Kilmainham Hospital gig in Dublin last Tuesday (June 24), the 56-year-old is in immaculate condition - thin-but-muscular, skin gleaming, and dressed in the pretty familiar pairing of a fitted polo shirt and jeans.
Trying not to sound like a proud mother eyeing up her son who's returned home from college in better condition than when he left, I tell him that he's evidently been looking after himself.
"You have to," he insists. "You get to a certain age in life, you can go in one of two ways. It's a crossroads. You can either keep on going down that path you've been going down, or you can get yourself together and maybe live a little bit longer and work a bit more. So I've chosen the latter. But I've had over 30 years of fun as well, you know what I mean? But there comes a time for everyone, really, and you make a choice in life."
Then there's the trademark haircut that, bar the odd flirtation with highlights and the floppy fringe look, he has remained loyal to for decades. It's the only thing about the man that's stood still since he first ventured into the studio back in 1977 to record The Jam's anthemic In the City. His subsequent CV is not just impressive, it's pretty peerless.
I wonder how he's coped with the various technological breakthroughs in sound and recording since he first plugged a guitar into an amp. "I'm totally useless with technology," he admits, without a hint of Victor Meldrew-like bewilderment. "Of course it's part of our daily life, innit? But luckily I can rely on the kindness of strangers to do it for me. That's just the way it is - it's never going to go back. You either have to either adapt to it or give up."
Adaptability could be a byword for Weller. The lad from Woking in Surrey started out as an angry, angular teen before taking several turns and changes in styles of music. But when he decided to bring The Jam to a close in 1982, it was perceived as a huge gamble at the time, as they were - by some distance - the most popular band in Britain.
Despite a string of more than 20 hit singles behind them and a virtual residency on Top of the Pops, Weller pulled the plug after Beat Surrender became their fourth number one. He looks back on it as the only option open to him.
"It was absolutely the right thing for me," he says." I'd started that band when I was 14. We obviously didn't get signed until later, but I'd been in that same band, pretty much, for ten years, from the time I was 14 until I was 24, and it was just time to move on, you know? But I also think that our legacy was never dulled or diminished because we didn't go on for another 30 years."
Pausing for a moment, he adds:"There are two ways of looking at it, obviously. It was a very selfish move in some ways, but what are you supposed to do? It's like being in a relationship you're not happy with - do you stick it out or do you do what's real to you and true to you? F*** off and do something else!"
The Style Council offered a complete contrast to The Jam. While the latter were an all-out aural attack, the former was more subtle, had broader influences, and saw Weller develop as a songwriter and an unlikely pop star given his previous punk and mod credentials. As he puts it, flatly but correctly: "There wouldn't have been any point in me splitting up The Jam and then forming another power trio."
There was more to the move, though. "I also had other ideas. I wanted to try other styles of music; I wanted to have more of a floating line-up so I wasn't always tied to the same musicians; and more than anything else, to see who I could be as a person, as a musician. I was 24 years old and all I'd ever done was this one thing. I'd been on the road and making records - which was brilliant - but I also wanted to go and see who else I could be."
The Style Council rarely put a foot wrong, but perhaps their embrace of the emerging House music scene sent out the wrong signals to their audience and their popularity waned in the late-1980s. For the first time in over a decade, Paul Weller was no longer centre-stage in British music. Now in his early 30s, it was time for a major re-think.
"At the end of the Style Council I thought that was it, for a while, a good couple of years, because nothing was going on, man," he recalls. "I'd no band, I'd no record deal, I'd no publishing deal. I was totally adrift.
"In hindsight - and this is only with hindsight - this was a really good thing for me because it gave me humility. It made me understand a bit of humility. But at the time it was awful because all I'd ever gotten used to was working and making records and being out on the road. So it was a very strange period of my life, really. But good things come out of that.
"I didn't work for a year or two and then I just started going back on the road and it was almost like starting again. I was playing small clubs, not so many people there, and it just built up again from that. The more I worked, the more I found my focus. And the more I found my focus, the more people came back to the music, you know?
"So," he adds, "whatever rubbish it was, it was certainly necessary."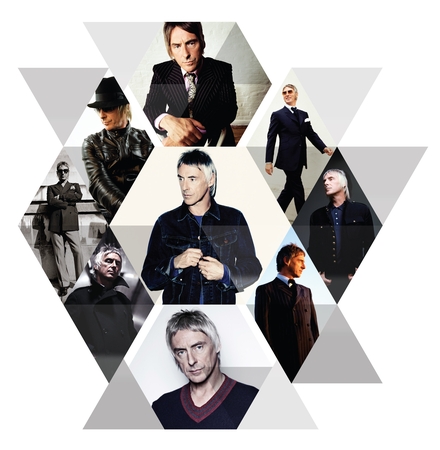 Incredibly, Weller's third bite of the cherry, as a solo artist, has not just been successful, but also lasted longer than The Jam and The Style Council combined. He became the patron saint of Britpop in the mid-90s, followed that with the Modfather years and his critically-acclaimed recent output, which has been captured in More Modern Classics, a recently-released compilation of songs he has recorded over the last 15 years.
Is this the closing of yet another chapter in Weller's career? "I don't know," he admits. "I don't see it like that. Everyone seems to be thinking it's some sort of full-stop in some way but to me it's just another record along the way, along the journey. This is a summation of the last 15 years, but at the same time I'm still working on a new album that will be out early next year. So it's not any door closing to me, it's another door opening."
And he's at an age when there are many other considerations, especially being the father of seven children. It's a long way from being in a band as a teenager and not having a care in the world. "I like working," he says when I ask if he considers himself a workaholic. "I don't know if I'm a workaholic. It's a difficult thing, balancing work with family life. So you are spinning plates a bit, but it does work. You can make it work."
And how about life in general?
"I like it. How do you feel about it?"
Great.
"Good."
Pausing for a moment of reflection, he adds: "I'm a lucky one. I keep saying it. Maybe you realise it the older you get, but I enjoy my life. I'm happy doing what I do and I've no other ambition outside of just carrying on doing what I do.
"I don't want the whole world - just my world."
More Modern Classics by Paul Weller is available now