Blarney man Mick Flannery returns with his new album By The Rule. He talks to Alan Corr about moving to Berlin, going "full-on negative", and colouring in Jesus
Amid the rarefied early evening din of voices and the clink of fine crystal and china in Dublin's Westbury Hotel, Mick Flannery is telling me a story about his grandfather.
"He was three years old and his mother, recently widowed, was coming home from town and she saw her hay shed was on fire - smoke and flames everywhere and she couldn't find him," Flannery says. "She thought he was burned up in the fire but they found him a couple of hours later under a bed.
"He'd been playing with matches and he was afraid so he wouldn't come out but they managed to coax him out and when he did, he said, `I lit the small fire ma but I don't know who lit the big one.'"
Flannery used it as the starting point for The Small Fire, one of the songs from his new album, By The Rule. "The song is about someone who started to think about who they are and what they are and why they are and they can't get anywhere with it and it just spirals out of control . . . so I stole the idea – I stole it from a three-year-old."
He slumps back on the couch in the chintzy and upholstered Westbury and cracks another winning grin. By The Rule may begin on a Saturday night in February with not even "a god to pass judgement on me" and end with a song called Out to Sea which captures that sense of beautiful desolation that all good songwriters aim for, but Flannery remains the same wry and mischievous customer as ever.
He is made for a certain kind of Irish international success. The sometime stonemason from Blarney has the rugged looks, the soft Cork accent (when he's speaking anyway) and the wary demeanour of a man who is uncomfortable with attention and who never thought fame was the spur anyway.
Dressed in checked shirt, jeans and boots, he is also a man who had a beard long before beards ironically became some kind emblem of individuality for twenty something men in the early 21st century. "Do you think this is the work of one man?" Flannery says, quoting Dylan Moran.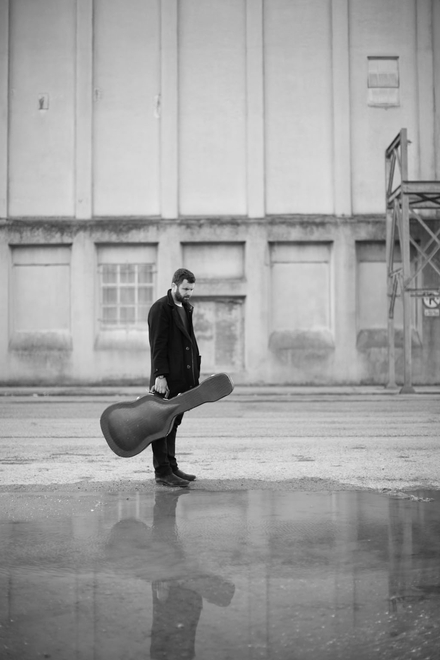 "I went for full on negative this time."
The 30-year-old is back performing open heart surgery with a blunt instrument on By The Rule. However, that title is not as knowing and rueful as it might appear. "I called it that because a lot of the songs are about someone contemplating how it is they actually contemplate," he says.
"The first song is talking about a godless man wondering whether he needs to be good or not. I don't have a rule or a code. The man in that song lives by one and it f**** him up. He picks a rule of falling in love with one woman but she doesn't fall in love with him. It backfires."
If anything, By The Rule is an even more downbeat set of songs from a man who does chin-on-the-chest sorrow better than anyone else in Ireland right now. Flannery drifts through the waltz time of The Watcher, sings broken and mournful lines such as "the man who lived to live alone", and on the stand out track, Even Now, he mercilessly carves out the true and terrible aftermath of a failed relationship.
On his last album, Flannery said he walked away from certain songs to keep his negativity in check. "I went for full on negative this time," he quips. "I didn't shy away. I was hanging from beams and everything."
Wry and wise cracking he may be but there is little room for humour in Flannery's emotionally scarred world, not even of the gallows variety. "The songs are so black that they're actually funny you mean?" he says. "When Kurt Cobain said `give me a Leonard Cohen after world', was that funny? I find Leonard Cohen funny, at times but at times not."
Flannery's progress has been as slow burning as his music. He won the approval of Tom Waits, a singer he was often compared with in his early days, at a song writing contest in Nashville in the early 2000s. Since then he has built on an almost methodical success and his last album, Red and Blue, was an Irish Number One.
He still tours a lot and clearly enjoys the solitude of the road and for By The Rule he moved to Berlin where he didn't know a soul. "I went over there twice. I failed the first time - I got frozen out of it by the winter then I went back in April last year and I stayed until November," he says.
"I went to Berlin because I wanted a change. To some degree it was to get away from Charlie's Bar in Cork. I was spending too much time there. I don't mean to cast aspersions on Charlie's Bar. They've good music, a good pint, and my brothers worked there."
By The Rule is full of hard-bitten literary influences and the influence of Cobain, Dylan and Cohen is still to the fore and like that holy Trinity, the new songs burn with spirituality. God is even mentioned several times. "I've never been a religious person. I was never baptised or anything. I said no - I was pig-headed when I was two. Hahaha!" Flannery laughs.
"My mother went to the doctor once in Blarney and he said `Noleen, my Daniel thinks your Michael's a bit stupid'. It was because this fella Daniel said to his father, the doctor, `Michael doesn't do religion class at all. It's only colouring in. He cant do it.' So he maintained I was thick because I couldn't colour in Jesus."
We all colour in Jesus in our way Mick. Flannery says he doesn't do much stone masonry these days, the former profession which drew irresistible analogies with his trade as a songwriter.
"Well, I have the time but my friend I used to do it with has taken on a college course," he says. "He was the one who used to get the work and I'd join him when I could so it's not available to me any more. I wish it was – I'm getting all soft, soft f***ing office hands."
By The Rule is out now