X Factor winner Sam Bailey filled Sinead Brennan in on life after the hit talent show.
Sam Bailey was crowned the winner of The X Factor 2013 and her debut single Skyscraper shot straight to number 1 in the charts just in time for Christmas.
The former prison guard underwent a major transformation over the course of the series and week in, week out she wowed viewers with her consistently incredible performances, and now with the X Factor Tour on the go, she's getting to meet the fans that put her where she is today.
Now that the show's over there must be a big come down when the X Factor bubble explodes? Sam agreed that her win still hasn't really sunk in yet, "It's kind of getting there, it's taking a while for it to sink in but it's more and more apparent now that the tour's on, you're getting to see the fans and the people that are wearing your t-shirts and have posters up and stuff. So this is where it becomes apparent to me who's a fan and who isn't and it's a really nice feeling."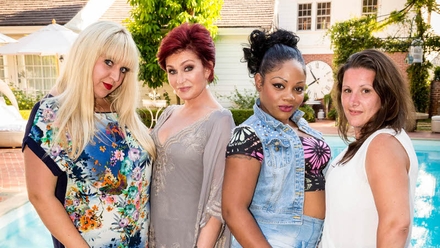 Sam Bailey featured in Sharon Osbourne's over 25's category.
Living in the X Factor house with all of the other contestants looks pretty intense and being reunited with her family is a major perk of the competition being over, "It's nice to be out of the X Factor house, to be able to go home and be a bit freer with stuff but the toughest part is when you go home and have to leave them again, because you have to go off and do stuff, but I've been looking forward to having a bit more free time."
I was curious how Sam's kids find their mother's new found fame, "Weirdly when we go out anywhere and get stopped and asked for photos, my kids like step to one side. They've been so good so I've treated them loads and when I'm away I go onto the internet and order them something so it gets delivered to the house and they don't know its coming - just little toys and stuff. They're really sweet, they've been really, really patient, they are missing me like mad and my other half is coping as well as he can but you know, it's going to get better, this is the tough part because it's the tour."
Sam, her husband Craig and children Tommy and Brooke.
The next big thing on Sam's calendar is Beyonce's Mrs Carter tour as she's lined up to support her on one of the dates, "It's not really hit me yet, I don't even know what I'm doing, sing Bah Bah Black Sheep or something, I don't know how many songs I'm doing or what I'm doing, it'd be nice if I could do something from the show maybe, maybe do the set I'm doing here [on the X Factor tour], like I'm supporting her so I don't even know how many songs I'm doing."
Sam's debut album, Power of Love, is set for release on March 24 and it will feature a mixture of cover songs and original tracks, but every song on the record has a special meaning for her, "There's a song on there that's the first song I ever sang in front of someone, there's a song that was played at my dad's funeral and there's a song on there that means quite a lot to me in another way, about missing someone, and there's a few duets on there. I did have quite a lot of input into what went on."
Sam with Michael Bolton.
While Sam couldn't dish any details about the other duets that appear on the album, one has been well publicised and that's the collaboration with Michael Bolton and there's a chance they'll work together again, "He really is a massive fan of my voice, I'm a massive fan of his voice, we like the same music and I'm really trying my hardest to sing a duet with him of a song he hasn't sang in over 20 years so I'm fighting and fighting and fighting to get him to agree to it. But yeah, I talk to him all the time, he texts me a good bit."
Sam's debut album Power of Love will be released on March 24.