We caught up with 1/5 of The Overtones, Cork man Timmy Matley, to talk about the band's new album, their Saturday Night Show curtain mishap and their upcoming Irish show.
RTÉ TEN: Saturday Night At The Movies is already in the top five album charts in the UK. You must be thrilled?
Timmy: We're really, really pleased with this album. We are very proud to be in the top five of the album charts in the UK. It's a big time for music – Eminem, James Arthur, Tinie Tempah and The Wanted. We're up there with the big boys along with some more amazing international acts. We worked twice as hard on this album.
Tell us about the album name?
We had a long think about the songs that we wanted going on to the album. Mark was like 'these are actually in some really big films.' So, we decided to put all of those big, big, songs from so many classic films that we all know and love into the title. We touch on Pretty Woman, Do You Love Me from Dirty Dancing. There's even a Jungle Book melody in there. It's the Bare Necessities into I Wanna Be Like You. We're all big kids at heart.
What is your favourite song on the album?
Can I give you two? It's Runaway originally by Del Shannon. Number 2 has to be Pretty Woman.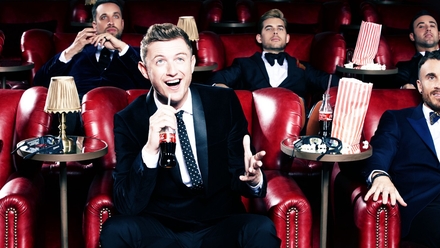 Cork man Timmy in all his glory
There are some original tracks on the album. What was it like trying to work them in?
It was interesting for us as songwriters, but it happened very naturally. We have some great original songs on there like Miss Hollywood, Superstar and our first ballad called All About You. We're delighted with them.
Listen to Saturday Nights At The Movies here
It was just announced that you are coming to Ireland on your tour?
I know it's so exciting. We have three dates in Ireland. Cork Opera House, Cork on February 17; The Olympia Theatre, Dublin on February 18 and The Ulster Hall, Belfast on February 19. Ireland never lets me down. Everyone loves a good sing and a dance. They always show us a really good time.
Keeping in theme with the album. What is your favourite movie?
It's all of the movies that are played around Christmas time, like Home Alone, The Sound of Music, Greece and Dirty Dancing. I like those animated movies as well like Toy Story.
Five lads in a group. There's bound to be rows all the time, right?
We have our moments were we might be a bit grumpy in the mornings or just have a little moment. But what I like about us is, we don't hang on to it. It's always quickly forgotten about. I think you kind of have that bond with family. I feel like with us, if anything needs to be said we'll say it. It's always majority rules with us.
The last time you came over to RTÉ, there was a bit of a curtain mishap on The Saturday Night Show. Do you laugh about that now?
It actually made Bloopers TV here in Ireland. A TV station in the UK also approached our management to ask if they could use it on their comedy show. Brendan was an absolute star in that incident. If he didn't come over and hold the curtain up for us we would have been stuck behind it.
I'm hoping that next time we go on the show we have a good old giggle about together. Brendan is from Cork as well. He's a sound fella. We owe a lot to him for saving the day.
Finally, what are your Christmas plans?
I actually booked my flight home the other day to Cork from December 24 – 30. It's going to be a nice few days away. I'm really looking forward to it. I missed coming home last year because of a Christmas appearance, so this year is going to be really special. I can't wait to have a bit of mammy's cooking and to play with my nieces and nephews and catch-up with all of my aunties and uncles. Everyone is so proud and it's nice to see them when they can have all of my attention.
Saturday Night at the Movies is on sale now!