It's been over 15 years since Stereophonics released their debut album Word Gets Around and, the welsh rockers are still going strong with their most recent album; Graffiti on the Train, reaching an impressive number three in the Irish Indie Albums Chart. Ruth Aravena caught up with the band's bassist Richard Jones to get the low down on the inspiration behind the album and on an exciting up and coming film project.
Ruth Aravena: Graffiti on the Train is your 8th studio album, are your musical influences the same as they were for your first album or have they changed?
Richard Jones: "We get our inspiration from anything and everything it kind of changes but we still get ideas from contemporary artists and our heroes from the past. Kelly is kind of the same with the lyric writing it's all about what's happening around and something might spark an idea and he just runs with it then."
And what was the inspiration behind this album?
"I supposed the inception of it all happened when Kelly heard footsteps on his roof and he confronted the two boys that were up there and they said 'no we're not breaking into your house we're just using your roof as a stepping stone to get to the railway track. We want to spray paint the train.' So that kind of inspired Kelly to write about somebody who would take all of these risks just to leave their mark on something, perhaps they were writing messages for other people to read, so Kelly took that idea and started the story line of Graffiti on the Train."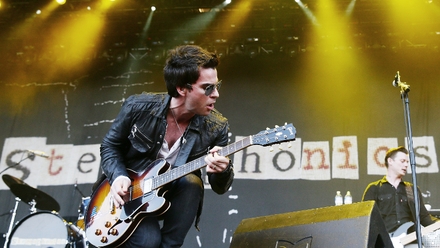 You've worked with James Bond composer David Arnold on this album to add more strings, how did that collaboration come about?
"We had some soft synth strings on the album and we thought strings might sound good and our publisher knew David Arnold so he suggested we give him a buzz and see if he wants to work us and see if we want to work with him and yeah, it was a brilliant time. He really liked what we were doing and his ideas of what he could do orchestra wise just turned the songs into something else which was brilliant. It was very inspiring to watch a 40 or 50 piece orchestra working on four or five songs and it was the same boys that do all of the bond themes."
You also parted ways with your record label, what sparked that decision?
"Basically, the record label we were with, Mercury, worked really well putting together our greatest hits package and promoting those big things but we just had different ideas about how we wanted to release this album. We wanted to do it hand-in-hand with a couple of promotional clips for videos and we knew that we probably wouldn't have been able to do that on a big label so we decided to go by ourselves, use Ignition (management) and the tools they've got worldwide and just to do it ourselves. It's kind of a gamble and we knew it would be a big gamble but it's paid off. It's given us a lot of freedom about how to put things together and to just release it the way we want to release it."
Do you think that independent labels are important in the music industry today?
"Definitely yeah, I think independent labels have always been important. They give new bands and very individual bands their outlet of getting their music out there because a lot of big labels are only interested in big numbers. Some artists aren't interested in selling millions and millions of records, they're only interested in creating a piece of work and seeing some enjoyment from that, seeing other people get enjoyment from that, no matter how small the numbers or how big the numbers."
I've heard that you're going to be working on a film, could you tell me a little more about it?
"It's all going to tie into the story line of Graffiti on the Train which is basically the song Graffiti on the Train, the lyric part of that is about one lad who writes messages on the night train for his wife or girlfriend to see in the morning and she reads one saying 'will you marry me?' and by the time she gets to see her partner he's already had an accident. The demise of that person leads on to other kids from the same area to go on a life journey finding themselves
So it's going to be a coming of age story?
"A bit of that, the script is still in the process of being read by lots of people so it'll probably have to get a couple more re-writes. As soon as the producers get involved that's when we can think about starting shooting."
Stereophonics have been touring for years, do you ever get sick of playing the same songs over and over again?
"That's a good thing about having eight albums, we can chop and change as frequently or as infrequently as we want. As soon as we get bored with one song it's always best not to overplay it because you kind of don't want to play it for a while. We've been really fortunate to be able to chop and change our sets over the last four or five years with the amount of songs we've got. We're still loving playing live and still getting a great reaction from the crowd which for us, is what playing live is all about."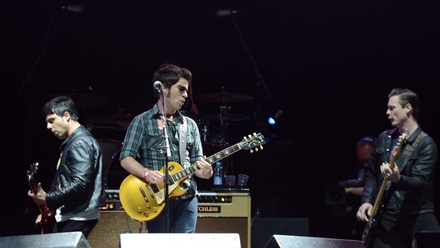 You've played Ireland so many times and you've played in small venues and big venues, do you find that you're under more pressure at bigger venues or do you treat all shows the same?
"No we treat them differently because they need that respect because if you're doing a small venue there's nowhere to hide and people can see your every move, they can hear every mistake but when it comes to the big shows it's more of an event, you've got to turn it up to a higher setting. It's all about production and seeing those productions as part of the show. For want of a better word it's a little more about using the theatrical aspects of putting a show together."
You've also played in so many different locations, do you find that the crowds are different from place to place or do they all have the same energy?
"It is usually the same energy but when you're doing a bigger show it just feels different because you're a little bit further away from the crowd but the volume of the crowd is that much louder. I love playing big rooms and I love playing small rooms as well. It's great that we're in a position now that we can do all of these different types of rooms. It helps us as well as musicians because we're learning continuously about what our crowd reacts to."
Do you think that Stereophonics will be the kind of band who will keep touring into old age or do you see yourself getting tired of it at a certain point?
"The band vibe in the band now is probably at such a high level that I'd say yeah we'd continue for as long as we can. That's what's good about being in Stereophonics, we don't treat anybody different, it's about how good the band can be. Each of us play such a strong role in getting the band to that level, we've all got the same goals and we're all in it for the same reasons."
And what do you enjoy doing in your free time? Do you enjoy listening to music when you're not doing band stuff or do you like to step away from it?
"It's not really a job, it's a love affair with music, playing music, listening to music, I can't really escape it. I came up to London today on the train listening to the new Nine Inch Nails album and it's great to listen to other people's music and it's very inspiring when what you do reacts with so many people as well."
Ruth Aravena
The stereophonics play Dublin's O2 Arena on the Tuesday 12th November