U2, that most widescreen of bands, are stripped back to a minimalistic intimacy on this mammoth career retrospective
What, you might very reasonably ask, are U2 up to?
Why are they reupholstering forty of their own songs? Is it an act of craven vanity from a band who have demolished and then rebuilt their own myth? A sign that, yes, the wheels have finally come off one of the most well-oiled rock machines in history. A primer for Bono's stadium lounge lizard act in Vegas later this year?
We need your consent to load this Spotify contentWe use Spotify to manage extra content that can set cookies on your device and collect data about your activity. Please review their details and accept them to load the content.Manage Preferences
Songs of Surrender was originally intended as a neat piece of cross-pollination with the singer's book, but this being U2, a band who just can't help themselves, it has become something much bigger. And sprawling and wayward and surplus to requirements.
As U2 see it, this mammoth near-three-hour album is the sound of the veteran band re-evaluating their long career as citizens of the world and looking back on the callow youths of the late seventies and adding gravitas to tracks that were charming in their nativity all those years ago.
But for a band who make much of the currency of relevance, is it wise to treat your own back catalogue as if it were the great American songbook? Hell, I'd sooner see U2 sing the great American songbook than cannibalise their own work.
There is something vaguely vampiric about the whole enterprise but ironically this is the best thing U2 have done in years
Of course, the early signs were not good, with the reworkings of One and Pride provoking more head scratching than head nodding, I mean, didn't big acts used to do this kind of thing on something called MTV Unplugged?
Anyway, you've heard of Taylor's Version. Well, here's Bono's Version. They had 436 songs to choose from. It starts with One and, some weeks later (ok, two hours and 46 minutes later), it ends with 40. Clever, eh?
But as this long album develops, things crystallise, and SOS begins to make some kind of sense. This is a rather good spot of musical feng shui and many of these artfully rearranged songs are now freighted with a sense of mortality, existentialism, and fond wistfulness for youth.
Songs Of Surrender. March 17, 2023. Pre-order the album and listen to 'Pride' now. https://t.co/e6GMdOLrR6 pic.twitter.com/iOh4ku7w6q

— U2 (@U2) January 11, 2023
This reckoning between Old Testament U2 and New Testament U2 sees stentorian anthems become skeletal re-edits with ambience and atmosphere as the watchword. Always a spiritual experience for their fans, many of these reworked tracks come bathed in a luminous religiosity. The Edge steps off his array of pedals and sticks mostly to keyboards, acoustic guitar, and dulcimer, the engine room of Adam and Larry purrs, and doesn't prowl and lo! Bono's anguished bellow is now in a lower register or a falsetto.
There is occasional rewriting of lyrics. The Miracle of Joey Ramone (Bono doing his northside Jamaican impression) is almost completely overhauled. Walk On is now dedicated to Ukraine and the new version of Pride now mentions the tragedy of Alan Kurdi. On the same song, Bono also finally corrects his confusion between ante-meridiem and post-meridiem.
Bono. The Edge. @ZaneLowe. The Desert.
Watch the full interview: https://t.co/iislczg8wi@AppleMusic pic.twitter.com/WpTk7Ea6Hv

— U2 (@U2) March 16, 2023
However, new takes on far too many of the songs (Sunday Bloody Sunday, Beautiful Day) are so pointless that you can almost hear Larry making the coffee in the background. Lesser-known tracks (Lights of Home, Every Breaking Wave, Invisible, Get Out of Your Own Way) do bloom under the new interpretations - and who among us thought I Will Follow would sound so damn good played on a dulcimer?
One becomes a downbeat hymn with Larry providing a bit of ye olde martial drumming somewhere off in the mix; Where the Streets Have No Name is shorn of its famous guitar intro and given a spot of Enoistic ambience, but the new take is listless when compared to the thrilling rush of the original.
Early cut Stories for Boys is reborn as a piano ballad and a vocal (one of four from The Edge) that keeps a polite distance from the gauche lyrics and 11 O'Clock Tick Tock now sounds like the work of a slightly drunk chintzy cocktail bar band.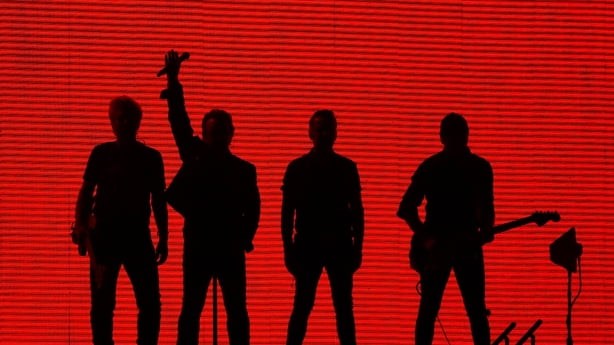 Better still, an acoustic reworking of Who's Gonna Ride Your Wild Horses ignores the overwrought original and Get Out of Your Own Way is given over to Larry and Adam's rough and tumble rhythm section.
Dirty Day, the scuzzy industrial cacophony from Zooropa, is played on cello and features a half-whispered vocal that recalls Matt Johnson tearing himself apart on Soul Mining. The celebratory City of Blinding Lights - Obama's campaign song on first run for the White House - now takes on a new vulnerability, while Vertigo, snatched from the ether just as it seemed U2 had finally shot their last bolt, really puts that cello through its paces.
Desire - the band's first UK No 1 hit – is sung totally in falsetto by Bono, which is no mean feat, and Two Hearts Beat as One, the 1983 single notable for its clunking gaucheness, comes back to life as a weird and sinuous curio.
Nearly three hours later, you may still be wondering what Songs of Surrender is all about. There is something vaguely vampiric about the whole enterprise but ironically this is the best thing U2 have done in years.
When it works, SOS is transcendental. When it doesn't, it sounds like a vanity project from a heritage rock act fumbling for a way forward. One question does remain, however - where the hell is Treasure (Whatever Happened to Pete the Chop?) and Alex Descends Into Hell For a Bottle of Milk?
Alan Corr @CorrAlan2