Calling occupants of internationally successful mega band, this galaxy ain't big enough for the both of us
Snubbed by Bowie and scolded by Brian Eno, Coldplay have long been aware that they will never be cool.
In the course of their meteoric rise from purveyors of tasteful angst rock to touchy-feely global pop princelings, criticism, or indeed the kindly advice of their elders and far betters, has never put them off.
We need your consent to load this Spotify contentWe use Spotify to manage extra content that can set cookies on your device and collect data about your activity. Please review their details and accept them to load the content.Manage Preferences
You've got to admire that kind of self-belief (and anyone who annoys the snob rock elite is ok by us) but on their ninth album Coldplay double down on the very things that a lot of people can't stand about Coldplay. Which of course means that this album is full of the very things that a lot of people love about Coldplay.
Is it bloody-mindedness or is it some kind of cosmic in-joke from a band who have always been aware of their own preposterousness?
Either way, perhaps in a bid to emulate something of Eno's conceptual ambience, Bowie's genius for conjuring up both inner and outer worlds and U2 and Eno's Passengers album, classic over-reachers Coldplay have gone all space opera concept album on Music of The Spheres.
There are alien choirs, homemade emojis as song titles, and a torturous concept about a far-flung galaxy where, as front man Chris Martin says, "everyone is happy". Maybe there's affordable housing and a well-run health care system there too but as the world tilts into chaos, Coldplay clearly subscribe to Stephen Hawkins' theory that there can only be peace on Earth when we humans leave it.
Martin will forever be the Tiggerish choir boy to Bono's preacher man
Anyway, the whole thing reads like an elaborate school project and sounds like a Fisher Price version of Ryuichi Sakamoto. Holst's The Planets suite it is not.
Widescreen production comes from Swedish pop maestro Max Martin and in between ambient interludes, Martin, Guy Berryman, Will Champion, and Jonny Buckland offer up variations on the Coldplay sound.
We need your consent to load this YouTube contentWe use YouTube to manage extra content that can set cookies on your device and collect data about your activity. Please review their details and accept them to load the content.Manage Preferences
On the power pop punch of Higher Power, Martin, the Tony Blair of stadium rock, is "down on my knees", reaching out and upwards on a "heavenly phone" but when he's not coining Bonoisms, he does capture some moments of real emotion. Humankind, for example, sweeps in on an excellent barrage of sledgehammer drumming from Champion, a brash guitar riff from an underused Jonny Buckland, surging prog pop synths and Martin's head cold of a vocal shaping a hook the size of Orion.
Let Someone Go, a warmly modulated duet between the front man and Selena Gomez, has something of the haunting beauty of Coldplay's last decent album, 2014's Ghost Stories. "When I called the mathematicians and asked them to explain, They said, 'Love is only equal to the pain' sings a mournful Gomez and it's one of the best lines Martin has written in years. Human Heart is also very good, a kind of hushed sci-fi acappella with Martin, sublime LA soul duo We Are King and British jazz musician Jacob Collier sounding like they are indeed being beamed in from the outer limits.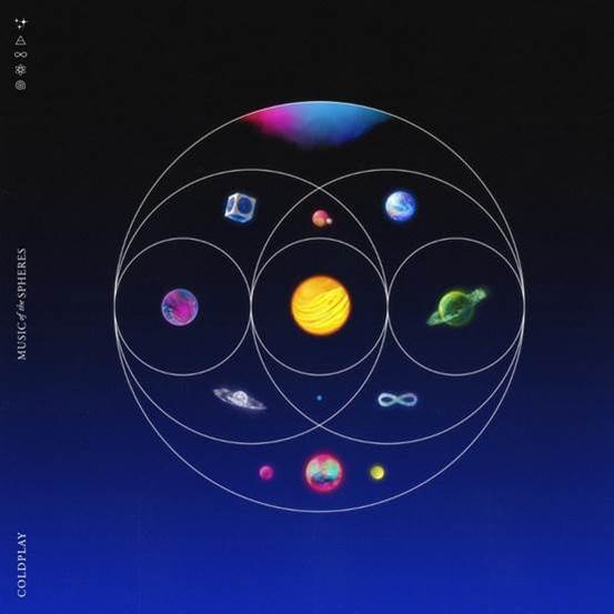 Alien Choir (yes, there's a song called Alien Choir) is all spectral keyboards, while People of the Pride is essentially Wagner meets the Glitter Band, with Martin, ever the Tiggerish choir boy to Bono's preacher man, overemoting about "sewing up of rags into revolution flags" and wanting "to be free to fall in love with who we want". The band cite Depeche Mode and Ramstein as influences on this track, but it basically sounds like something Muse have been doing for oh, 15 years now.
Elsewhere, the frankly awful Biutyful is so soppy it will leave stains on your ceiling, and it's hard to see My Universe, a cloying collaboration with Korean pop superstars BTS, as anything other than a cynical land-grab in an attempt to flog some records to the K-pop masses. However, Infinity Sign, a digital bubble bath of synths and another solid battering from Will Champion, isn't half bad.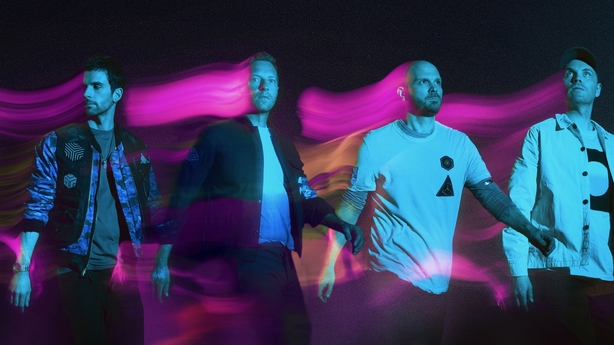 With electronic musician Jon Hopkins and orchestral arrangers Davide Rossi and John Metcalfe on board, the 10-minute closing track Coloratura finally sees Coldplay achieve some kind of lift-off. It is their Dark Side of the Moon moment and even features a stratospheric guitar solo straight out of the Gilmour playbook. It has some of the mystery and majesty sorely lacking on most of Music of The Spheres.
The obvious comparison here is with Coldplay's avowed heroes, U2. A generation earlier, they too swept away rock music's right to be obnoxious and ushered in a new era of trembling sincerity and inclusivity. However, twenty years into their career, U2 also pulled off something of a mid-career coup and dreamt it all up again with a second act that spawned some very good songs and a high degree of relevance in the ever-shifting world of pop music.
On the other hand, 22 years after they first made it big, Coldplay aren't just treading water - they're drifting aimlessly in space.
Alan Corr @CorrAlan2