Every song sounds individuated, considered, cherished on Jake Stanley's remarkable second album sung by a dream team, featuring Stanley's resonant vocal and Susanna Goodwright's sweet harmonies.
The record might even be viewed in the context of a number of cult Irish, or Irish-related albums out there whose very intelligence and profound sensibility seem to militate against their becoming actual hit material.
Van Morrison's Astral Weeks was arguably the first of those, and while its fortunes have improved over the decades, it remains decidedly cult-ish. Roll up, folks, instead for the bumper family favourites, Have I Told You Lately That I Love You and Days Like This. No point in explaining that anything on Astral Weeks is in a different league.
Pierce Turner's Now is Heaven is another such album, a serendipitous work of genius from start to finish. Or you could have Scullion's White Side of Night, another Irish classic. These albums were not made to a programme, they seemed to evolve in the studio through a fortuitous situation where players happened to work exceptionally well with each other in the game of chance that is music-making.
Luck of the draw, it all might have gone pear-shaped, because the music on such albums is often like no other, sometimes not even akin to the previous or succeeding music from the artist(s) in question.
Jake Stanley's Fix up Yer Courage, Fasten Yer Smile, which was recorded and produced by Duncan Ó Cléirigh, may be in contention for inclusion on a hypothetical Top Ten of such distinguished albums, out of Ireland by whatever by-road or circuitous route such albums have emanated. Jake is North of England native - and Cork resident for the past five years and these eleven new songs were recorded at Blackwater Studios in Fermoy. A third such album project is in the pipe-line and Stanley already has a debut album under his belt entitled Tricks of the Trade Won't Save the Day.
This remarkable new release features the talents of its writer, Jake himself, on what could be described as a stout, resonant vocal, but one which can also be plaintive and tender when needed. Factor in the essential harmonies of Susanna Goodright and you have a dream team, interpreting fresh-sounding songs with an earthy fabric and organic wholeness.
There is a wistful, yet energetic vibe and the lyrics delve deep in robust songs of love and endurance. Wreck is reminiscent of Crosby Stills, Nash and Young, and it appears to pay homage to that foursome in the way it ends. The song is suddenly slowed down, foregrounding the vocals, though the segment is not actually sung a capella as is CSNY's short coda, Find the Cost of Freedom, which it resembles.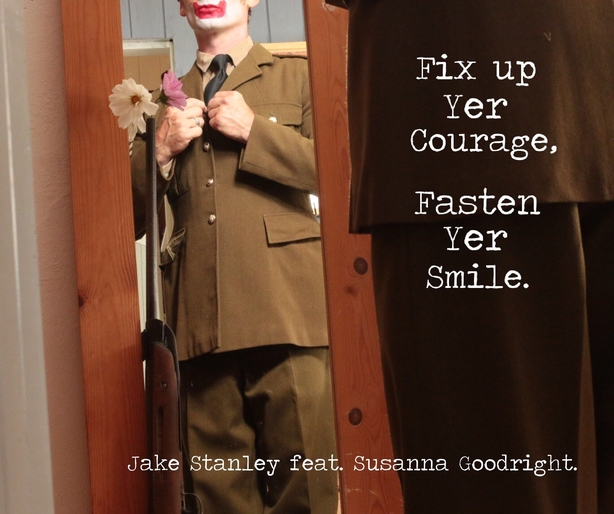 Stanley, a skillful guitarist, plays a lovely sounding instrument and uses flanger or phaser effect which went out with the flood, but which now sounds great because it's retro. When some of the songs start, songs like Outstay Your Welcome, one senses immediate chordal similarities with the late, great Bert Jansch.
Comparisons, of course, are invidious and can lead one away from focus, but there are shades too of the singing of another North of England band, The Unthanks. If I were Jake, I would post the album off to Stevie Nicks and ask her to consider the song Just Desserts for the next Fleetwood Mac album. No problem, go for it. I would let The Unthanks know too.
Fix up Yer Courage, Fasten Yer Smile is not so overtly steeped in 1970s and 1980s references as to be a museum piece, not in the least. However, it doesn't swim either in a contemporary current of late electronica and because of that there is freshness and the sense of an organic whole. Every song sounds individuated, considered, cherished.