First issued in 1960, remastered in 2006 (see audio track below, the briskly effervescent Move) and now reissued on vinyl, AT's Delight features at least three stellar presences of the period. These are pianist Wynton Kelly, Paul Chambers, bass and Stanley Turrentine on tenor sax, along with drummer-leader Art Taylor, a formidable phalanx indeed.
Drummer - and leader in this instance - Taylor was a percussive force to be reckoned with at that point.. A recent commentator describes the musician, who was born in 1929 in New York, as "the busiest modern second-generation jazz drummers (at the time). Something of a veteran of the scene, even though scarcely gone 30, he had worked with Coleman Hawkins, Donald Byrd, Bud Powell, Miles Davis and Thelonious Monk.
Typically enough, he tended to include Monk's material when leading a session. Here we get a fresh reading of Epistrophy, just after the sprightly opening track, a take on John Coltrane's Syeeda's Song Flute, which Trane wrote for his daughter.
The writer of the sleeve notes for AT's Delight was one Ira Gitler who recalls seeing Dave Burns, the trumpeter on the set, perform as far back as the immediate post-War period when the music scene in New York must have had a particular frisson.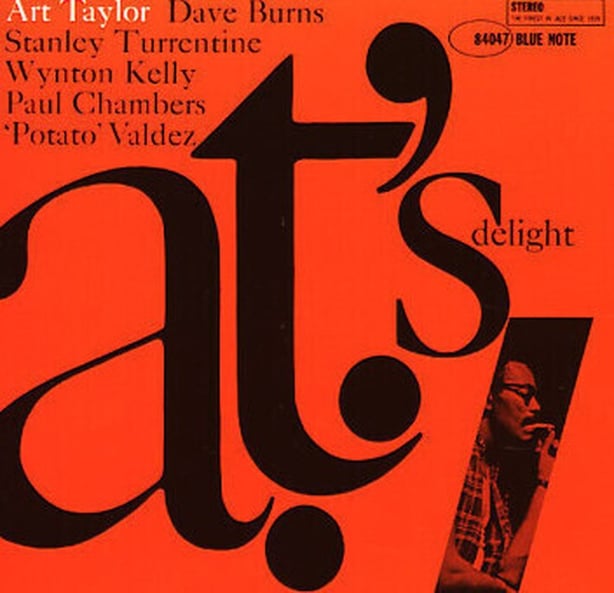 "I first heard Burns when he was a young trumpeter in the 1946 Dizzy Gillespie band at the Spotlite on 52nd Street, " he writes and you can almost see the dew film across the eyes. "When he would blow you would think you were hearing an echo of Diz."
Also on board is the Cuban conga player 'Potato' Valdez, which, naturally leads to some interesting interactions with Taylor. Kenny Dorham, no less, contributed two eminently likable tunes to the recording, namely High Seas and Blue Interlude, easy to like and groove to.
In short, AT's Delight is a zippy and dapper album of feel-good tunes that will lighten your mood, as six noted players collaborate with measured grace in a variety of rhythmic patterns. A footnote after the liner notes includes the following: 'Users of Wide Range equipment should adjust their controls for RIAA curve.' Mysteries beyond our comprehension...
We need your consent to load this YouTube contentWe use YouTube to manage extra content that can set cookies on your device and collect data about your activity. Please review their details and accept them to load the content.Manage Preferences