German pianist and composer Julia Hülsmann fingers an aqueous tinkle of piano to usher in Uli Klempendorff's smoky tenor on The Art of Failing. The tune opens this absorbing new collection, which also features two musicians who have worked together for 17 years, Marc Muellbauer on double bass and Heinrich Köbberling on drums.
Thus the faltering beginnings to an album that at times reaches sublime heights of imaginative tone poetry, but an album which too at times essays a deliberate 'unruliness', to quote the critic from Jazzthetik. That taste for discordant anarchy has to be taken on board as a vital element. In the space of one tune alone there might be something appealingly sensuous and then a sequence that might discomfit, or even repel the listener. 
Le Mistral, the second piece, a Muellbauer composition, features an almost mournful piano figure, and elegantly rueful asperity is the dominant note in its introductory sequence. Then the tune wanders off elsewhere and it is not a particularly impressive diversion.
Of more interest, This is not America follows, co-authored by David Bowie, Pat Metheny and Lyle Mays, and once indeed a 1980s hit single. Perhaps a little too much show-boating from saxophonist Klempendorff mars what is otherwise rather good.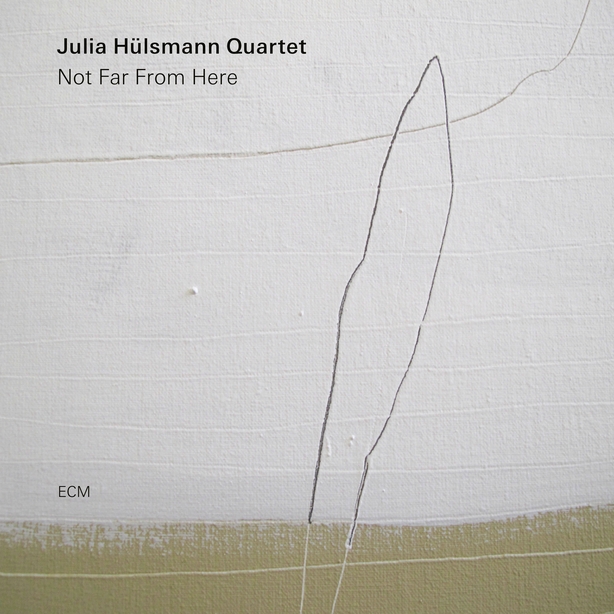 Hülsmann plays her own own Weit Weg, with exquisite poise, delivering leaves of autumnal colour. Bassist Muellbauer weaves in and around, and is an integral part of the insistent coiling, with barely-heard drums from the discreet Köbberling thrumming lightly underneath. 
Streitflicht  is ebullient and edgy, out there, as is the title track Not Far From Here, another of the five Hülsmann compositions on the 12- track album (there is a 13th track, a reprise of This is not America.)
We need your consent to load this YouTube contentWe use YouTube to manage extra content that can set cookies on your device and collect data about your activity. Please review their details and accept them to load the content.Manage Preferences
One feels, however, that it is the shadowy, noir atmosphere of the quieter material that is the ultimately the best as the players feel their way in the dark in the best possible sense. Köbberling's creation, Colibri 65 has a slow bluesy swing with a touch of Mingus in there somewhere and it is a firm construct, there is no feeling one's way. Klempendorff's breezy compostion, You Don't Have to Win Me Over, on the other hand, is oddly genial and summery.
Ultimately one senses that Hülsmann is not doing things by the book, she is working the palette, as it were, looking for light - maybe explosive light  - and dollops of quietly spilling shade. Improvisation may be the key element, some of the stuff sticks, other stabs in the dark flop a bit. An absorbing album nevertheless, searching, quizzical, questing.
Paddy Kehoe