Dublin noise rock mavericks continue to subvert norms on their challenging second album
With Fontaines DC and The Murder Capital having made Ireland safe again for a very homebrewed form of gobby, literary punk and new wave austerity, it's time for avant garde industrial post rockers Girl Band to stumble back into view.
Fiercely experimental, maybe even willfully obscurantist, the Dublin four piece's excoriating 2015 debut Holding Hands with Jamie was both a gleeful act of sonic vandalism and a transcendent rule breaker, which channeled Rollerskate Skinny, industrial rock, and, in its more "conventional" moments, My Bloody Valentine.
For the follow-up, Girl Band (vocalist Dara Kiely, bassist Daniel Fox, drummer Adam Faulkner, and guitarist Alan Duggan) retreated to Ballintubbert House in County Laois for what can only be described as a hardening of contrary attitudes and a determination to build things up and tear them down again in the pursuit of their very own take on musique concrete.
The Georgian beauty of their temporary lodgings serves as a fine contrast to the disorder and nihilistic sounds they made there. In fact, Duggan has said that the ambition was "to make an audio representation of the house." The Talkies sounds like a stately home being turned inside out and remade into a brutalist folly.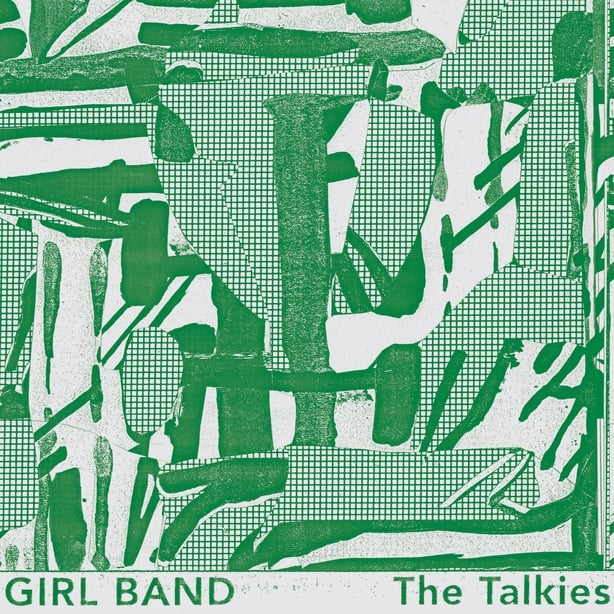 Opening with a recording of Kiely having a panic attack captured on tape during a rehearsal, these songs push the band to new sonic frontiers, where experimentation seems to be for experimentation sake; Kiely, who sings in an addled Mark E Smith drawl or an addled Mark E Smith scream, insisted on not using any pronouns in his scattershot lyrics and the band recorded everything in the key of A.
The results are not easy to love. Cacophony is king and if the ghostly and abrasive recent single Shoulderblades seems like it might be about to do the expected, Girl band disappear off on another tangent. Discordant guitar injections, screeching effects and distant rumblings dominate, lending Kiely's abstract lyrics a heightened sense of the surreal. When snatches of his anguished vocals can be heard, we are offered up a yell of "What is normal?" on Going Norway and on Salmon of Knowledge, "Barbie and Ken on a barbed wire fence".
Out of this industrial onslaught, tunes do arrive on the likes of Couch Combover (a Sleaford Mods title if we ever heard one), the superb Aibophobia, which was inspired by a dream sequence from Twin Peaks, the brilliantly vertiginous Akineton, and on Prefab Caslte, a very welcome MBV-like vapour trail.
Amid the sonic wreckage, Kiely, who has struggled with mental health issues, sounds like he's in a stage of near collapse as he invents his own take on primal scream therapy.
As subversive and uncompromising as ever, Girl Band sound like they're wrestling a beast deep in the bowels of Ballintubbert.
Alan Corr @CorrAlan2