This posthumously-released recording from dates from 1985 and 1986, following his severance from Columbia after a 30-year working relationship to sign to Warner Bros, although there were a number of archived Columbia releases afterwards.
Rubberband is a sparky, funky exercise, skipping expertly between the urban hedgerows with the funky Rubberband of Life opening proceedings and Miles huskily intoning the mantra 'rubberband,' as though it was a tablet of stone he carried out from under some scuzzy undergrowth.
Electronic drum programming - we are indeed talking the mid-eighties - and various keyboard sounds inter- cut with Davis's trumpet and vocal splashes from one Ledisi. The various elements fit into in a tight jazz-disco format, pretty much the marker for the rest of the album which concludes with a reprise of the track.
Paradise moves into Latin territory, swaying away at cocktail hour with smooth Spanish guitar. You wouldn't really know it was Miles, all he does is vamp-echo his way through it on the horn. So Emotional is an attractive R'n'B ballad, something you could imagine Chaka Khan singing - she was originally intended to sing on teyh album- but it is in the fact Lalah Hathaway who does the vocal honours.
Randy Hall distinguishes himself with George Benson-style guitar mimicry on the appealing disco tune, I Love What We Make Together, with a decent vocal from Attala Zane Giles. He has a hand in the writing of most of the tunes, along with Miles and guitarist Randy Hall.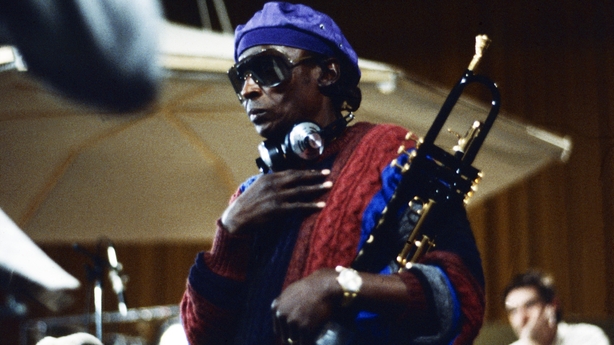 Give It Up, an up-tempo piece of disco jiggery-pokery has Miles's bright filigree all over it atop a chunky rhythm. Maze is one of two tracks written solely by Miles himself and you feel he has edged closer to whatever is going on, it's a particularly supple thing with a fascinating bass foundation from one Angus Thomas. Carnival Time is all pitch-bend synth and funky bass, and a certain ear candy tunefulness.
The trumpeter seems very much to be leading proceedings on the second of the 'Miles only' composed tunes, the effervescent Echoes in Time/The Wrinkle. It cooks up a wonderful groove, Miles on trumpet and also on keyboards.
We need your consent to load this YouTube contentWe use YouTube to manage extra content that can set cookies on your device and collect data about your activity. Please review their details and accept them to load the content.Manage Preferences
To contextualise this release, 1985 was also the year Columbia released the album You're Under Arrest, which featured Davis's reading of Cyndi Lauper's Time After Time and Michael Jackson's Human Nature. There is obvious kinship between both records and ultimately, this is one too worth putting out there.
It should be noted that the album Rubberband is not a fully-grown entity taken straight from the 1980s. Vocal parts were added in recent years and the tapes were in such delicate condition at some points that repeat musical takes were worked in where the tape was stretched. You wouldn't notice the seam. needless to say, it's all super-duper high tech.
It's unashamedly 1980s in its brash, confident glitter-ball effect, stewing up cool driving funk. Yet Rubberband seems constructed with disciplined rigour and restraint too, which may sound like a contradiction, but, hey.
Paddy Kehoe