For his 60th birthday celebration album, veteran British saxophonist Alan Barnes comes up with a novel idea, zesty readings of tunes from the year he was born, 1959, arranged by trombonist Mark Nightingale.
Barnes lined up ten of his musical acquaintances and friends to join him on this soireé, and what we get is a relaxed mini-orchestral feel.
Was there something in the water in 1959 in the USA, was a certain mid-century torpor and restraint beginning to fade? From the off, the tunes Barnes picks have in general something upbeat and effervescent about them, from the opener, Charles Mingus's Boogie Stop Shuffle, to Horace Silver's Blowing the Blues Away, the closer.
That's followed by a really cool reading of Paul Desmond's Take Five, arranged for the big band, led by Barnes on saxes, alto and baritone, along with his clarinets, the standard one and the bass clarinet. Arranger Nightingale exhorts a chilled-out reading of the tune - you take the tempo down a couple of notches, you swathe it in all that extra instrumentation and, hey presto, you have a new mood to the old vehicle.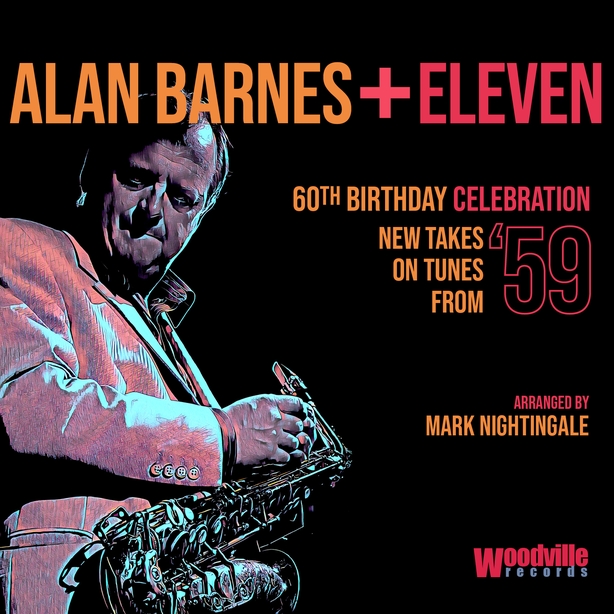 Tom Jobim's A Felicidade, another one from that bright and breezy year of 1959, trundles along pleasantly enough, although it is not particularly distinguished by the large band treatment - bossa nova always sounded best in minimal formats. The Brazilians, sometimes ill-advisedly, have been prone themselves to orchestrate the gentle tunes too, to lend glitz and volume to what began as small-scale music.
Among the eleven tracks - yes, it's all about elevenses - there are resplendent versions of Thelonious Monk's Little Rootie Tootie and a thoughtful study of Duke Ellington's The Single Petal of A Rose. Quincy Jones' A Change of Pace swings down the middle of main street contentedly while Henry Mancini's absorbing Dreamsville switches the mood to reflective and shadowy. The astute reading of John Coltrane's Naima is top-class. Gerry Mulligan's As Catch Can resumes the jubilant mood, light on its feet.
Yep, 1959 was a good year and the ideal anniversary pick for a jubilant birthday bash for Mr Barnes and his fun-loving crew.
Paddy Kehoe