Bags Groove, Miles Davis and the Modern Jazz Giants and Dig, featuring Miles and Sonny Rollins are the Three Essential albums, replete with brio and verve.
Bags Groove (1954) and Miles Davis and the Modern Jazz Giants, recorded in 1954 and 1956 respectively, nonetheless share sessions recorded on the same day. This is Miles some five years before he led his cohorts into studio to lay down the seductive sheen of Kind of Blue, a shimmering piece of immortality.
This material is unmistakably Miles on things like Swing Spring and the opener, the Gershwin classic, The Man I Love on the Modern Jazz Giants collaboration. The 'closer' too, come to think of it, as the album ends with Take 1 of The Man I Love, having begin with Take 2. Take 2 was obviously judged to be the stronger, so they led off with it. Both seem pretty good to me from the man who was born on May 26, 1926, in Alton, Illinois and who left us on September 28, 1991.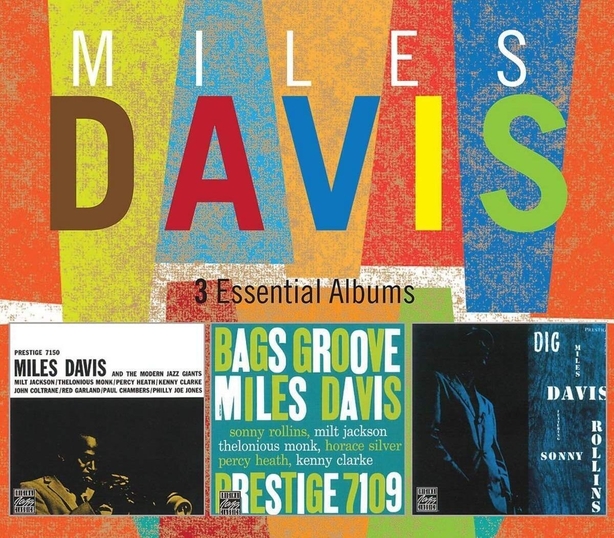 The Man I Love is almost by default, intimate, even kittenish in tone when sung by any number of female singers. Only Miles could make its establishing bars sound just a little lonesome, before vibes master Milt Jackson grabs it and turns the thing into a glassy, blissful piece of work.
As though he were thinking about it with a furtive brow, Thelonious Monk essays a few perfunctory fragmentary piano notes, before easing a route into piano. Miles come back in again, then Milt returns, with Percy Heath on drums and bassist Kenny Clarke, all light on their musical feet. John Coltrane is on tenor sax for a glorious Round Midnight, with Paul Chambers on bass, Philly Joe Jones on drums, Red Garland on piano and Paul Chambers on bass.
Dig, the third album in the pack was recorded in 1951 and features the Miles Davis sextet with tenor saxophonist Sonny Rollins, alto saxophonist Jackie McLean, bassist Tommy Potter, pianist Walter Bishop and drummer Art Blakey. Listen to Sonny and Miles burble and bluster pleasurably through the straight boulevard of the opening, title track, Dig itself. Ya dig?
Paddy Kehoe