Portraits in Jazz, Sunday at the Village Vanguard and the Solo Sessions vol 1  are the three essential albums in question, released by the great piano maestro in his prime.
Bill Evans is generally recognised by aficionados as the most influential jazz pianist of all time, although McCoy Tyner is also a contender for the accolade. So influential was he indeed that a six-month stint with the Miles Davis Sextet saw Miles himself re-evaluate.
The work of Herbie Hancock, Keith Jarrett, Chick Corea and Brad Mehldau all bear distinct traces of Evans' probing yet lyrical style which originated in a youthful devotion to the music of Ravel and Debussy. The musician had his critics, who decried that elegant or fey quality in music which was not believed to swing sufficiently. Swing wasn't always his thing but he could do it, despite the carpers.
That classical depth that underpinned much of what he did resulted in a kind of subtle precision which seemed to hang over all that interplay which he, in a sense, pioneered with his trio formats. Before the era ushered in by Bill Evans, the bass and drums lines served strictly as understated accompaniment for the front-line pianist.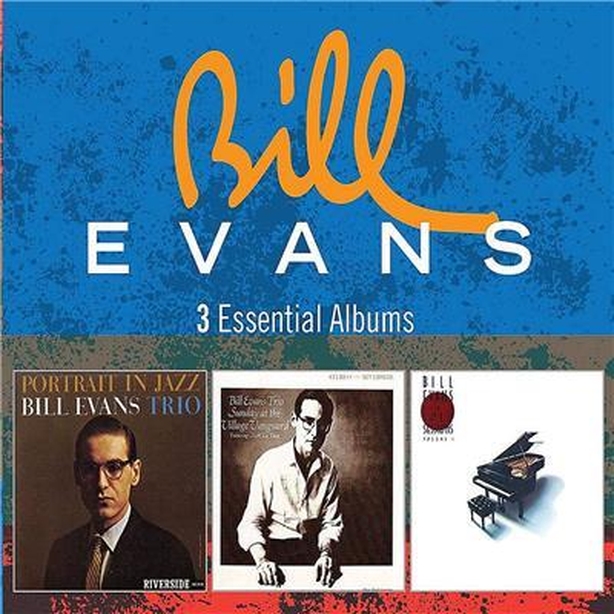 A shy bespectacled young man, Evans grew up in New Jersey and later studied theory at Southeastern Louisiana University on a flute scholarship. He was a quarterback in American football. Sadly, in later years, he became addicted to heroin and then cocaine.  He died from a haemorrhaging ulcer and bronchial pneumonia in 1980, at the age of 61.
Portrait in Jazz, recorded on December 28, 1958, features two readings of Autumn Leaves and a treatment of Someday My Prince Will Come. The session concludes with Miles Davis's world-weary classic, Blue in Green (Take 3 and Take 2, in that order.)
Scott LeFaro is the bassist and Paul Motian is the drummer, as is the case with Sunday at the Village Vanguard, recorded on June 25, 1961. It's a delightful set which begins with two readings of Scott LeFaro's splendid tune, the sparkling, airy Gloria's Step. There are two readings of Cole Porter's All of You.
The Solo Sessions concludes the 3-disc set, Bill on his own, apparently in need of ready cash at the time, so willing to work relatively quick to get an album out. It is almost entirely composed of standards, April in Paris, What Kind of Fool am I? the theme from Spartacus, and Miles Davis's Nardis. Recommended.