Jazz saxophone legend Joe Lovano returns with Marilyn Crispell on piano and percussionist Carmen Castaldi on Trio Tapestry, a fascinating exercise in improvisation which you may find yourself returning to as it's very addictive.
The album opens with the sound of a gong played by Lovano himself, a resonant and indeed refreshing sound that seems to locate the record, centre it or anchor it somehow in our consciousness as something oriental, even mildly inscrutable.
"I started to develop that concept back in the 1980s, playing tenor saxophone and accompanying myself on gongs, having a mallet in my right hand to create different tonalities and different key centres from which to improvise," declares Lovano.
The gong is by way of introduction to track one, One Time In, ushering us towards the subtle weaving of Trio Tapestry. The trio comprises Marilyn Crispell on piano, who first performed with Lovano in the mid-Eighties, and the drummer and percussionist Carmen Castaldi. Castaldi began playing with Lovano when they were teenagers in Cleveland. Later they attended Berklee College of Music together but in the mid-70s Joe relocated to New York while Carmen moved to the West Coast. Since Castaldi's return to Ohio, the two friends have revived their friendship.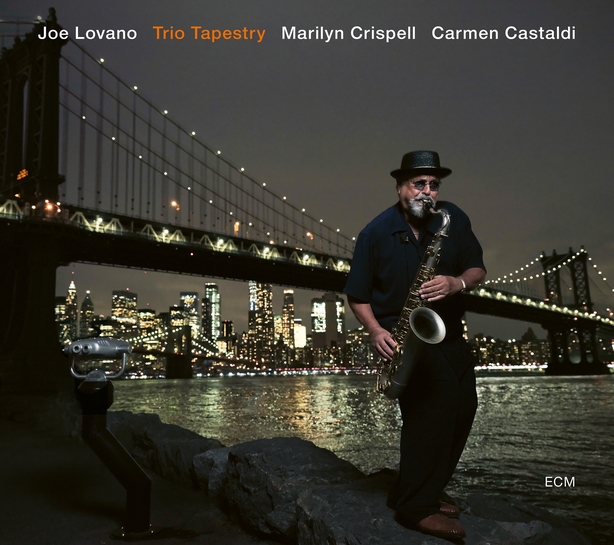 He knows when to jump in and when to step out in Lovano-land, but Crispell intuitively knows the score too in this improvisational game.
Mystic has more of that gong and Lovano playing the tárogató, a woodwind instrument used in both Hungarian and Romanian folk music. Gong Episode precedes Rare Beauty which begins with some ruminative solo playing from Lovano. Crispell joins in towards the close bringing numinous musical warmth that is yet coolly semi-detached. The album functions like that sometimes, a wedge of sax solo in the spotlight, drums or percussion sliding stealthily in, a piano lending body and intimacy.
There is a pleasing serenity about much of the album, a feeling of quiet meander driven by Crispell's Debussy-like touches.
Maybe the best thing on it though is the alternating blissful and wistful notes on Seeds of Change, the second track, which gives Miles a run for his money in terms of tired and emotional ache. Okay it's not quite Blue and Green but it's in the ball-park, and what more can a jazz-man strive for? Trio Tapestry is rich in arcane secrets, uses empty space well and offers occasional gnarled wisdom.