Austrian guitarist Wolfgang Muthspiel pairs up once again with stellar names from contemporary jazz on including Ambrose Akinmusire on trumpet, Brad Mehldau on piano, double bassist Larry Grenadier and Eric Harland on drums.
Mutshpiel can be cerebral and cogitative in ensemble mode, although such exercises have a certain stately warmth as they riffle through the dense undergrowth in improvisational mode. He appears to encourage his fellows to go for it in terms of stretching out the possibilities, or maybe they insist on this and he happens to like it. Who knows how all this improve chemistry works anyway?
For Django and Descendants and the mildly atonal One Day My Prince Was Gone are rolled along the seamstress's table as fabric manipulated under the punctilious sewing machine of the enterprise. They are curious mood pieces, perpetually fugal, gnawing usefully at a musical idea, not at ease really.
Indeed the music sometimes is a bit like some kind of advanced prog creature told to sit down and behave itself. It's jazz, dear, not Emerson, Lake & Palmer.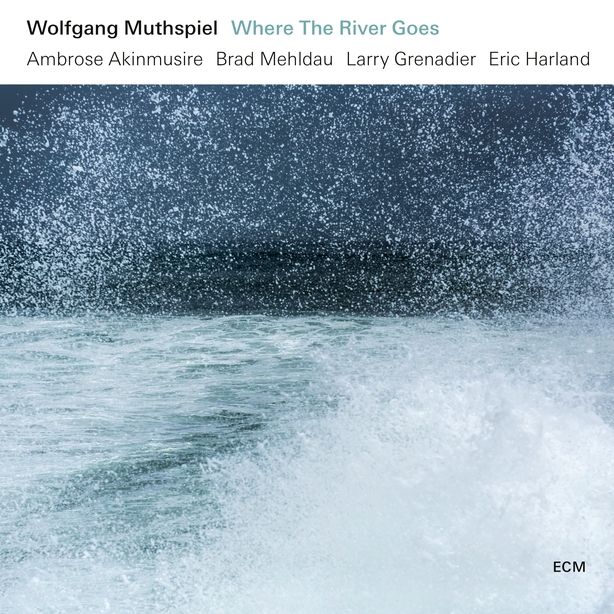 A different album is trying to struggle out it seems sometimes, one made of tender balladry, like the fey opening, title track Where the River Flows or the darkly introspective Buenos Aires. When the guitarist steps away from the band and does something mostly on his own, as on the latter piece, he tends, in my book, to get the best results. Then again, he clearly didn't want to make an autonomous Muthspiel album ojn this occasion.
Accordingly, the closing track Panorama is Muthspiel almost on his own except for gentle snare brushing from the sympathetic Eric Harland. That valedictory piece is somehow evocative of the quiet back streets of an otherwise exhausted Mediterranean city at the end of a busy Sunday. The band have effectively stopped at this point, and Muthspiel rightly takes the glory on acoustic guitar.
Sometimes a challenging, almost astringent album, Where the River Goes has two inclinations, one to the head, the other to the heart - there is a sweet hive of honeyed yearning in there too sometimes.