Remarkably, this live album rarity was recorded on a cassette recorder with one all-important Sony stereo microphone back in 1988 at the Village Vanguard in Greenwich Village, NY.
Listen to Eddie Daniels' insinuating bass clarinet weaving its way into your heart on his own Wolfie's Samba, which, after a moody, slow start begins to strive for a steep precipice of airy brightness. Roger Kellaway takes a piano solo and the blissful theme does not flag.
Five tracks are gathered here, featuring two original pieces each by Daniels and Kellaway along with the title track , a reading of the Klenner/Lewis composition, Just Friends which runs to over 17 minutes and which lends the handy title for the album. Bassist Buster Williams and drummer Al Foster make a structure for the two lead soloists to lean on, though in truth the work throughout does not weigh heavy.
The package includes a 20-page booklet with vintage photos, essays by Resonance producers George Klabin and Zev Feldman, jazz writer John Murph, plus interviews and reflections from Daniels, Kellaway and Buster Williams.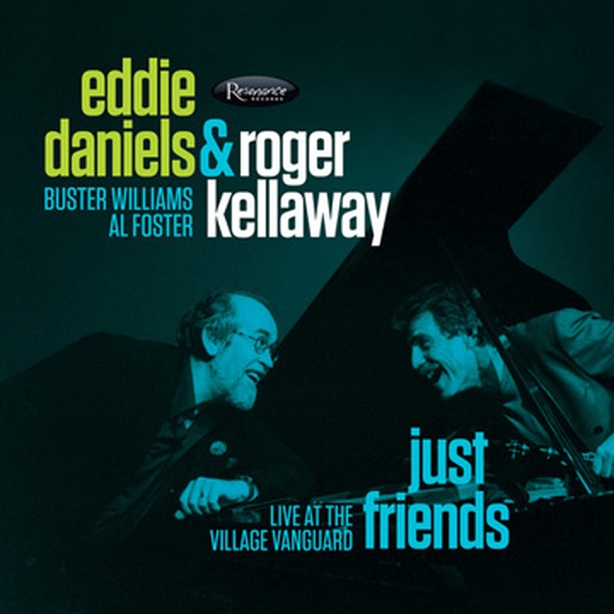 Klabin received permission from the ensemble to record on the Saturday night of a week-long run at the Vanguard. He duly arrived with a high-quality cassette recorder and a single Sony stereo microphone.
"I just placed the mic on the table facing the band, hit 'record' and let it run. It was as simple as that," Klabin writes in his liner note essay. "The tape sat in my personal collection ever since I recorded it. Nearly three decades later, in 2016, I pulled it out and listened to it. Immediately I was transfixed again. I decided to send digital copies to Roger and Eddie for their enjoyment."
George Klabin's recording was never intended for commercial release, but it is worth checking out if you like pleasant jazz that does not task the cerebrum, although that noodly section on Kelllaway's The Spice Man may well task your poor brain. Deluxe CD & Digital Editions available.
Paddy Kehoe