Arriving just two months after the 40th anniversary edition of The Radiators from Space's debut TV Tube Heart, this is the first album from the band formed by original Rads' members Steve Rapid and Pete Holidai.
While you can hear the odd nod to the band's past, this is very much a new outfit and not some nostalgia-fest. If anything, Dark Shadows and Rust is far more rock 'n'roll than what the Rads got up to back in the day. This is a record that should come with a battered biker jacket.
Snake Oil Carnival gets thing off to a cracking start. It's a guitar-fueled thumping rocker that basically grabs you by the shoulders and tosses you around the room. It's over far too early, which is an excellent sign.
Next up is Animal Gang Blues, which originally surfaced as the band's debut single back in 2014. For a Pete Holidai tune, it's more a swampy rocker than a pop soufflé. Instant Polaroid follows seamlessly, and after Tony St Ledger's co-written opening track, he's the sole writer here on a song that reminds this old Rads' fan of classics such as Prison Bars and Enemies.
The song - originally released in 2015 - is about Arthur Fields, the photographer who snapped the passing public on Dublin's O'Connell Street Bridge for a huge chunk of the 20th Century, and became the inspiration for the fascinating Man on Bridge retrospective.
The riffs keep coming with Death Ballad, Queen of Heartache and Reach Out, three Holidai tunes with a hefty Nuggets influence. The latter's the most vitriolic, pointing an angry finger at 'a mad man in the White House'.
Indeed, Pete Holidai's compositional fingerprints are all over the album, with eight solo songs and two collaborations included in the eleven-song set.
Steve Rapid is relatively quiet here, supplying backing and co-vocal lines. But his themerin - virtually an additional member of the band when the Pilgrims play live - dances gleefully through the album.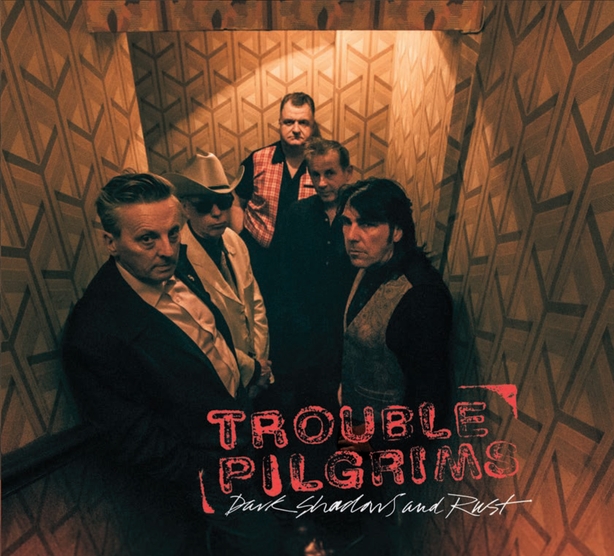 Of the remaining tracks Long Way to the Sun is classic Holidai with a Beach Boys/Ramones twist. The pop sensibility continues with the Mersey-esque ballad Dearly Beloved, while The Velvet Tongue glances towards New York and a band with a similar name to the song title.
Sex in a Cheap Hotel is a meat-and-two-veg workout that spars a few rounds with Chris Spedding's Motor Bikin', while album closer The Great Divide is like Agnes Bernelle meets The Ventures on the set of a spaghetti western.
A very impressive debut.
John Byrne