Jaco Pastorius was a one-off, a highly gifted bassist, composer and arranger whose death at the tender age of 35 in 1987 left the world of contemporary jazz bereft of perhaps its foremost free spirit.
This NPR Jazz Alive! (radio) recording reprises in its entirety a previously unreleased 1982 concert from the fretless bass guitar genius. The flamboyant yet focused musician leads his big band, Word of Mouth, through his own tunes, things like Liberty City, Three Views of A Secret and Twins, alongside vigorous readings of jazz standards, including Charlie Parker's Donna Lee.
Pastorius' own Reza segues easily into an agile reading of Coltrane's Giant Steps, Bob Marley's I Shot the Sheriff features harmonica king Toots Thielemans, while Ellington's Sophisticated Lady also gets dusted down and airily revamped.
The attractive 2-CD set includes a chunky 100-Page book featuring photos and appreciative essays. Metallica bassist Robert Trujillo discusses the influence of the great Florida innovator, and there is a revealing interview with Jaco's son, John Pastorius. Jaco's Weather Report comrades, drummer Peter Erskine and saxophonist Wayne Shorter also pay tribute. (Indeed by 1982, the year of this concert, Jaco and Peter Erskine had all left Weather Report, who were led by the late Joe Zawinul.
Also featuring in the line-up for this live concert is Bob Mintzer on tenor sax, and Don Alias on percussion, Randy Brecker on trumpet, Othello Molineaux on steel pans and Peter Erskine keeping the fire lit throughout on drums. Most importantly, there are the sinuous solos from Jaco himself on electric bass that rumbles darkly below all the other bright stuff going on. Delight too in those synthy warblings, characteristic of the period, along with tuba, French Horn and trombone, thickening the eclectic smorgasbord of sound.
Sometimes Jaco makes the instrument mumble as though he were in quiet conversation with himself, or he delivers himself of intricately cerebral runs and cadences, as though it were no bother to him at all. Yet his sonic displays seem curiously muted as though he wanted to let the band have as much room as possible. His work at the time was widely regarded and not just by Weather Report fans, as he had also distinguished himself in the company of Joni Mitchell, Herbie Hancock and Blood, Sweat and Tears.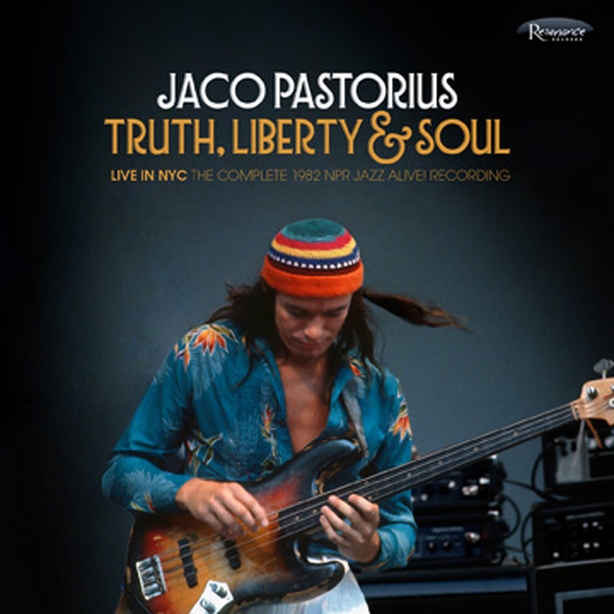 Who was to say that five years after this concert he would be an utterly lost soul hanging around basketball courts in that self-same city of New York, sleeping rough and penniless, paying to attention to his appearance or his clothes. He died in a coma after after being beaten up during a fight at a nightclub in the Fort Lauderdale area in September 1987.
Clearly a generous soul, who could also declare himself 'the greatest bass player in the world' Jaco's exuberant performance is presented from beginning to end exactly as it was heard at Avery Fisher Hall in New York on June 27, 1982.
Paddy Kehoe