Eleanor McEvoy should be commended for going a respectably smart rock route, and avoiding any sentimental cosying up to the spirit of Thomas Moore.
It's hard to believe that Thomas Moore's Oft in the Stilly Night could be rocked into submission, but carefully enunciating and giving insouciant oomph to her delivery, Eleanor McEvoy speeds up the tempo and builds the song from a quiet start into something curiously powerful. Surely one of the most melancholy Irish songs ever written, the singer and musician brings it into new tonal territory. File under `defiant melancholy.'
Another Moore gem, The Last Rose of Summer is given an acoustic, almost swing treatment. Come Send Round the Wine is brightened by brass touches and Eleanor sings it with just a touch of the braggadocio and swagger of a Shane McGowan and she delivers The Minstrel Boy in similarly rousing fashion. At the Mid Hour of Night is rendered into a cool, mid-tempo keyboard ballad, with effective use of horns.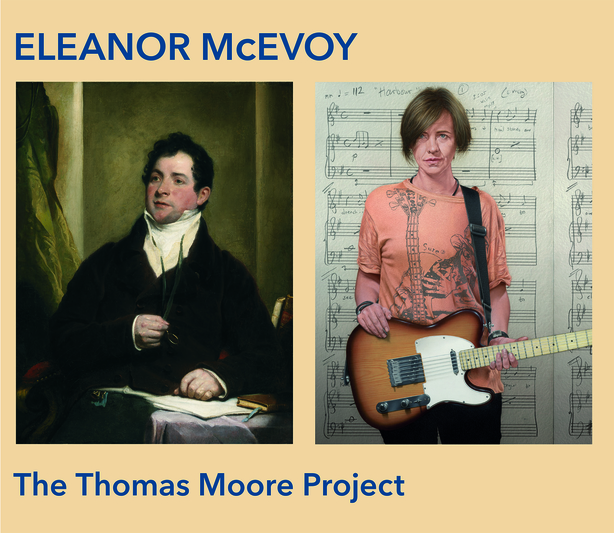 The Song of Fionnuala (Silent O Moyle) opens with a delightful flugelhorn-led instrumental segment from Eamonn Nolan, before Eleanor gets into the groove and makes the song her own. It plays out on a reprise of the wonderful instrumental.
That blessed flugelhorn follows Eleanor into the following track, Erin, The Tear and the Smile in Thine Eyes, this writer's favourite, a truly beautiful reading, with violin from Eleanor adding presence.
Aside from vocals, Eleanor handles guitars, strings, keyboards and percussion. Her accomplices on The Thomas Moore Project are Damon Butcher on keyboards, the aforementioned Eamonn Nolan on flugelhorn and piccolo trumpet, with bassist Eoghan O'Neill and Guy Rickerby on drums and percussion.
Has The Thomas Moore Project anything to do with Thomas Moore's original intentions as rendered here? Probably not, history and culture have moved on and arguing something as speculative as that is pointless. Rather Eleanor has used the original tapestry to fashion a new weave for which she deserves much praise.
Paddy Kehoe