You wait eight years for a new Róisín Murphy album, then two come along at the same time. Her brisk follow up to last year's Mercury and Choice Music Award nominated Hairless Toys continues the low-key sonic vibe of its predecessor but pushes the experimental envelope even further and isn't afraid to paint outside the lines.
While Hairless Toys may have taken it's initial cues from the Drag Balls of 1980s New York, vividly captured in the documentary Paris is Burning, Take Her Up To Monto - in spite its very Dublin connotations - moves the action a few blocks further down the Big Apple to an off-Broadway stage.
Despite its relatively sparse nine tracks, Murphy finds time to trip from coquettish electronica to full on torch song and even detour into jaunty bossa nova territory. Thankfully the whole eclectic bag manages to hang coherently together even though herself and collaborator Eddie Stevens delight in meandering riffs. Good luck for example finding anything resembling a chorus in most of the songs.
Album opener Mastermind is a perfect entrée of what's to come. A six and a half minute clarion of future disco, it slowly builds into a swirl of pure joy and Murphy's declaration that "I'll be putty in your hands" is the perfect metaphor for what's to come. A malleable confection that's stretched and pulled but still keeps its shape. She may have a hard hat on the album sleeve but make no mistake we're all about 'deconstruction' here kids. 
Tracks like Nervous Sleep, a brooding trip-hop affair that purrs with plaintive refrains, are deliberately stripped back but there's also hints of a disco groove in there. The remix possibilities are glorious.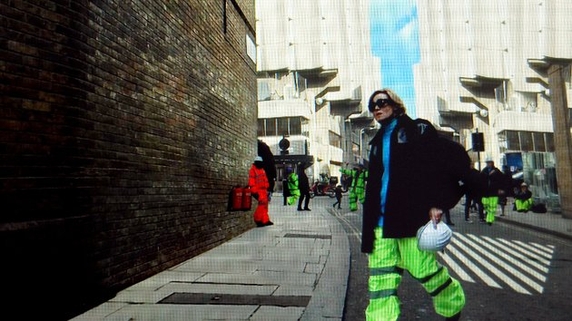 When the album does soar (literally) like on the lead single Ten Miles High, Murphy's unmistakable vocals have never sounded as seductive. A particular highlight is Romantic Comedy which has the strongest echoes to date of her Moloko days. She might be telling us that "I'm not that funny girl anymore" but in spite of the after-dark vibe throughout, she's clearly having fun. Pretty Gardens, a richly textured number replete with harpstrings and cheeky xylophone solos, is equal parts carnival and cabaret and simmers along to lyrics about dying hair and letting "her pretty garden go wild". Ooooh Matron! Equally fun is Lip Service, a straight-up bossa nova diversion that should come with its own cocktail umbrella. It's blissful. It's shimmery. It'll be on a Hotel Costes compilation before you know it.
The lurch into torch-song territory (Thoughts Wasted/Sitting and Counting) and the absence of any real bangers on the album is bound to disappoint some fans, but Murphy is never one to play is safe. Take Her Up To Monto is a powerful statement of her inventiveness and confidence as an artist. All the tracks here will blister in a live set, though it's a pity she decided to end the whole affair on such a downbeat note. Tip 'o the Philip Treacy hat to you Mam!
John O'Driscoll
Take Her Up To Monto is on release this Friday, June 8