Neil Young's new two-CD set of treated live tracks from last year's tour with The Promise of the Real, is another chapter in the Canadian musician's dogged campaign to save the planet from all manner of polluter and privatiser
The churchy, plaintive Mother Earth opens proceedings on Neil Young's latest vast-spreading opus, over two CDs, a track which features the first use of the ambient cricket, frog, crow, bees and other animal sounds which Young recorded in his backyard.
This curious sound track acts as a link between songs on this Neil Young and Promise of the Real project, occasionally buzzing in and out of the tracks themselves. After the backyard wildlife, in comes Young on his mouth organ, and some harmonium.
The song - which originally featured on the Ragged Glory album - is a plea for care with our planet. "Respect Mother Earth and her healing ways," sings the gnarled one, a stark message, delivered delicately and with heart. It ends with a sudden explosion of  bees buzzing, a storm in the beehive.
The Monsanto Years (from the album of the same name) is a fascinating musical exercise, and there is a sense of experimentation, as the backing singers repeat the word Monsanto. At least it gets well away from that dreadful electric guitar-grunge that Young holds on to like an old teddy bear.
Although you could hardly improve the sacred original, After the Goldrush is impressively updated - and yes, it may partly be down to those wonderful backing vocal arrangements. "We got Mother Earth on the Run in the 21st Century," Young sings, tweaking the lyrics for more point.
The fact of its inclusion is no doubt a suitable reminder that Young is no Johnny Come Lately in the ecology campaign. It's clearly been a serious endeavour on his part for many a year which must be respected.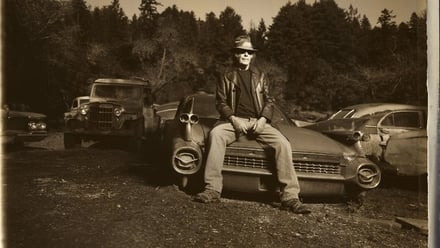 Neil Young - his other car is an electric 
The rather thrilling Big Box (taken from The Monsanto Years) has some serious things to say about modern capitalism.  As a piece, it is loud and rumbustious, but it is also pale and interesting, in creative terms. It ends with Young shouting 'Get in Line', very likely aping a shop bouncer trying to control a rowdy queue at one of those Big Box stores he decries in the song.
Corporations have feelings, corporations have soul/That's why they're like people just harder to control/They don't want to fall, so when they fall, they fall on you/Too big to fail, too rich for jail. Occasionally the lyrics flash with acerbic humour. In People Want to Hear about Love, he sings `It's funny how squirrels will eat organic and won't touch OMO.' Is it too earnest or just daft? Your call, dear listener.
In sum, Earth is a long-tailed, Whitman-esque exercise, eccentric and unashamed about its message, and you have to acknowledge the 70-year-old musician does a good line in expansive tenderness.
Paddy Kehoe