Lady Gaga delivers another Euro trash dance album that offers up a rather PG version of subversion. It's OK but is OK good enough? Gaga and her fans should start managing expectations now
Lady Gaga describes her third studio album as "a reverse Warholian experiment". It's a cute sound bite but we're still wondering if all she really does well is play dress-up for the paps?
Besides that opening salvo of killer singles (a full five years ago), her actual songs now seem almost secondary to the oomph and circumstance of her planet-eating fame and her insistence that she is a living canvas onto which her every act and deed is projected as an artistic statement.
There is nothing "reverse Warholian" about that; it is just Warholian.
ARTPOP screams its importance with a cap-locked determination to be different. Gaga has assembled her regular studio companion RED ONE, Paul "DJ White Shadow" Blair, achingly now Israeli trance duo Infected Mushroom and Russian-German electro producer Zedd among many others to primp and prod her vision into life on this lopsided wedding cake of an album. Distressingly, the dead hand of will.i.am and David Guetta, the gurning author of pulp dance, are also involved.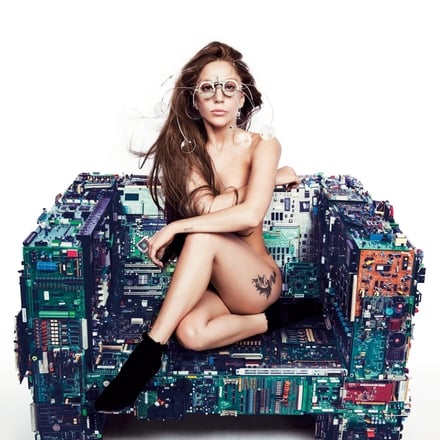 As pop's garbagehead in chief, Gaga has always taken everything and anything to extremes and ARTPOP hollers and hectors with bombast across a near hour that becomes instantly forgettable as soon as you've heard it. Ironically, you could say it's the Empress' new clothes.
We get great swathes of industrial French and German techno, disco and rock but there is rarely a sense of an actual song emerging from amid the sledgehammer beats and the hyperventilating Europop and seriocomic dance tracks. When she does take a breather and sing (and Lady Gaga is a very good singer indeed) she goes Abba meets Tim Rice musical on Mary Jane Holland (one of two paeans here to marijuana).
Three seconds into opening track Aura, and ARTPOP already sounds wilfully all over the shop. The song is a return to Gaga's parallel universe Weimar Republic cabaret act. "I may not walk on your street or shoot a gun on your soil/I hear you screaming, is it because of pleasure or toil?" she barks with all the dead-eyed hauteur of Dietrich, as a detuned Spanish guitar (or is it a ukulele?) wobbles away. It is the calm before the nuclear onslaught.
On Venus Gaga adapts Sun Ra's haywire jazz expedition Rocket Number 9 and reels off the heavenly bodies. When she makes it to every primary school boy's favourite science class reference, "Uranus - don't you know my ass is famous?", it's one of many times when you will remember that Gaga is always ready to send herself up - later she will sing, "I know mom and dad think I'm a mess but it's all right because I'm as rich as piss."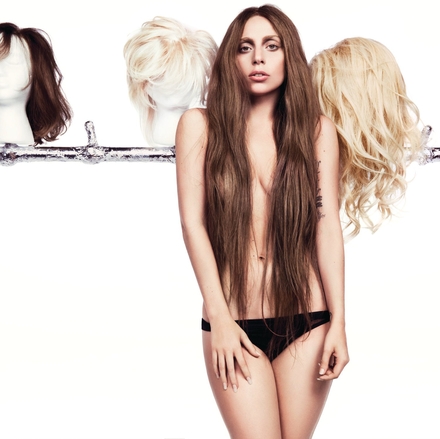 Quite. By far the best song on ARTPOP is Sexxx Dream in which coy pillow talk blasts off into a delicious melody, claustrophobic beats, and a rinky-kinky lyrics worthy of Prince's prowling nocturnal sleaze.
Themes of celebrity, fame, sex, fashion and the avant garde abound and Gaga clearly wishes to dwell in the worlds of both high art and trashy pop. On the very dull title track she insists "I like the music, not the bling". Fair enough but then she dangerously adds "my art could be anything" which leaves her wide open really.
Swine is pretty hilarious and for that it is very good. Gaga sneers "You're just a pig inside a human body", before near combusting in a plume of lust. Donatella is just as fun; "I'm blonde and I'm skinny. I'm rich and I'm a little bit of a bitch." she sings on what is essentially an affectionate swipe at the vulgarity of the fashion industry that maybe isn't quite knowing enough.
The racing piano intro of Fashion is basically A Thousand Miles by Vanessa Carlton. This is not a good thing and then Fashion decides to become Holiday by Madonna. Both Dope and Gypsy respectively embrace Meatloaf and Springsteen with stadium-filling gated drums and the unpleasant feeling that you're trapped in an eighties' teen movie.
Both sound archly silly but ARTPOP is at least always good fun and if ever an album could be judged by its cover, this is it. Here is Gaga with platinum blonde Veronica Lake hair, cupping her breasts in front of a giant blue globe, surrounded by a Dadaist cut-up of Botticelli's The Birth of Venus.
Is it meant to signify darker truths about concepts of art and beauty? Well, possibly not because the album cover was designed by king of kitsch Jeff Koons, an artist with nothing remotely "reverse Warholian" about him either. Why doesn't she just go ahead and rename herself Lady Dada? Could it be that she's holding off until the next stage of rocket booster career release?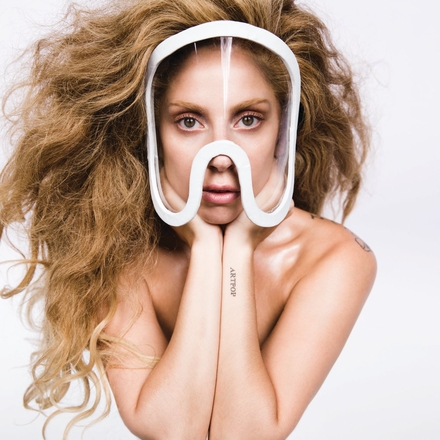 I am reminded of one the more charitable lines from Morrissey's autobiography – "The wonder of Warhol was that he could possibly achieve anything at all with the right stuffing."
Gaga just doesn't have the right stuffing on ARTPOP. It's not terrible, it's not great, and it's not so-so; it's just sooooo so what?
Alan Corr