With The BFG, Steven Spielberg reunites with his Bridge of Spies Oscar winner Mark Rylance for a decades-in-the-works adaptation of Roald Dahl's heartwarming hand-me-down. They're joined by youngster Ruby Burnhill, who plays Sophie, the young orphan who finds both a friend and hero in Rylance's super-sized misfit. The movie is an old school summer treat, and if you felt short-changed by Spielberg's Tintin he really makes amends here.
At the press day for The BFG in London, Harry Guerin heard from the legendary director about staying hungry, learning from the past and looking to the future.    
A lot of people ask me, 'How do you watch movies?'
They say, 'Don't you think about where that director is putting the camera and how it's being lit and how they're doing the special effects?' And I swear, I don't. Even if it's not a very good movie, I don't fall back to trying to figure out how the film was made. I just let the film, like I think a normal audience does, have its way with me. I love that I've been able to get into the habit ever since I was first starting out of suspending my disbelief.
It's very hard to deconstruct an intuitive tickle that I get sometimes.
I see somebody like Ruby after looking at hundreds of other girls between eight and 11. Suddenly I get this intuitive tickle when Ruby comes on the screen with her audition. I look at it and somehow the whole time stops and I dare to even imagine, 'I think I might have found her...' You can't deconstruct that. You can't say, 'Well, here's why'. 
I met Mark in the late Eighties when I was casting Empire of the Sun. I've seen Mark onstage; I'm a huge admirer of him. I know he's like a liquid actor that can fill any shaped vessel and can do practically anything. But the moment I felt he would be right for BFG quite surprised me: it happened the first day of shooting on Bridge of Spies. I just had that intuition that there's nobody better in the world that could really pull this off other than Mark Rylance. And I offered him the part that day.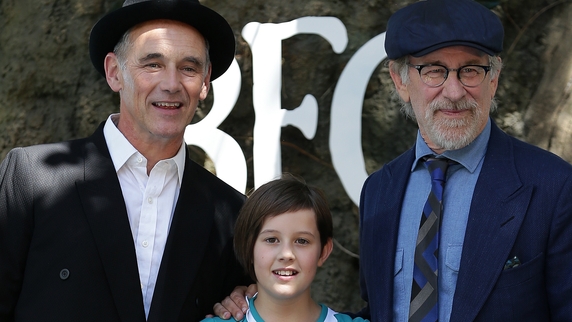 Steven Spielberg with The BFG stars Mark Rylance and Ruby Barnhill
I'm just proud that I've been able to stay interested in making movies all these years. 
I met a lot of my heroes as I came through up the ranks of being a film director. I met John Ford when I was very, very young. I met Frank Capra - after he saw ET we had a meeting because he liked the movie so he took me to lunch - David Lean and Kurosawa. I've seen the one thing that happens when directors get older: they still have the passion and they still have the determination to tell stories but, because of their age, the people who do the hiring look at you as a 'relic' from the past. One of the reasons I founded DreamWorks back in 1994 was I said, 'I am not going to be the relic of the past! If I have to hire myself and if I have to form a studio to keep myself working by gosh that's exactly what I'm going to do!'
I'm just really happy that I get to keep working. 
I'm in my seventieth year. I don't get tired - I should, I don't. I love what I do. I love telling stories and making movies and working with great actors. I'm so busy now; I'm so busy looking ahead. I get a chance to look back sometimes when I'm being interviewed and we're talking movies but I don't do it often. I don't really have a chance to look back. I know the movies I've made and I know the impact it's had on people because I talk to strangers every day all around the world about some of those movies and I'm really proud of the way people have grown up with a lot of those films. I just tend to think that if I dwell too much on that it's going to make me sit back on my tush - and I'm not ready to do that!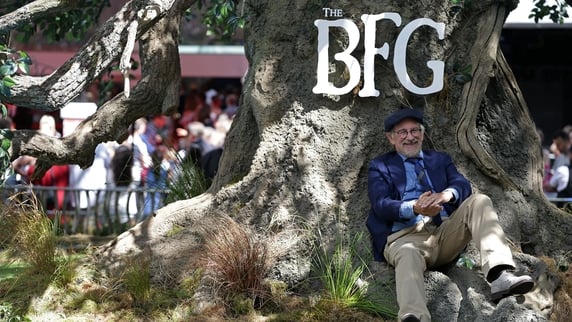 Tree's company!
I'm a very conservative director.
I have a lot of ambition about my predecessors - all the geniuses that all of us, whether we know it or not, are learning from and upon whose shoulders we stand. I do a lot of looking back and a lot of understanding what makes a good story. My whole love for this medium comes from paying attention to the past and respecting all the movies that have been made over all of these years. That's what I say to film students when they say, 'How do I get a job?' I say, 'Well, it's easy to get a job if you write because if they buy your script - buy enough of your scripts - you can insist on directing them. Or you can just take your device [pointing to smartphone] and go out and make a little movie - anybody can do that today'. But I also say, 'You need to look at the old films'. 
I used to have to pay my kids $10 to watch a black-and-white movie.
I actually bribed them! 'If you watch this movie...' - and $10 was a lot of money when they're 12-years-old! 'If you watch Red River with me, I'll give you $10'. And I had a couple of my kids start the movie and 20 minutes later give me my $10 back and leave the room! It's not easy to get us all to look back, but I continue to learn. Not just from the films I'm seeing today - I continue to learn from the films that were made seventy, eighty years ago.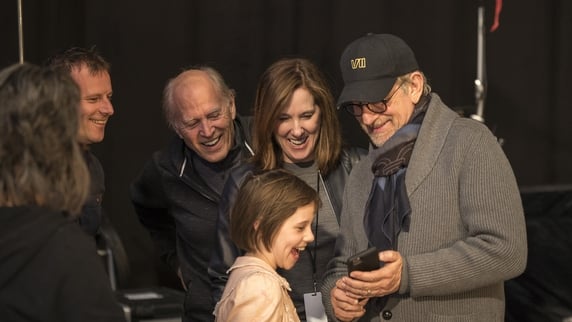 On the set of The BFG with Ruby Barnhill
With the digital revolution today there is no limit to anyone's imagination.
You can literally put anything on the screen, whereas it took a lot of imagination to figure out how to craft an illusion. So illusion is gone. We no longer have to use practical magic to make you believe something is real because through digital effects it's real.
Hopefully, the success of BFG for me is measured not just by the amount of heart that is expressed by these two characters in their relationship, but also by the fact that, hopefully, 15-20 minutes into the movie you forget there are any effects at all. If the movie's working you forget we use special effects to make Mark 25-feet-tall and to keep Ruby in every scene with him in her four-foot range. That's the biggest change I think that's happened, and there's pluses and minuses to that too.
The BFG is in cinemas from Friday July 22