Cate Blanchett never ceases to amaze.
Before going in to see TÁR, I was speaking to someone about her, recalling the last film I'd seen her perform in - Guillermo del Toro's adaptation of the novel Nightmare Alley.
"She was fantastic in that," I said. With a smile, I got a classic response. "Wait till you see her in this!"
We need your consent to load this YouTube contentWe use YouTube to manage extra content that can set cookies on your device and collect data about your activity. Please review their details and accept them to load the content.Manage Preferences
The film world revolves around hyperbole and sycophancy, but ultimately its survival and prosperity depends on the ability of those involved to come up with the goods. And TÁR delivers on every front, and several levels, with Blanchett peerless in her performance as Lydia Tár.
This is director Todd Field's first film since 2006's Little Children, and you can see that he's used whatever frustrations and disappointments he's endured during the intervening years as inspiration. TÁR's the best movie I've seen in years.
It's essentially a look at the relationships a famous and very successful female conductor - the eponymous Lydia Tár - has both in her personal and professional lives, at a critical time in her career.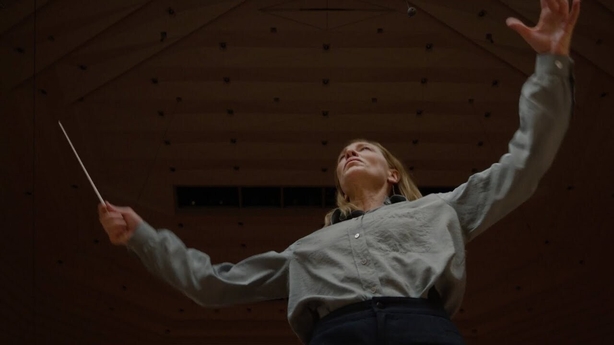 She's conducting the Berlin Philharmonic in preparation for an upcoming live recording of Mahler's 5th Symphony, a hugely prestigious event that mimics her hero and inspiration, the late Leonard Bernstein. Lydia's in demand and in control.
She's got problems too. At home, there's a fractious relationship with her wife Sharon (another fine performance from Nina Hoss), their daughter is being bullied at school, she's being spookily stalked by a former protege, and has a run-in with a student while teaching a masterclass at the Juilliard School.
After taking a shine to a young cellist, various aspects of Lydia's life gradually, hauntingly, collide.
Director (and writer) Todd Field plays with the viewer throughout, offering various perspectives of Lydia before we follow her through this pivotal period in her life.
TÁR is a mesmerising experience. I can only hope we don't have to wait as long for Todd Field's next movie.