Black as pitch, Never Grow Old is a convincing thriller set in 1849 in an American settlement ruled over by a psychopathic thug, played with consummate, unadulterated evil by John Cusack.
As the film begins, the faithful are gathered to hear the preacher tell them that he knows business has suffered due to the ban imposed by him on alcohol, gambling and prostitutes. Yet who among the congregation would wish to see the town return to previous excesses, he asks rhetorically in an impassioned tone. No one deigns to reply in the affirmative, his flock are God-fearing people.
Among them is the Irish undertaker and carpenter Patrick Tate (Emile Hirsch). Business is bad for him too, less people in the settlement means less coffins, less houses. He survives by farming his bit of land. He dreams of going over the Rocky Mountains to California for a better life. Meanwhile, life proceeds pleasantly enough with his wife (Déborah François) and two children.
One rain-sodden night, Christopher 'Dutch' Albert (John Cusack) arrives with two no-good accomplices, baying for the blood of Bill Crabtree, a former friend who double-crossed Dutch. The psychopathic thug menaces Bill's wife and child and says he wants to get so close to Crabtree that he can blow his head "clean off".
"Sometimes I think the whole world is strung together by lies but I'm not going to lie to you ma'am, I'm going to kill your husband," says Dutch, dripping lead-hot badness.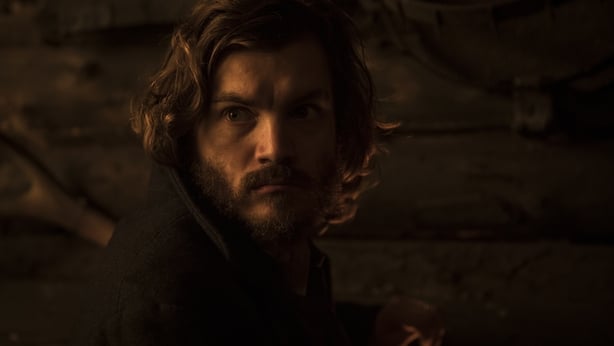 Meanwhile, the saloon is closed, due to the preacher's prohibitions, but Dutch bullies the owner into reopening, promising him $1,000 and his job as saloon keeper maintained. Soon business is booming again but the body count is on an alarming increase.
Dutch provokes the kind of action that grants him, as he sees it, the right to kill, violently, coldly. The ineffectual sheriff, the preacher, and indeed men like Tate the undertaker stand helplessly by while Dutch slowly builds his reign of terror in the town.
Who are the real cowards is the unasked question until Dutch asks it in as many words in this fine film which was shot in County Galway and Luxembourg. The thug pays Tate to bury two of his victims, while the Sheriff also pays the undertaker to bury locals who fall foul of him. Tate is certainly making a few bob now, and "30 pieces of silver" is the slur finally slung by an embittered woman.
We need your consent to load this YouTube contentWe use YouTube to manage extra content that can set cookies on your device and collect data about your activity. Please review their details and accept them to load the content.Manage Preferences
Ultimately, he must make a decision about where he and his family are going. The money is beginning to sour his marriage and California might be the best option. In the meantime, will he have the courage to confront Dutch?
Incidentally, Déborah François, the actress who plays Tate's wife was a mere 17 when she played the young mother in the Dardennes brothers' brilliant, Palme d'Or-winning 2005 movie, L'Enfant, which was in fact Mlle François's first film. 
This slowly uncoiling drama is based on a smart, convincing screenplay. Mind you, the Coen brothers could not make Never Grow Old with a straight face; it would descend into manic comedy, even if they tried not to make it so.
Or you could say too that it is Tarantino without the zany bits. Notwithstanding the giddy desire for parody, this is the pure drop in terms of mesmerising period horror.