15 hours, or 34 reels of raw colour footage, shot by Hollywood director William Wyler form the basis of The Cold Blue, an extraordinarily moving portrait of the American bomber pilots of the Second World War which will be shown tonight, Thursday, in Irish cinemas.
We need your consent to load this YouTube contentWe use YouTube to manage extra content that can set cookies on your device and collect data about your activity. Please review their details and accept them to load the content.Manage Preferences
The footage was shot in 1943 during bombing missions in Germany by Wyler and three cinematographers for the director's 1944 documentary, The Memphis Belle: A story of a Flying Fortress. The crew of the legendary Memphis Belle have all passed on but that crew was one of the first to survive flying 25 missions over Germany.
Wyler captured the footage of bombing missions while flying actual combat missions with B-17s. One of his cinematographers was shot down over France and lost his life, and the film is in part dedicated to him. Meanwhile, it was business as usual at home as the iconic director won the Best Director Oscar for Mrs Miniver, collected by his wife on his behalf.
Over the course of the summer of 2017, nine of the very few surviving 8th Air Force veterans were interviewed for this remarkable film. Their wry and realistic contributions, which betray an exceptional degree of modesty and sense of proportion about war - no jingoism here- are heard, mostly in voice-over, on this brilliantly restored 16mm film. The score was composed and, indeed, played by English guitarist Richard Thompson and his associates.
We first hear the aged contributors talk over reproductions of their portraits as dashing young men in uniform, some of them as young as 19, most of them no older than 25. There is footage of crews at work and play, loading the bombs on to the planes, repair crews working to patch up serious damage to tail and wing. They eat meals and smoke cigarettes, and play tennis. One throws a snowball, they smile impishly at the camera.Some of these youths are tail gunners, a hugely risky occupation in war-torn skies.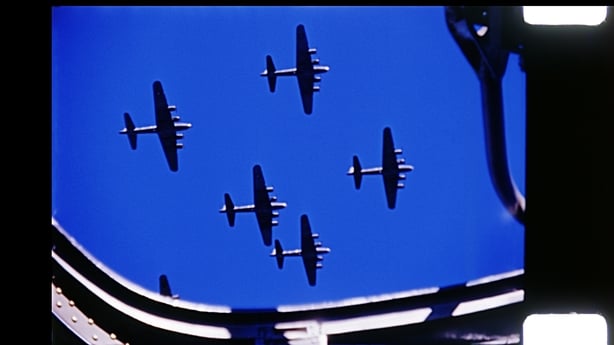 Now in their mid-nineties, the airmen recall the food, the powdered eggs and the genuine articles. When you were given two fresh eggs 'over easy' you knew you were about to be sent on a dangerous mission.
The recruits, usually ten to each plane, would train together, fly together and live together as they accumulated the ever-increasing number of missions needed to return home. "I was 21 years old and we felt that we could live forever," says one of the veterans. He also mentions that inescapable "tight feeling" in the chest. "Anyone say they weren't afraid, they were full of crap," says one of these doughty B-17 crewman. Paul "Bud" Haedike, a prominent contributor to the film, flew all his missions when he was just 19.
Despite the strain and mental pressure, there was remarkable solidarity between the men and a keen sense of responsibility. "Each man did his job good and no one complained," says one veteran. "We were family in the air and we all had our duties."
The crew members dealt with extraordinary levels of fear and one of the contributors compares his experience to "being on Death Row .. waiting your turn and you knew it was coming." The Japanese ended one man's youth, he ruefully notes, closing forever what should have been a time of fun and adventure. One guy started smoking at that period, he recalls. "I was scared every time," says another, adding that anyone who says they weren't was "full of prunes."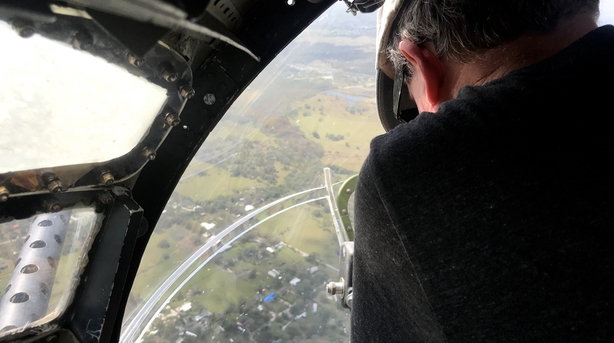 A Catholic chaplain would hear confessions and dispense the holy communion hosts. "He knew you were going some place you might not come back from," says a contributor, with a mild ripple of rueful laughter.
By 1945, 12,731 B-17 planes had been built and over 5,000 were lost in combat over Europe. Upwards of 1,000 or 1,100 planes would be involved in individual missions towards the end of the war, taking off from British air bases. The British, it should be said, were suspicious of the Americans at first, "over-paid, over-sexed and over here" being a popular cant of the day, before the foreign airmen were finally accepted.
The B-17s would be flown in formation, which meant each leaving the ground at 30-second intervals to join the increasing array of craft in the sky. This process was time-consuming and dangerous. Planes sometimes collided in mid-air.
You were a goner if you failed to get your chute open in 30 seconds in the event of being shot down. One crew member was pitchforked to death on landing on German soil. "How could you kill a human like that?" asks one man. There was little macho posturing. "I saw a lot break under pressure," says one of these highly articulate contributors, recalling young lads who caved in after four or five missions, declaring they could not fly any more. "Nobody pointed their finger at them, and ridiculed them. Nobody."
There are tears from one of the B-17 crewmen as he recalls wounded comrades being taken off planes, one of them crying for his mother. Flight engineer Teddy G Fitzpatrick is 95, but not a night goes by when he doesn't think about those days. "I think through a lot of it just to remind me of what I already know."
See The Cold Blue for one night only, tonight, Thursday July 5, at IMC Cinemas in Carlow, Dundalk, Kilkenny, Newtownards, Tallaght, Dun Laoghaire, Santry, IMC Savoy and Irish Film Institute, Dublin
Paddy Kehoe