Ghost Stories offers a thought-provoking and disorientating series of unsettling ideas that delivers more goosebumps than gasps.
"The brain sees what it wants to see," is the ominous undertone of the big screen adaptation of the Olivier-nominated supernatural stage play, which is written and directed by Jeremy Dyson (The League of Gentlemen) and Andy Nyman (co-creator of the illusionist Derren Brown's television show).
The duo skillfully bring a profound sense of dread and lingering ambiguity to the intelligent British horror flick by trapping viewers in the dreamscapes of the characters' minds. 
The endlessly fascinating multi-layered swirl of a film is both an exploration of survivor's guilt, and toys with the idea that nothing is more frightening than the fear of being found out. 
Does the mind play tricks on us, or are we just suppressing our darkest thoughts? And so, the brain-bender begins.
Reclaiming his role from the stage, Nyman is Professor Philip Goodman, a psychologist and paranormal debunker, who reopens three cases that don't add up.
In the first, security man Tony (Paul Whitehouse) is spooked by faltering electricity, creepy voices, and the eerie sound of children echoing around the unoccupied building he works in.
Next, paranoid schoolboy, Simon, (Alex Lawther) unnerves viewers with a hit-and-run incident in the woods that changed his life as he knows it.
Finally, sketchy businessman Mike (Martin Freeman) recounts the night he encountered a poltergeist and unexplainable energies as his wife went into labour.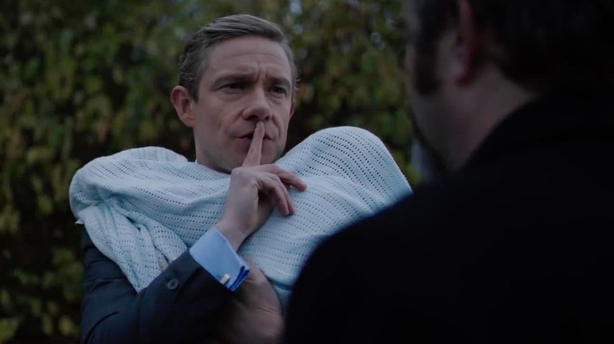 The movie's greatest strength is that it becomes more complex and rewarding as it goes along. The supernatural flick overcomes its formulaic origins by being deliriously seductive, keeping attention on panic and skepticism, not just on cheap thrills.
The atmosphere creaks with psychological nuances, while the slow-burning pacing and long silences give enough palpable tension to create a supernatural potboiler.
From dank rooms and freaky dolls, to dim flickering bulbs and doors slamming shut of their own accord; Ghost Stories isn't short of shiver-down-your-spine moodiness.
When it comes to the claustrophobic nature of psychological horrors, one can only imagine that the stage version fares better. 
Ghost Stories may not be groundbreaking material but it sure is creepy. 
We need your consent to load this YouTube contentWe use YouTube to manage extra content that can set cookies on your device and collect data about your activity. Please review their details and accept them to load the content.Manage Preferences