The pretty pastels and primary colours of a Norman Rockwell painting turn to the darker shades of Edward Hopper in this entertaining but perplexing story.
George Clooney gets behind the lens again for a curious and lopsided tale of everyday murder and racism in the suburban American of the late fifties.
Our setting is the Everytown of Suburbicon, a place of proto Stepford wives, clean-cut family men, towheaded boys and pretty girls. It's a world of peanut butter and jelly sandwiches, ray gun TV remote controls and, like those perfect picket fences that surround the manicured lawns, everyone is glaringly white.
So when a respectable and very decent black family called the Mayers (Leith M Burke and Karimah Westbrook) arrive to settle into this permanent pleasant valley Sunday, things turn ugly and mob rule erupts as white families demand their "civil rights" and the eviction of these interlopers.
Meanwhile, next door, Gardner (Matt Damon) lives a seemingly idyllic life with his disabled wife, Rose, their son Nicky (Noah Jupe) and his wife's twin sister, Margaret. Rose, marooned in a wheelchair, is dowdy while the platinum blonde Margaret is Lana Turner-hot, not the only debt Clooney pays to the Hollywood of the era in a movie that doesn't deal in subtly or originality.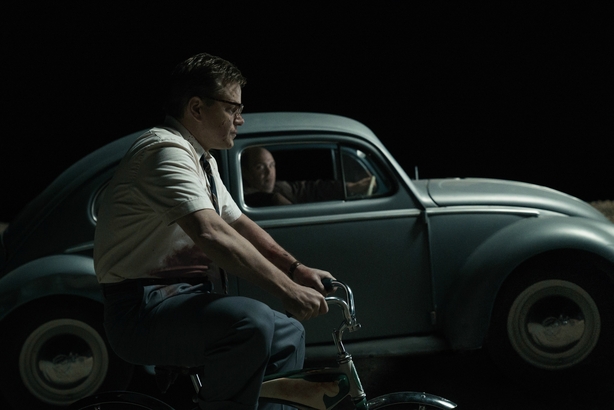 Of course, Gardner and Margaret are involved in rather torrid affair and are planning to off Rose in an insurance scam and live naughtily ever after, practising their S&M relationship in Straightsville USA.
You can tell the script is by the Coen Brothers without having to look at the credits and it is not one of their more sophisticated. Clooney is steady if unspectacular behind the camera but those Coen hallmarks (leering heavies, smirking henchmen, nighttime car chases) threaten to turn the movie into a kind of Coen's greatest hits. In fact, Surburbicon is little more than Fargo in a pressed shirt and twill trousers.
Damon seems half-asleep playing the deeply creepy Gardner, a coward and fool who makes Jerry Lundegaard look like Don Draper and there are echoes of Night of The Hunter and To Kill a Mockingbird in the way the smart and resourceful Nicky ends up at the mercy of some very bad people.
We need your consent to load this YouTube contentWe use YouTube to manage extra content that can set cookies on your device and collect data about your activity. Please review their details and accept them to load the content.Manage Preferences
The highlight without a shadow of a doubt (pun intended) is an out of the blue house call from a smooth and clever insurance investigator (Oscar Issac) who begins to unpick the whole sordid affair as he circles around Margaret in her suburban kitchen.
It's quirky and enjoyable for sure and mixes up the comic and the macabre in classic Coens style but Surburbicon is really two films happening at once - a horrifying depiction of racism and a Hitchcockian murder story. However, they co-exist without even acknowledging each other's presence, let alone intertwining in any meaningful way.
You might say the murderous Gardner and his wicked sister-in-law have more on their minds than paying heed to the barracking of an innocent family next door. Maybe Clooney and the Coens are trying to make a point about how white privilege blocks out the rights and needs of an embattled part of society. Either way, it's perplexing stuff in an entertaining film that ends up trying a little too hard.
Alan Corr @corralan