Marshall is a reliably entertaining film based on a celebrated 1940s trial in the early career of Thurgood Marshall (1908-1993) who would in time become the first African-American justice of the US Supreme Court.
Feisty 32-year-old lawyer Thurgood Marshall (Chadwick Boseman) is summoned to Connecticut to defend a black chauffeur named Joseph Spell (Sterling K. Brown). Spell has been charged with the rape and attempted murder of his 'white socialite' employer, Mrs Eleanor Strubing (Kate Hudson) while her husband is away on business.
We are in segregationist USA in the year 1941, and a cash-strapped National Association for the Advancement of Colored People (NAACP) is working on behalf of so-called 'colored' defendants. As the organisation's only lawyer, Thurgood Marshall's ability to challenge decades of prejudice and loaded juries is to be tested in this high-profile case.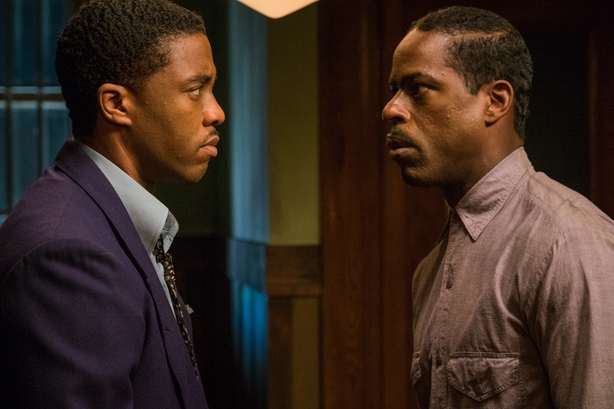 Also at stake is the reputation of another young lawyer, Samuel Friedman (Josh Gad) who is sympathetic. However, he is nervous about his reputation among the denizens of the local white establishment in Connecticut.
Moreover, Friedman has no experience of criminal cases. As a Jew, he has experience of racist slurs and a family consciousness of anti-Semitism - the Friedmans emigrated from Minsk to the USA when he was just one-year-old.
Anyway, Friedman is finally persuaded to defend Spell, with Marshall acting as his co-counsel. Marshall is instructed by surly Judge Foster (Cromwell) that his contributions cannot be spoken, only written, as he is from out-of-state. Furthermore, if he does speak to the body of the court on behalf of his client, he will be deemed to be in contempt, as will Friedman.
Thus, after the usual preamble, an engaging courtroom drama begins, expertly handled by a skilled cast working with an intelligent, sharply-focused script from Jacob and Michael Koskoff. There are interesting sidelights into the burgeoning married lives of the two lawyers for the defence.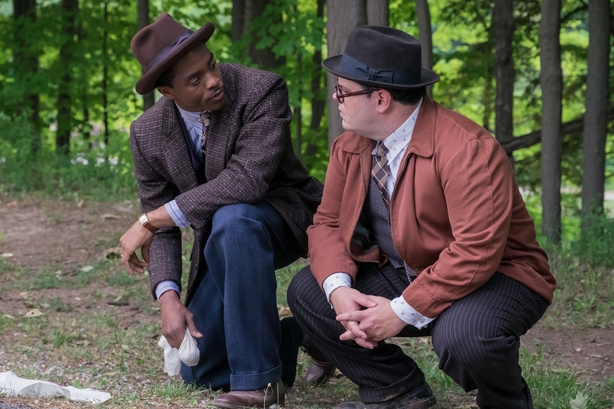 Descended from slaves, Maryland-born Marshall went on to serve as Associate Justice of the Supreme Court of the United States from October 1967 until October 1991. In the course of a highly-distinguished career, he successfully argued numerous cases before the Supreme Court, notably Brown v. Board of Education, which banned racial segregation in schools.
President John F. Kennedy appointed Marshall to United States Court of Appeals for the Second Circuit In 1961. Lyndon B. Johnson subsequently appointed him United States Solicitor General.
In the eponymous movie, the young black lawyer's charisma and drive, allied to his acerbic worldview, help draw the more uncertain Friedman along. Ultimately, Marshall's gutsy approach helps mould his companion into a lawyer with real potential.
Meanwhile, Dan Stevens is brilliant as Loren Willis, the smugly pugnacious lawyer for the prosecution. It's not all tense courtroom stuff, however, and the drama is leavened by the occasional smoky bar scene - Marshall is perpetually lighting or dousing cigarettes. The soundtrack is late Jazz Age, as it were, with a Billie Holiday-like singer doing a turn on a bar-room stage.
How finally does the case go for Spell, the hapless defendant in the case? Now that would be to spoil. You will just have to find out for yourself.
Paddy Kehoe
We need your consent to load this YouTube contentWe use YouTube to manage extra content that can set cookies on your device and collect data about your activity. Please review their details and accept them to load the content.Manage Preferences