With veteran German director Volker Schlöndorff as helmsman - and co-writer with Colm Tóibín - Return to Montauk was bound to be interesting at the very least. It is in fact a captivating, exquisitely-directed film of the highest calibre.
The 79-year old German director Volker Schlöndorff adapted the Günter Grass novel, Die Blechtrommel (The Tin Drum) for cinema and his excellent documentary about the Baader-Meinhof gang, Deutschland im Herbst (Germany in the Autumn) appeared in 1978.
In his latest film, Return to Montauk the dialogue is mostly in English, with a little French thrown in. Stellan Skarsgård plays the philandering writer Max Zorn who, despite his errant ways where women are concerned, reacts decently to news of a sad situation that he must indeed take some responsibility for by film's end.
Back in New York  - where he used to live - for a book publicity appearance, Max meets by chance an old friend, Walter (Niels Arestrup) the wealthy art collector who once financed his university studies. Walter happens to mention the East German girl, Rebecca (Nina Hoss) whom Max fell in love with when both of them were living in the city. Rebecca remained in New York, Max returned to his Berlin base. 'Berlin base' is one way of putting it - in truth, he is living in a nowhere land, spiritually speaking, with no family relations that matter to him. He is flying around the world, unable or unwilling to commit to much in his life.
Max is desperate now to meet Rebecca for whom he still carries a torch. She is apparently unattached, he is married, somewhat unconventionally, to the much younger Claire (Susanne Wolff ) who is living for a spell in New York, at his urging in fact.
Early in the film, Max gives a public reading from his latest work, The Hunter and The Hunted, which appears to depict elements of his relationship with Rebecca. Then the efforts to find an address begin, and Max is helped by his book publicist Lindsey (Isi Laborde) to locate the plush Manhattan offices where Rebecca works as a successful lawyer.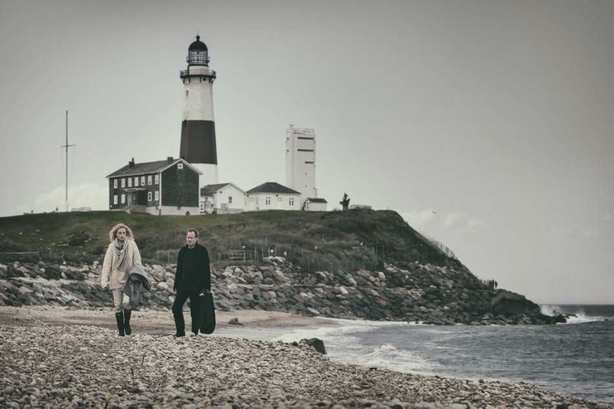 The memorable occasion when Max persuades Rebecca to descend from the lofty heights to meet him in the lobby, after 17 years apart, is astonishing in its poise and grace. Nina Hoss's expression brilliantly registers a spectrum of nuanced feeling as her former lover's reappearance gets the better of her glacial composure. The encounter is complicated by the fact that Max is accompanied by his book publicist, and yet it is surely one of the most exquisitely-directed scenes in modern cinema.
Voss and Skarsgård are alert to the proper registry of feeling throughout, firm about the lines they deliver, off-hand, flippant or spontaneous when needed. There is a wistful elegance about the intimate scenes that matter, as opposed to the scenes that are about the social whirl -  a late night disco, racing around in taxis etc.
When Max Richter's hauntingly beautiful music - or is Thomas Bartlett's hand in it? - creeps in during the drive to Long Island and Montauk, it is as though another character has entered the car, as the texture of the old relationship is recovered slowly.
Incidentally, there are Irish people involved in the making of this film, of which we should certainly be proud. The score includes the music of Caoimhín Ó Raghallaigh and Thomas Bartlett from The Gloaming. Bronagh Gallagher acquits herself very well as Rebecca's pal and there is a brief cameo by writer Colm Tóibín himself.
I did have reservations about a scene in the denouement. It involves a single blunt admission by Rebecca  about her unrealised plans - you could call it too much information. What she tells Max, in fact, is already implicit and her words should have remained unspoken, thereby sustaining the veiled, ambivalent mood of the film. The canvas appears to buckle somewhat from the impact of the bald statement when she says what she says.
That caveat aside, Return to Montauk is utterly absorbing. You could imagine the late Swedish auteur Ingmar Bergman marvelling at the performance of his fellow Swede, Stellan Skarsgård, whom he once directed in theatre.
At times indeed, the film is profoundly moving and you really you want it to go on and on. Definitely my film of the year so far.
Paddy Kehoe
We need your consent to load this YouTube contentWe use YouTube to manage extra content that can set cookies on your device and collect data about your activity. Please review their details and accept them to load the content.Manage Preferences