This strangely intoxicating and unsettling road movie by Andrea Arnold is a fascinating voyage into the American badlands and heartlands - - it's more trippy than road trip
What the hell was that? A three-hour road movie starring troubled Hollywood refusnik Shia LeBeuof may not be your idea of an entertaining night at the movies, and this remarkable film from British director Andrea Arnold is destined to be one of the most divisive of the year.
It is a largely improvised story of brutal and beautiful youth set loose in the American Midwest, living a life of decadence and freedom on a voyage of discovery, both of themselves and their blighted homeland. American Honey is unpredictable, beautiful, ugly, and strange and it will leave you either reeling at the endless possibilities of life or tut-tutting at the youth of today. Maybe it will do both.
We need your consent to load this YouTube contentWe use YouTube to manage extra content that can set cookies on your device and collect data about your activity. Please review their details and accept them to load the content.Manage Preferences
Newcomer Sasha Lane plays wastrel teenager Star. When we first meet her, she is scavenging in a supermarket dumpster for food with her younger siblings. All three kids are neglected by their mother, who spends her time line-dancing and drinking in a local dive bar. So when Star encounters an unlikely brigand of feral kids, she is intrigued by their freedom and seeming happiness.
They are led by the enigmatic Jake, played with a twitchy impishness by LaBeouf, and Krystal (Elvis Presley's granddaughter Riley Keough), the hard-ass matriarch who feeds orders to this cast of waifs, ragamuffins and lost teens. They are crisscrossing the American Midwest selling magazine subscriptions; the thanklessness of their task is summed up when a perplexed Star asks "does anyone read magazines anymore?"
Recruited by Jake, Star boards a minivan choked with weed and lubricated with Jack Daniels and rocking to a booming hip hop soundtrack for a trip into an American heartland populated by bored housewives in middle-class suburbs. Texan oil riggers, and strung-out single mothers living in clapper board houses in the boondocks.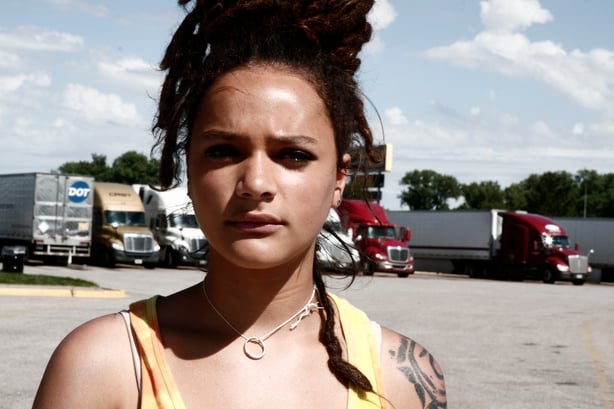 Impressive newcomer Sasha Lane 
Arnold, who turned in an extra visceral adaptation of Wuthering Heights in 2011, filmed American Honey in chronological order, with much of the film improvised and like Larry Clark's Kids, it wears its nihilism on its tie-dye sleeve but it also has the beauty and power of a Terence Malick epic.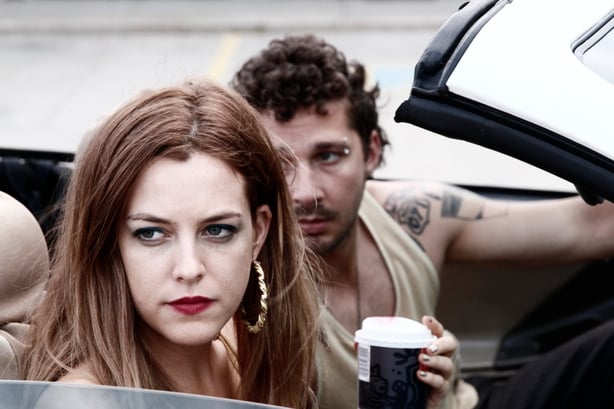 Riley Keough and Shia LeBeouf
It's more trippy than road trip and the drifting and sluggish narrative and atmosphere can be trying but the threat of incipient violence and danger seems to circle every scene. The near three-hour running time may test your patience for self-absorbed American kids and lingering shots of LaBeouf doing his little boy lost act but this is an assault on the senses that really is unsettling and compelling.
Alan Corr @corralan