If you're after a bit of slightly daft but entertaining action, then you could do worse than the latest Dan Brown adaptation to hit the big screen.
Tom Hanks is back as brainy symbologist Robert Langdon in the third action thriller to be adapted from Dan Brown's blockbuster books and it's an enjoyable if ultimately forgettable romp.
Following his adventures in The Da Vinci Code and Angels & Demons, Langdon is once more drawn into a dangerous and muddled quest where his mighty puzzle-solving skills are put to the utmost test.
Inferno opens promisingly with a suspenseful montage inter-cutting footage of a TED Talk-style lecture from enigmatic billionaire biologist Bertrand Zobrist (Ben Foster), who is rather chillingly bemoaning the problems associated with human overpopulation, with shots of him being pursued through the streets of Florence.
He soon comes to a bloody end after throwing himself out of the top of a bell tower to avoid being apprehended by the unknown agent Christoph Bruder (Omar Sy) - but what secrets is he protecting by giving up his life?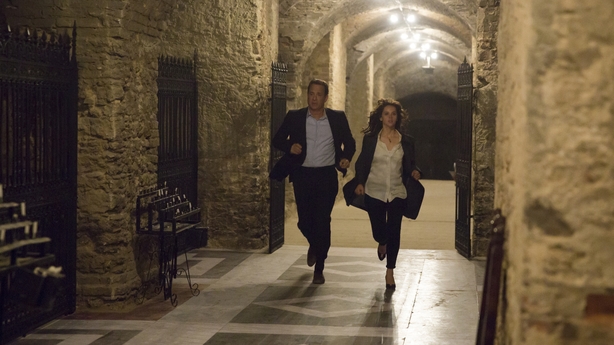 We soon learn that Langdon is also in Florence, although befuddled as to how he ended up there. The normally sharp-as-a-whistle professor has suffered some sort of head trauma, possibly from a bullet wound, and has ended up in a hospital room with sprightly young doctor Sienna Brooks (Felicity Jones) tending to his wounds.
As he attempts to piece together the events that led him to his current predicament, he is besieged by troubling Hieronymus Bosch-esque visions of a hellish world filled with people with twisted, tortured bodies and blood bursting from skyscraper buildings.
He can't begin to understand what the heck is going on when a determined female police officer opens fire at his hotel room and it becomes clear he's in mortal danger. Luckily, Sienna has lightning fast reactions and whisks him off to safety to her apartment where they try to get to the bottom of the mystery.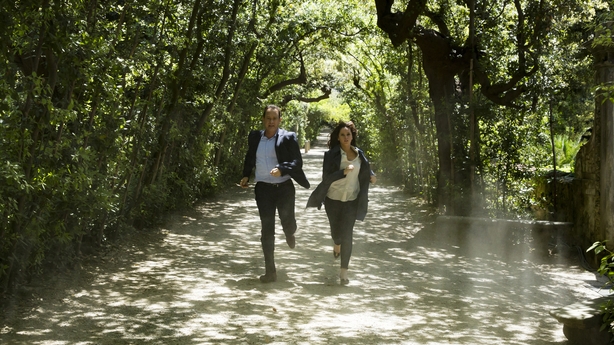 They soon come to the horrendous realisation that deranged zealot Zobrist has created a deadly virus to wipe out half of the world's population, and they must decipher a series of clues to lead them to the bio-weapon before it's triggered.
As can be expected for a Robert Langford escapade, the clues are to be found in ancient works of art, including Dante's epic poem Inferno and various classic paintings. Luckily Dr. Brooks is also a bit of a Dante boffin and more than pulls her weight as the duo desperately race around various tourist hot spots in Florence.
To complicate matters further, they are being pursued by a series of agents with ambiguous allegiances, including Elizabeth Sinskey (Sidse Babett Knudsen) the head of the World Health Organisation, who seems to be an old flame of Langdon's, and the mysterious French agent Bruder.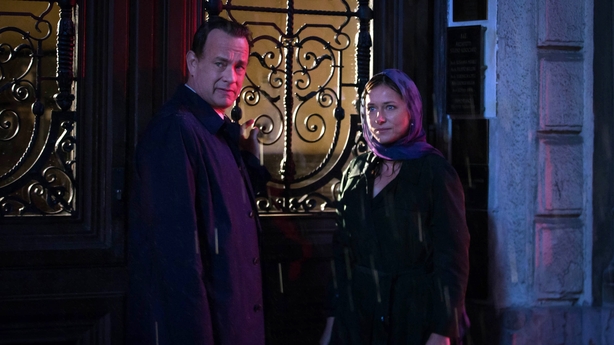 To add one more layer of drama and subterfuge, a super-powerful and secretive private security firm, called The Consortium, is also on their case. The company's leader, the no-nonsense Harry Sims, is played by Irrfan Khan and is the only actor who looks like he had a bit of fun inhabiting the role.
Inferno is a relatively diverting, well-shot piece of work that manages to keep interest levels high for the two-hour running time. The often heavy-handed exposition and unwieldy dialogue can only be blamed on the source material and the difficulty of making a dense novel cinematic.
Despite its weaknesses, fans of Dan Brown's Langdon books are sure to be swept along in the proceedings, which contain enough twists and turns to keep you guessing throughout.
Sarah McIntyre
We need your consent to load this YouTube contentWe use YouTube to manage extra content that can set cookies on your device and collect data about your activity. Please review their details and accept them to load the content.Manage Preferences