In a summer where sequels and big screen comic book-inspired movies take the lead, The Nice Guys adds some groove to the cinema listings.
Shane Black's '70s-inspired comic noir has all the trademarks of his previous work (Lethal Weapon, Kiss Kiss Bang Bang) - there is a kidnapping, a conspiracy that needs to be unravelled, casual nudity, plenty of violence and slick car scenes.
Ryan Gosling plays a down-on-his-luck alcoholic private eye named Holland March, while Crowe proves his comedic chops as Jackson Healy, a former cop who now works independently as a muscle-to-hire.
The pair quickly finds themselves working together on a bizarre case involving a missing woman, Amelia (Qualley), who gets caught up in the making of an experimental porn film, designed to expose smog-creating car manufacturers.
Assisting them along the way is March's extravagantly precocious 13-year-old daughter, Holly (Rice), the conscience of the movie, and a star in the making. Lurking in the background is a corrupt head of the justice department (Basinger) and a Mafia hitman on the loose (Bomer) called 'John Boy' (named in homage to The Waltons, duh).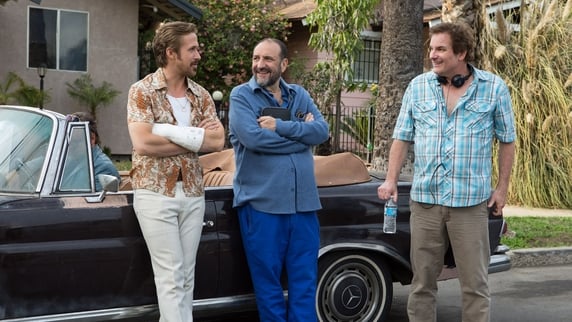 The movie relies on the odd pairing of Crowe and Gosling to drive the movie and both leads are explosively entertaining from the get go.
Gosling's timing and boundary-pushing instincts will have viewers laughing in anticipation, while Crowe's straight guy act is pure magic, and a comedic revelation. Who knew there was a funny side to him waiting to be unleashed?
Their side splitting 'bromance' puts them right up there with comedic greats like - Abbott and Costello, Bob Hope and Bing Crosby, and Simon Pegg and Nick Frost.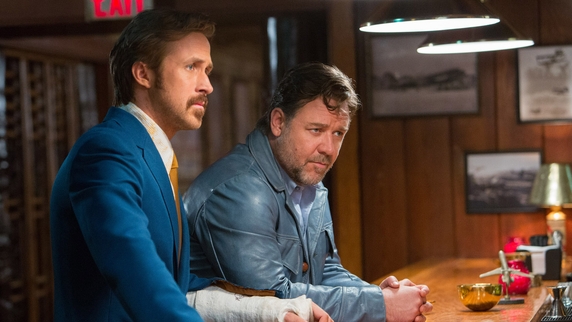 There are some plot holes in the film, mostly revolving around Kim Basinger's role as Amelia's mother, and her job as the head of the justice department, whose motivations are questionable. She doesn't seem comfortable with the script, and adds little value to the production.
Black and producer Joel Silver (Matrix, Die Hard, Predator) make the zany comic noir feels fresh even when it isn't filled with hilarious mayhem. Their attention to detail - polyester suits and Playboy mansion style parties - are matched perfectly by political nods to a decade in Hollywood that wasn't so glamorous.
As someone who lived in Hollywood in the disco era, Black told TEN that the temptation to over-glamorise the script for a modern day audience, was something he "fought against" throughout the filming process.
"The film industry at that point had evolved from glamour in LA to basically pornography. That was the money market and Vegas was actually tempted to move into LA, and we were about to become not only the movie capital, but the porn capital," Black said.
"That was a great backdrop from a PI movie, especially when all of these mean streets and compromised knights in tarnished armour that these two guys play, is all set under the smoggy sky overlooked by a Hollywood sign that is literally dripping in tatters down the hillside, and air raid sirens are going off, telling kids to go indoors because the pollution index is so high," he added.
The script is packed with personality, filthy wit and clichés are quite literally thrown out the window. Black told TEN that "deconstructing things" and "taking the piss" was all part of his grand plan - and viewers will be pleasantly surprised by the derailed buddy-cop formula.
Be Warned: The epic guitar riffs and groovy soundtrack (Boogie Wonderland, Get Down on It, Rock and Roll All Nite) will have you dusting off your vinyl records and on the hunt for your most bitchin' pair of bell bottoms.
And for those of you who are too young to remember the far out decade - just Be There Or Be Square!
Laura Delaney