The volcanic island of Pantelleria, off the coast of Sicily, is the setting for Luca Guadagnino's latest feature, which like his previous film, the markedly inferior I am Love, stars his fave dame, the formidable Tilda Swinton. However, before the action switches to the island, there's a brief prologue, a shot of the rock star Marianne Lane - played by Swinton - arriving on a stage to loud cheers from thousands of fans in an arena-style venue.  
The singer basks in the idolatry, to the sound of loud guitar chords, before there's a quick switch to a languorous, sensual scene - an isolated country house in shimmering heat, two lovers sunbathing naked by a swimming pool on the island. The woman is Marianne Lane, but almost unrecognisable without her jet-black Chrissie Hynde-style hair - it's a wig - and make-up.
The singer is played interestingly against (rock chick) type by Swinton. Lane is fearless and hedonistic, not flaky, but quietly perceptive and apparently in control of much of her life, despite having lost her voice due to a recent operation on her vocal chords. She talks in whispers or makes signs, and it's not entirely clear if she will get her voice back.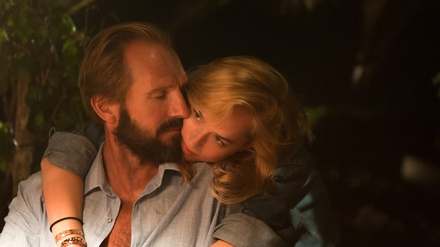 Ralph Fiennes and Dakota Johnson in A Bigger Splash
Her lover - the guy by the swimming pool -  is the brooding Paul, played by Matthias Schonaerts. Paul is also involved in the music industry. He has spent time in rehab and he seems to nurse some kind of spiritual hangover that torments him.
Then to the small island airport arrives the ebullient and incessantly talkative Harry (Ralph Fiennes), a music producer who, as he tells the company later, helped produce the Rolling Stones' Voodoo Lounge album at Dublin's Windmill Lane studios. Harry is high as a kite on life and occasional substances, and he is accompanied by his young daughter, Penelope (Dakota Johnson). She is American, mom and dad are estranged.
Thus the scene is set for a ménage a quatre, if you will, three characters who have a shared history and a not entirely honest nymphet also along to complicate things. Tormented by the past, Fiennes and Swinton are magnificent as the self-indulgent sybarites of the piece.
Unfortunately, the film is building very well in its charming setting until the key incident - suffice to say it involves the swimming pool - after which it seems to flounder (hard to escape the aquatic adjectives). The introduction of the African immigrants or refugees into the story is a gratuitous device that doesn't work, it seems grafted on for some kind of spurious topicality.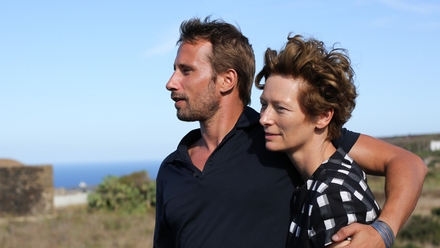 Matthias Schonaerts and Tilda Swinton in A Bigger Splash
But the use of the more moaning, forlorn side of the Rolling Stones is welcome. Your reviewer never thought  he would see a movie that would employ on its soundtrack something from Voodoo Lounge, to which tune, moreover Ralph Fiennes moves very impressively indeed, just like Jagger. The real bonus is hearing after many years, in your reviewer's case, Worried About You from the Stones' last decent album, 1981's Tattoo You. That's in a torrid scene somewhat later in the film, just as the film is cresting so well before its unfortunate decline.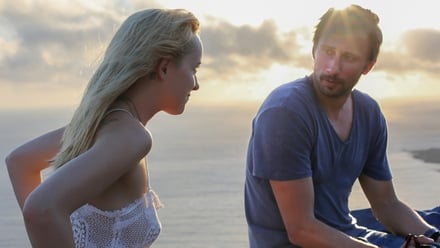 Dakota Johnson and Matthias Schoenaerts in A Bigger Splash
With a half an hour trimmed and more care given to the denouément, Guadagnino would have had a much better film on his hands. Still, A Bigger Splash is so good in its first half that it almost sets itself up for disappointment after the climactic event - it just cannot keep the momentum going. So it's a brave work then, guided perhaps in its confident way with excess and extravagant colour by the films of Bertolucci. With some reservations, A Bigger Splash is an entertaining exercise and certainly worth seeing.
Paddy Kehoe