Dad's Army returns with the old bungles and prat-falls but the script is misjudged and there is a severe rationing of belly laughs
The early signs were certainly good. Toby Jones as bumptious Captain Mainwaring; Bill Nighy as patrician Sgt Wilson; and Blake Harrison as simpering Pt Pike. Add to that Michael Gambon as the ancient and docile Godfrey and Tom Courtenay as the always game Lance-Corporal Jones and the new Dad's Army movie looked like it was about to earn its stripes as a spit and polish of the much loved BBC sitcom.
Between 1968 and 1977 (and before that on the steam wireless) the misadventures of the plucky but bungling Home Guard platoon in the sleepy village of Walmington-on-Sea was more than just nostalgia for UK audiences; a mere generation had passed since Britain faced the real prospect of invasion from Nazi Germany but for the new movie we move forward four years as preparations for Operation Overlord get under way.
Mainwaring's rag bag squad of flatfoots, colour blind reservists and retired soldiers become the subject of interest from British Intelligence after suspicious transmissions are detected on their watch. At the same time, a glamorous journalist (a very cool Catherine Zeta-Jones) sets the seaside village a sizzle when she arrives from London to do a story on the war at home and in the process send our old duffers into tailspins of lust as their stern-faced wives and girlfriends look on.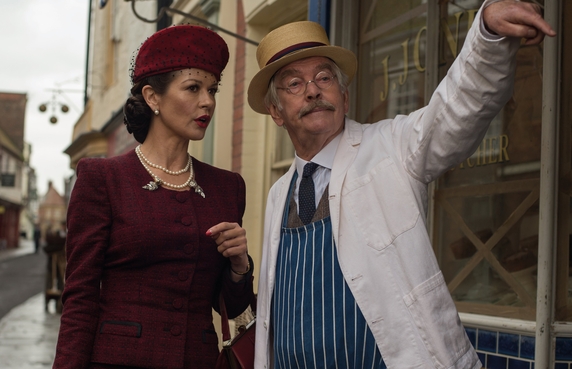 Catherine Zeta-Jones brings sizzle to the sleepy seaside town
From here, Dad's Army becomes a trawl for cliche and innuendo more suited to that other - and vastly inferior - Beeb wartime sitcom, Allo, Allo. There are unfunny double entendres involving marrows, roly poly and sausages and those catchphrases are crow-barred in and entirely miss the mark.
The real problem, however, could lie with Toby Jones' Mainwaring. Jones is a brilliant actor but here the script casts the Little Englander with a Churchill complex in a far too sympathetic light. He is not the blow hard idiot of the TV series but a decent, endearing man with delusions of adequacy.
Neither is one of Dad's Army pivotal relationships handled well. The strained class-based tension between Mainwaring and Wilson rarely rings true and besides, Bill Nighy does his usual thing of being Bill Nighy.
When they inevitably arrive, the Germans are naturally determined, competent and deadly professional but fans may bristle at the role of women here. Virtually unseen in the original, in a strange Waking The Auxiliaries ploy, it is the womenfolk who come to save Blighty in the drawn-out and panicky ending.
A noble effort that ends up more Dunkirk than D-Day.
Alan Corr
Click on the video links to watch our interviws with Catherine Zeta-Jones and Toby Jones and other members of the Dad's Army cast