Sinead Brennan caught up with Simon Delaney ahead of the release of his big screen American debut, starring as Vince Vaughn's brother in the upcoming Delivery Man which hits cinemas this Friday, January 10th.
Simon has been a household name here in Ireland ever since he graced our TV screens as Michael in Bachelor's Walk all those years ago and he's still the same down-to-Earth Simon; humble and hopeful that this film might be the start of a new era in Hollywood, having already established himself in Ireland and the UK.
"It's a case of starting again over there, and I'm still auditioning for stuff in Ireland and the UK, it's just a different set of people you're meeting, and you're at the bottom, hopefully now with this movie, hopefully it'll make certain people in the business more aware of you, and you know, it makes it easier for your agents to talk about you over there because they have something to refer to... Hopefully it'll open a few doors and lead to something over there for me."
On the film itself, he is proud of his first foray into the Dreamworks world, "It's great for it to be my first studio movie in the States, it's not a bad one to start with, Dreamworks and Vince Vaughn and Cobie [Smulders] and they're all such lovely people and I'm glad it turned out the way it did."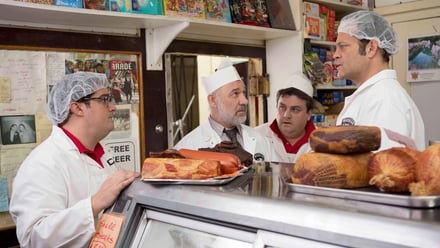 Bobby Moynihan, Andrzej Blumenfeld, Simon Delaney and Vince Vaughn in Delivery Man.
The film sees Vaughn's character find out that he has fathered 533 children through sperm donations made when he was younger. As he meets some of those children, society is represented through the struggles some of them are facing and the different problems that young people deal with on a daily basis. The serious issues are completely balanced out with the humour making the film ideal family viewing.
"It's a real feel good family movie, and it's very very funny in parts, but if you take 533 people out of society you're going to have people dealing with mental health issues, drugs and relationship problems and physical issues, so that comes through in the movie and the fact it's all landed onto the shoulders of one man makes it even more touching and I think that Vince's character in it, there's so much thrown at him but he deals with it in such a noble way and it's a real feel good movie."
Vaughn, Delaney and Saturday Night Live's Bobby Moynihan are brothers in the film and it didn't take long for the trio to bond, "The three of us just hit it off pretty much from day one, and especially myself and Bobby just really got on so well to the point where I remember Bobby's girlfriend was on set one time and she said, 'Jesus are you guys sure your parents didn't meet back in the '70s because you could so be brothers'. It's incredible and I've been in touch with him since, I hooked up with him there recently, we went over to the east coast premier and he's such a great guy. And even Andrzej [Blumenfeld] who plays the father, we all just bonded as soon as we started filming.
"We kind of got the closeness of family right but we also got the idiosyncrasies, like you're the older brother, you're the younger brother, you're in trouble and you need my help, I'm always helping you, that sort of family thing came through."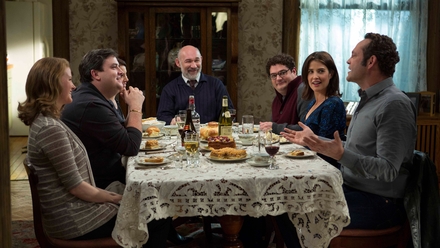 Delivery Man.
So what's next for Simon in 2014? He's going to be a busy man with a couple of documentaries on the go, series two of Moone Boy on the way – which will be closely followed by a third series, season two of crime drama The Fall and he'll also be making an appearance on Mrs Brown's Boys.
The documentary for Manchester United Television – The Green Devils – will see Simon looking into the club's Irish connections and this is a dream come true for him, " The job for Manchester United Television is pretty close to it [a dream] because it's a serious passion in my life and the fact that I'll be spending the next two weeks talking to a lot of ex-United players and going to Old Trafford, I'm beyond excited about it. It's like a school boy's Christmas morning."
Series two and three of Moone Boy were filmed back to back resulting in seven weeks of good craic and a lot of laughs, "It's getting better and better and better. It's brilliantly written by Nick Murphy and Chris O'Dowd and Chris himself directed the third series so we basically spent seven weeks laughing our arses off, I dunno how we managed to get the work done to be honest."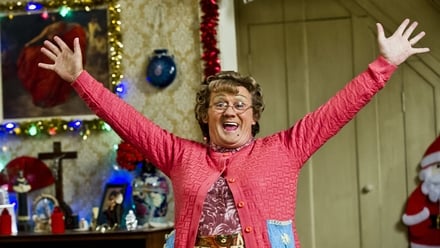 Mrs. Brown.
With three kids under the age of 7, I wondered if they really understand what it is their dad does for a living, "They don't really, the one that really excited them was this year - I was in the Mrs Brown's Boys movie. Because they are huge Mrs Brown's Boys fans - I swear to God on Christmas night they watched the Christmas special and they were utterly in convulsions - and the fact I did that, and it was great because Brendan said when we were filming last summer, he said bring the kids on to the set so they went on set and met Mrs Brown and it was like meeting one of the Beatles.
"I still don't think it registers what I'm doing, if you ask them what their daddy does they say, 'Daddy's an actor', but I don't think they know what it is. But Mrs Brown's Boys will be out on June 14th as well this year so I'm really looking forward to that."
You can catch Simon Delaney in Delivery Man this Friday, January 10th.