How I Live Now Director, Kevin Macdonald has said that his leading lady Saoirse Ronan and leading man, George MacKay, became a couple while working on their new sci-fi film, which opens in cinemas today (Friday October 4). However that's not what the sound, brilliant 19-year-old actress told Taragh Loughrey-Grant.
I interviewed Saoirse Ronan about a month ago after watching How I Live Now, her new sci-fi film, by The Last King of Scotland director and Oscar winning One Day in September documentary maker Kevin Macdonald. That was then. What everyone wants to know now, is whether she auditioned for Star Wars Episode 7 and whether it's true that she and How I Live Now's leading young man George MacKay are an item.
Speaking to The Independent, Macdonald said: "What happened during the course of film, and I'm hoping that I'm not speaking out of turn, is that they fell in love and it was very easy.
"It was Saoirse's first proper boyfriend and, in a way, I think she was living through the same thing that the character is going through. I suspected what was going on but they kept it very quiet."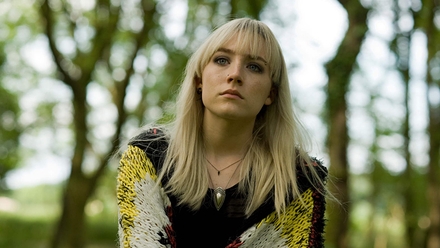 If the director is right, and chances are he is, then they are an item. Why didn't Saoirse tell me herself? At 19 wouldn't you tell your mother, let alone a journo from the national broadcaster, no matter how sound she was or how much you loved her jokes. Okay, I added in the last bits but you get the gist.

However she did talk about almost not getting a coveted role, Jonathan Ross, getting her on-screen revenge on her dad (fellow actor Paul Ronan), being unchaperoned for the first time ever which happened to be on a Wes Anderson set, appearing in a Bat for Lashes music video and, and, and...

The Atonement Oscar-nominated star, who has confirmed that she auditioned for Star Wars Episode 7 and is being tipped for the role of Jaina, the daughter of Princess Leia and Hans Solo, had to convince Macdonald that she was the right actress for the role.
She said: "Yeah, I did. I loved Kevin and I loved his work and he actually really wanted an amateur actor so he wanted somebody that had never acted before or he wanted to get kids who were just kids [for the rest of the cast].

"So I met up with him quite a few times over the space of about a year and just spoke to him about the script and he still wasn't sure about what age he wanted her [lead character, Daisy] to be or anything like that so there was a bit of back and forth for a while, while he was figuring out what he wanted and whether I was going to be free.

"Then when it actually came to him finally making it, I went to audition for him in London and he didn't think it was terrible so he gave me the part.

"I suppose because I was in it all the time it really became collaborative between the two of us and it felt like we were really working together throughout the whole thing and even still with all the press and stuff, he always lets me know what's going on.

"He's the best; he's one of my favourite people that I've ever worked with."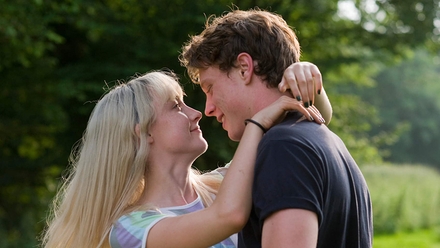 Saoirse with How I Live Now co-star George MacKay
It seems that the feeling is mutual as the director said in an interview with The Irish Times: "She's the finest actor I have ever worked with: old, young, male, female."
Read our review of How I Live Now
How I Live Now hangs on Ronan's shoulders as the central character Daisy is on screen throughout: "I was excited about it, I was nervous because I had to – I don't want to say I had to carry the film but because I'm there the whole way through, you need to make sure you're doing something interesting I suppose or you're giving something that's strong or worthwhile but I'm always nervous about that with whatever I'm doing.
"And it's a big thing to be at the helm of a film especially a Kevin Macdonald film but I loved it and I cared about it.
She added: "In a way it felt like an ensemble piece because there was a lot with me and George and the kids – we did an awful lot of stuff together, which was really nice.
"It was the first time I had worked with such a young cast…that was really lovely for me. I wouldn't say I enjoyed it more but it was a different kind of experience, it felt like you were at summer camp or something."
The film also gave Ronan to not only work with her dad, actor Paul Ronan, once again but also to exact her on-screen revenge after he ran her over in The Clinic many moons ago, when she was just eight-years-old. Watch the clip here – it's about two minutes into this Late Late Show interview.


"This is the funny thing...because people knew dad was an actor and obviously a very talented actor, if there was ever a part that they needed to cast, they'd think 'Oh maybe we should get Paul in'. So the two parts that he's played in films that I've been in, the first one was 'Okay, we need someone to run eight-year-old Saoirse over, should we just get her dad because that's the obvious choice?! Right then, Saoirse needs to kill this weird guy that's been chasing her for the last two days, who will we get? We'll get her dad obviously!!"
After news that she is in her first relationship, another sign of her coming of age is that the only-child was not chaperoned by her mum Monica or dad Paul for the first time ever on the set of Wes Anderson's The Grand Budapest Hotel. However, like everything else, she took it all in her stride.
"It was grand actually. Mam came over with me to make sure everything was alright and no one was a serial killer or anything and they weren't, luckily!
"It was strange for the first day, because she had always been there and then she wasn't. I was in a hotel and they didn't have room service so we had to go down for dinner every single night but it was good. It was the right time for it to happen. I felt safe and comfortable and ready to do it and they trusted me.
"It was in Germany then I went to Detroit afterwards…on my own. It kind of went from me saying to them 'yeah, I'll be fine. I'm in a safe environment' to 'right I'm going to go to the murder capital of the United States of America where everyone shoots each other!' They don't, by the way. Detroit is the most incredible place and I love it there. But she did the same with that one, came over for a week and again made sure I was going to be okay."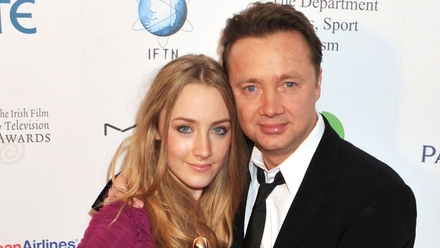 She added: "It's not like you're completely on your own, you're getting picked up in the morning, you're getting food made for you most of the time, you're with the people that you're working with and nobody else so it's a relatively safe environment unless there's someone who might lead you astray. The thing is that they know I'm not the type to do anything silly."
What was it like working with Wes Anderson and his cult group of favourite actors? "It was surreal. The thing that amazes me about Wes, and I've seen almost all of his films is that, is that they're all great, they're all brilliant.
"His films don't make that much money but everyone who loves them, loves them. So it's the only film that I've ever come away from and have been able to say, it's gonna be good. I know it's going to be good.
"[Before he begins] he knows what he's gonna do with it. He uses these animatics [story board technology] so when he's on set, he has this little iPad mini and he basically has story boarded the entire film, turned in into an animation, voiced all the characters and he shows you want he wants you to do on this little screen.

"He's 100% precise on what he wants, how he wants you to move, he'll tweak little [bits]. You'll do 30 takes on one little thing but at least it doesn't feel monotonous because he's tweaking something every time and we do roll and reset. We just keep the camera going and he usually does it on film which is amazing...You should want to kill yourself but you don't because he's so wonderful. He makes it so much fun."
If you've ever seen Ronan being interviewed, then you have a fair idea of what she's like in real life - she doesn't switch it on for the cameras. A trait she also credits her friend "Johnny" with, after a recent interview on his ITV show.
"I love Johnny Ross he's really nice. He's a really nice guy. [He's] exactly the same [off camera], we went for a drink with him afterwards, I remember, and he's just naturally a talker and wants to entertain people and that's quite nice.
"Because sometimes you meet those people afterwards and they're really cold."
She also enjoyed that particular talk show because when pitted against Will.I.Am in an impromptu (kinda) race, she won: "Loads of people have said 'I can't believe you beat Will.I.Am in a race' He's really fast!"