Love/Hate's Killian Scott stars in Black Ice, a drama about boy racers set on the Donegal border. He talks to Alan Corr about playing a speed king, why his latest role has a very serious side, and what he really thinks of Nidge, Fran, Darren and Tommy
Killian Scott has just finished another guitar lesson. "I play quite a lot these days and I've got a teacher in London so every time I'm back, we hook up," says the 28-year-old from Sandymount who plays gangland foot soldier Tommy in Love/Hate.
"I used to be in a band when I was younger playing drums and I started playing guitar six, seven years ago. I play just by myself and, at the moment, for myself."
This is yet another surprise from Scott. Somehow we just can't see Tommy picking out a Nick Drake tune as Nidge rages in the background and Fran chuckles as he terrorises another lackey but Scott, unlike his Love/Hate character, is a very friendly, bright and funny bloke who's kept himself very busy away from the none-too-fictitious mean streets of Dublin.
He's already made three films back-to-back in the last eight months and he's also appearing in TV3/Channel 5 detective drama Jack Taylor. From this week we can see him in Black Ice, a drama set on the Donegal border about boy racers in which he plays cooler-than-thou bad boy Jimmy Devlin, a young man who grins as he breaks hearts and speed limits.
Jimmy dreams of becoming a rally driver and while he has the moves, he becomes entangled in small town intrigues and falls for car-mad schoolgirl Alice, played by impressive newcomer Jane McGrath who can shortly be seen in Game of Thrones and upcoming RTÉ drama, Quirke.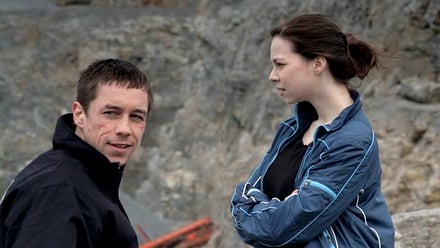 Scott and Jane McGrath in a scene from Black Ice
Jimmy is taciturn, calculating and ice cool. In fact, for all the world it looks like Scott unleashed his inner Ryan Gosling for the part. "That's very flattering but I didn't no," he laughs. "I mean I do my best to be like Ryan Gosling in most performances but Black Ice was a very new world for me. Cars are not something that would hold much interest for me in my personal life.
"I mean, I used to think I was pretty cool cruising around UCD in a Honda Civic but I don't even own a car these days. For Black Ice, it was all learning as I went along. We had all these young guys who were part of that scene and they basically gave me a crash course in the lingo as much as how you actually drive these cars."
Scott was dropped into a small town setting where boredom is often relieved by antics on the road and it was a world he found compelling. "I'm entirely sympathetic and empathic to it. If you spend time in rural towns around the country you can totally understand why people might turn to things that are illegal or dangerous because ultimately there are no other real avenues for entertainment and excitement."
Director Johnny Gogan has acknowledged how close to the bone Black Ice is. The good news is that our road death statistics may be improving, but on the very weekend the crew and cast sat down to watch a screening of the finished product, there was a double funeral of two young men who had died in a car crash in the local area.
Did Scott feel any responsibility about the fact that Black Ice wasn't all hand-brakers and high-speed hi-jinks and that it was also dealing with a very serious issue?
"I didn't. It wasn't on my mind at the time. I always focus more on the story at hand, the character I'm playing. Also with this particular gig I was in a limited time space. I was filming another show and I had a three-week break in between that and beginning Love/Hate series three and that's when I shot Black Ice. I was there for sixteen days of filming. So it was very tight and I didn't have the chance to consider the wider ramifications."
Scott pauses before continuing: "It's a bit like Love/Hate. When you're filming that show there is gangland stuff in the papers every day and with Black Ice there are very real examples of that culture on the news every day and it is tragic so Black Ice does relate to real life issues in Ireland."
Not that Jimmy Devlin would drop below 50mph to consider all that. He lets the purr of his Nissan Skyliner (tinted windows, spoilers, red rims) do most the talking. "I like that in some of the characters I play," Scott says. "I can handle silence better than I can handle actual speaking when it comes standing in front of the camera."
It's a world apart from Jack Taylor, the Galway-set drama which is due to make its return to TV3 and Channel 5, in which Scott plays a sidekick to the titular detective. The sidekick is a very verbose and animated character who Scott describes as a "good guy".
But what about Jimmy and Tommy - do they have much in common? Both, after all, are strong silent types. "Well I've done a nice range of characters but Jimmy and Tommy are superficially more similar than anything else I've done. They're both taciturn but Jimmy is more calculating and more . . . conscious in a way and Tommy doesn't really have a reflective quality, he's much more in the moment and Jimmy is much more manipulative and constantly considering the past and the future. A very bright guy."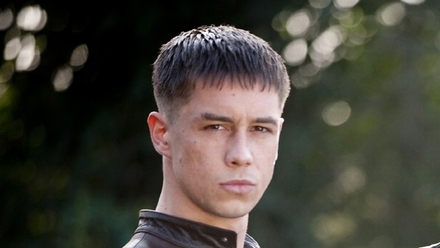 Scott as Tommy in Love/Hate
So Tommy is anxious and really not that smart? "I think you're spot on with the anxiety thing but I wouldn't focus on the `not that bright' thing," says Scott. "My whole thing with Tommy is . . . I've always felt that if Tommy could have his way he wouldn't be involved with any of that shit at all. His idea of happiness would be to get out of Dublin and go live in Spain or something, get away from everything.
"Nidge and Fran take an active pleasure and enjoyment in that world. Tommy doesn't want all that hassle. Darren is very much the moral compass of Love/Hate and is struggling with his own ethics. Tommy has an element of that but it's not as extreme as Darren's.
"Darren has a greater sense of reflection but when you look at all the stuff with Debbie and Dano's wife, there is a conscience there and I think his intentions are good but the nature of the world he's in traps him and there is also a weakness which means he can't follow his ethics as much as he might try to."
This much we know but before I let him pick up his guitar again and perhaps read another one of the many scripts thudding on his doormat, I have to ask Killian Scott what he can tell me about series four of Love/Hate . . .
"Eh, nothing. I'm in it and I come out of the coma." is the answer. Spoken with all the taciturn distance of Tommy and Jimmy Devlin themselves.
Black Ice is in Irish cinemas from Friday, September 20th
Alan Corr