"The great thing about getting old is you just don't care anymore, you don't care what anybody says, what anybody thinks, " says writer John Banvile, declaring that he hasn't read reviews of his books for the "past 15 or 20 years." Paddy Kehoe met the author for RTÉ TEN.
Readers will be forgiven for thinking that there is a fair bit of John Banville himself in the washed-up artist Olly Orme, the protagonist of his latest novel, The Blue Guitar. So I put it to the man himself in the Morrison Hotel. "All my people are me, of course they are, who else could they be?" he replies. "He is hateful, though isn't he? He is one of my most egregious monsters really. I think only the guy in Shroud," he muses, referring to the protagonist of his novel of that name, published back in 2002.
"What's he called . . . . mad academic. . . . killed his wife, yeah, what's his name...." then it hits him - "Axel Vander. Axel Vander is the only one who is worse than Olly. But I suspect that Olly is not quite as bad as he makes himself out to be – those two nice women wouldn't have had anything to do with him if he was that bad, would they?"
He agrees that Orme, who tells the story, is hard on himself - granted the character has much to be hard on himself about, given that he effectively stole the wife of his best friend Marcus which meant shamelessly cheating on his own wife.  So what we have is Orme's testament in which he constantly rephrases or corrects himself, while constantly on the look-out for his own false, or disingenuous admissions. The Blue Guitar is a staggered stream of consciousness, in other words, Orme trying to be honest, Banville, the author trying to be equally precise, to breathe as much life as possible into the prose.
"Yea, it's the difficulty of making a work of art, "  the author remarks in a kind of a general way, as he tries to get the waiter's attention. After a careful perusal of the wine menu, he requests a glass of Chardonnay and the conversation resumes.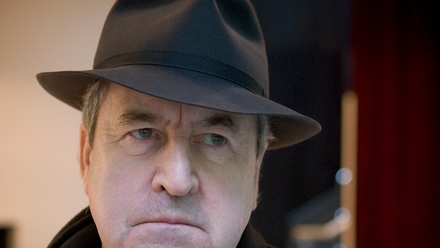 Banville in Benjamin Black mode 
So the narrative stops and starts, and Orme lays bare all his misgivings and regrets. "Oh yea, he has no idea who he is anymore, he has completely lost himself, he has lost his art, he's lost his way, he's lost his loves. He does dreadful harm to the people around him, poor old friend (Marcus, the betrayed husband) tops himself... not sure I believe that actually, " Banville says in a kind of mischievous aside.  " I think he made it up, I don't think Marcus has killed himself at all."
He will be 70 on December 8. "I'm in my late second adolescence, I will be entering my second childhood very soon," he says, straight-faced. "The great thing about getting old is you just don't care anymore, you don't care what anybody says, what anybody thinks. I mean I haven't read reviews for the last 15 or 20 years. So I don't know what people are saying about me, and I don't care."
Novels appear from time to time from his crime-writing nom de plume, Benjamin Black, the best of which incidentally, is The Black Eyed Blonde, written with sanction from the Raymond Chandler Estate and featuring Chandler's best-known creation, the morose, regretful detective, Philip Marlowe. 
Ancient Light, on the other hand, was the John Banville novel which preceded The Blue Guitar. "I like the book, not many other people did, " he says, diffidently almost. I don't happen to have in my bag The Sea which won the Man Booker Prize in 2005, but I produce his three most recent novels and ask him to react to the sight of them. Is there a measure of pride about them or are they a set of misgivings?
"They are all mistakes, terrible embarrassments, " he says, but he taps my copy of The Infinities. "That's the best one, I'll never do any better than that." Why do you think it worked? "Don't know," he says matter-of-factly. "It's the writer's writer's book – I had letters from Seamus Heaney, Brian Friel saying `you know you've done it this time.' The public couldn't understand it at all, but it will live - if anything of mine lives, that will." 
I persist, but he can't even make a stab at why The Infinities worked."Somehow I got as near as I'll ever get to it... maybe I'll do something more." I mention that I preferred the novels Athena, Shroud, Eclipse and indeed, The Blue Guitar. "Prefer away, but I think that's as near as I will get to it," he counters.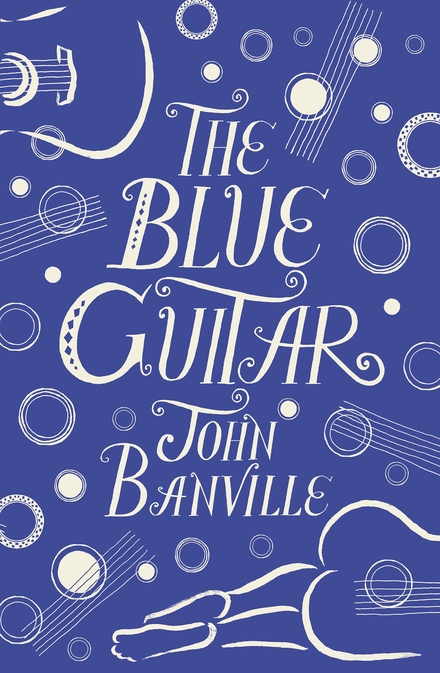 He travels regularly to other countries in connection with his fiction, promotional appearances, conferences and so forth. One suspects he prefers being invited to libraries and he loved a recent visit to Gorey library. He feels a great connection with those present on such occasions. "Publishers and reviewers, they under-estimate people. So-called 'ordinary people' – I've never met an 'ordinary person' in my life – understand books. I remember I was doing a reading somewhere and I was doing a signing afterwards and I'd said how I never got anything right. This woman came up to me and she said, `will you sign that?' – once again he indicates The Infinities. " She said, 'you got it right in that, that's perfect.' Those are the people I write for, I don't write for academics or reviewers or anybody else, I write for the woman who comes up to me and says, very timidly, very delicately: `you got it right there.' "
The novel is a marvellous thing because it is so intimate, he says. "You're sitting in a chair, you're reading this thing and you're entering this world and you're remaking it, and every reader re-writes the book – that woman wrote that book for herself, I just gave her the outline of it. That's the marvellous thing about fiction, why fiction will survive, because people's imaginations are extraordinarily rich. "
Look at the way we dream, he urges. "We go through a dull day, we meet people" – and he does a jaded mumble – "we climb into bed, and our minds do these incredible fantasies. You invent people, you invent places, it's just astonishing. Every human being, when he or she goes to bed at night, writes a novel."
His name is regularly mentioned in connection with the Nobel prize each year. He has won a few notable prizes and is particularly proud of the Franz Kafka award which he won in 2011. In 2014, he became the first Irish author to receive Spain's most coveted literary prize, the prestigious Prince of Asturias Award for Literature.
"Oh that was wonderful," he says, "but nobody takes a blind bit of notice over here. I have a much larger reputation in the Spanish-speaking world than I have here. I mean I'm better known in Spain than I am in Ireland." The prize was worth 50,000 Euro to Banville, but he insists that nobody makes money from writing. A drop in the ocean then, I suggest, referring to the aforementioned sum. "It's not a drop in the ocean, but it's not a huge amount of money," he says.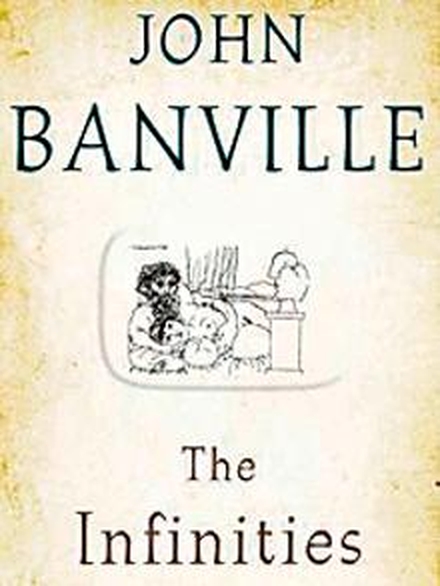 Anyway, the new King and Queen of Spain are lovely people. " I like them enormously. He's amazingly tall. He came and sat down, and I said, 'thank God, you sat down, I can actually see you. They are both very sweet people, as I was leaving she (Queen Letizia) said: `you must give me your email address.' They are not like the English royal family. Felipe is I think the best thing that could have happened to Spain, he's a decent man, he's doing his best. By coincidence the day of the Asturias prizes, he made his first big public speech and it was very emotional. He was saying we have to unite – in a peculiar way, I felt that that day was the end of the Spanish Civil War."
John Banville delivers his speech after presentation of the Prince of Asturias prize for literature in 2014
He views himself as a European writer, one who is absolutely committed to the European adventure, as he calls it, "which I hope will not be destroyed by internal dissension, and not be destroyed by the people coming towards us from Syria. Every tenth person on those boats is a Jihadist, I have absolutely no doubt about that. I can see severed heads rolling around St Peter's Square in a year or two – watch this space."
I am curious about the next novel, I say – "so am I, " he quips, quick as a flash, mentioning that he hasn't written it yet. It is a Benjamin Black novel, a murder mystery set in the year 1600 in Prague - he is giving Quirke, his Dublin pathologist, a rest for a while. As for Raymond Chandler, he will not write another Philip Marlowe book unless they make a movie of The Black Eyed Blonde.
I get into categories like realism and experimentalism in literature at one point, but he questions such categories. "The world to me is not real, the world to me is infinitely strange. I mean look at this," he says gesturing at the early evening drinkers, a group of women talking effusively to each other in the centre-city hotel. "Infinitely strange, I never ever get used to it, it's a really strange place."
John Banville's The Blue Guitar is published by Penguin/Viking